Tell us about Control, what motivated you to start the site?

Control is a music site I started 1.5 years ago that focuses on profiling artists, from big names to up-and-comers through interviews, photo features and artist-curated features. I create most of the written content on the site alongside guest features by friends and members of the music industry, as well as photo shoots by two brilliant photographers Savannah van der Niet aka Savvy Creative and Bianca Holderness. We also throw parties, present gigs and tours and are releasing our first print edition this year.
Control basically began as a self indulgent way for me to share music I love and to chat to people I admire, without having to follow someone else's idea of what's good for clicks. I'd been working as a freelance music journalist and music editor for a few years and loved it, but hit a point where I was at a bit of a loss for places I wanted to apply for work. So I decided to try to carve out a little space of my own and create the job I'd been searching for myself. Something authentic, without influence from advertising or 'trending topics', that was mine down to every last pixel.
What does a typical day look like in the life of Ash Kissane?
It changes from day to day. I usually scroll Instagram for a bit to wake myself up, then read emails in bed that have come through overnight from overseas. If I have an early morning interview with an artist I'll usually stay at home to do it (sometimes still on my bed), then I'll head into my office at Foundry Studios in Fortitude Valley.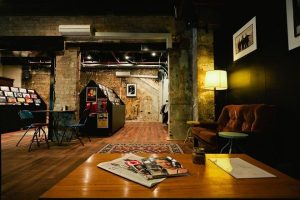 Foundry Studios and Foundry Records
Most days involve a lot of emails, usually some interview transcribing, and searching the deep web for weird photos to post on the Control Instagram. Around mid-afternoon I might question my decision to launch a creative start-up, then get back to emails.
At the moment I'm working on some parties that I'm super excited about, so my days are revolving a bit more about that. I'm also starting to plan out my first print release at the moment, so I've been working on that sporadically as ideas come.
We do photo shoots pretty regularly so that usually involves going out to scout a nice location, maybe shopping for some weird props, meeting up with the artist/s with Sav from Savvy Creative then maybe a beer or two to round off the shoot.
Depending what night it is, I'll sometimes work at a music venue in the Valley, if I'm not there, I'll go watch a band, and other nights I'll DJ at some nice venues.
How did you get your start in the music industry? What's the story of how you got to where you are today?
I think I'd always wanted to write about music as a job but it took me a while to realise it. I had a chance meeting at a club when I was a teenager with an editor of a culture magazine that had been going for a couple of years that, at that stage, didn't have any music coverage.
We got to talking about how many talented people we knew doing great things in Brisbane and how we wanted to be part of helping these people attention they deserved. I was studying journalism and fashion at the time but had always liked to talk a bit too much about music, so I agreed to write some music pieces for them and ended up launching their music section and was music editor there for around 3 years.
I applied for a Laneway pass in my first week there and a week later I did my first interview with an artist from the line up from my bedroom. From there the ball hasn't really stopped rolling and I've been so lucky to meet some incredible people in the industry in those years that when I told everyone I was starting my own thing people were really enthusiastic and supportive. It gave me more confidence to give it a good go and leave my cosy safety net of working with an already large readership to build something from the ground up.
What advice would you give to someone wanting to start a music website?
Some advice I've always kept in mind is to 'not be something for everybody, but everything to somebody.' I really try and take note of what people are actually enjoying (IRL, beyond analytics) and cultivate a little community of like minded people, appreciate loyal followers and write for them.
There are so so many music sites out there, you really have to mean what you say and care about the content you're creating otherwise what's the point, right? Quality over quantity rings true for most things.
Have you had to overcome any challenges/adversity since starting in the music industry? If so, can you tell us about them and how you approached them?
To be honest, not really, nowhere near the extent that I know other women in the music industry have or any industry that has been male-dominated for a long time. The challenges I find are usually just mental battles with myself – questioning if I'm doing the right thing without anyone to tell me what to do. It's incredibly liberating but sometimes stifling only having yourself to answer to.
There is a lot of work that goes into the Control website, what do you do to unwind?
As obvious as it sounds, I would probably say watching live music is my favourite thing to do. Other than that I like to draw, surf the web and have picnics in the park – especially ones with a high dog count.
What issues/potential issues do you think the current Australian industry faces?
Obviously lock out laws are hugely problematic for Brisbane and Sydney. I know many of my peers both in the music and hospitality industry are going to be hugely affected (if they aren't already) and it's going to make life a lot harder for venue owners and musicians to keep putting on great shows without being out of pocket. Both cities have brilliant music scenes so it's going to take some creativity to keep on growing but I feel like it's brought people a little closer together.
What was the best gig you've gone to this year?
That's so hard to answer. Habits last month was super fun. I saw them at Paradise Festival in Victoria last year and it was nostalgic to watch them again. They're both so talented and have such great energy – really a breath of fresh air. Also, not to blow my own horn, but the 'Dark Party' event I co-hosted with Savvy Creative at The Foundry in Brisbane a few weeks ago was the best night.
What is your go to karaoke song?
I Wanna Be Your Dog – Iggy and the Stooges
https://youtu.be/BJIqnXTqg8I