Tell us about your role at triple j and how long have you been in the position for?
I've been the Publicist at triple j for six years now, working across everything from media partnerships with festivals and artist tours, putting on triple j parties and of course writing press releases and building media relationships.
Describe a normal day in the life of a music publicist.
There isn't ever a normal day! One day I might be in the office writing copy and setting up interviews to promote a triple j campaign, like the Hottest 100 or Beat The Drum concert, or booking bands and a venue to throw a big listener party. The next I'll be in a festival field decorating our live broadcast tent, filming content with Triple J's Mayor of Splendour and throwing beach balls into the crowd. Then there's stuff like arranging photos shoots, coming up with fun competition ideas and dressing our presenters up in silly costumes for the ARIAs. Every day is different and I wouldn't have it any other way.
How did you get your start in the music industry? Did you choose to work in music or did it choose you?
Music has always been a huge part of my life, from sneaking in to 18+ shows as a kid to working out you can actually get paid to do what you love. My approach was pretty DIY, I moved to London when I finished university and just showed up at my favourite record label and asked if I could work in their record store. Before long I was booking the acts in their venue and shortly after booking my own weekly club night. From there I just offered to be a part of anything I could; freelance PR for artists and labels, activations at festivals, setting up sponsorship between events, brands and charities, learning and getting experience as I went. Six years later, when I came back to Australia, I set up an online PR company which helped me to gain the contacts I needed locally to move into my current role at triple j.
Have you got any advice for people wanting to start a career in the industry?
Work hard, learn as much as you can and get out and meet people. If an opportunity comes up, take it, you never know where it'll lead you.
What does 2015 hold for you? Any exciting things that you can tell us about?
2014 was a huge year for us. We launched Double J, triple j's new digital radio station for over 30's, and kicked off celebrations for triple j's 40th anniversary which included the Beat The Drum concert in Sydney's Domain, an exhibition, a TV documentary and a stack of radio content, plus of course the annual Hottest 100 to cap it all off. So right now I'm mostly looking forward to a holiday! I'm heading to Coachella for the first time, as well as a bunch of gigs in LA, which I'm really excited about.

Who are your role models in the industry whether they be international/Australian?
Two people who inspire me every day, and I am lucky to call friends, are Claire Collins and Meagan Loader. Claire is the publicist for Laneway Festival and a stack of high profile local and international artists, including Chet Faker, Flume, Lorde and Lana Del Rey, as well as managing Art vs Science and D.D Dumbo. She works hard and knows her stuff. If Claire is working on a new project you know it's going to be great. Meagan is a radio content leader. She was one of the main driving forces behind Sydney community radio station FBi and last year she brought us Double J from a simple idea to a cutting edge radio station with some of the best music content in the country, including some incredible specialist music shows and the much revered J Files.
What's your go-to Karaoke song?
Jimmy Eat World – The Middle!
Top 3 Artists to watch in 2015?
Montgomery, Tkay Maidza and Airling have me absolutely spellbound at the moment. There's so much great music coming out of Australia right now and these guys really caught my attention, absolutely owning their own unique sound and style.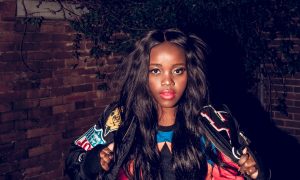 Tkay Maidza
#NowPlaying