What is your role at Twitter and how long have you been in the position for?

I'm the Head of Music and Entertainment at Twitter and also the Global Chair of Music. I've been at Twitter just shy of 2 years. We only opened an office in Australia about 3 years ago, so I'm actually one of the most long-standing employees in our local office! As the Head of Music and Entertainment, my main role is to create and develop unique campaign ideas that drive high quality content on and off the platform.
I work with all the major record labels, directly with artists and their management, independents, emerging talent and more. People often think we only work with the most popular artists, like 5SOS, but that's totally incorrect. It's quite the opposite… there is so much we can do for emerging and upcoming talent to help them expand their reach, grow their profile, and kick big goals.
One of my favourite campaigns recently was one I did with Reece Mastin. He's an independent artist who was coming out with a new album. Together, we developed a global first campaign where he revealed one track off the new album everyday for 13 days exclusively on Twitter using our audio card technology. The song with the most Retweets became the first single. It was the first time an artist had given the power of picking the single to his fans, and it was a massive hit.
Reece saw an increase of 142K impressions a month to 3.5M impressions, and there were more than 8K Tweets with his album hashtag, #ChangeColoursAlbum during the campaign. The campaign also resulted in 96 pieces of media coverage, including several TV interviews.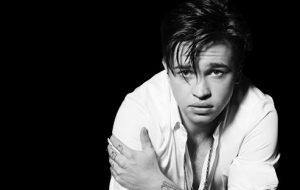 Reece Mastin
One of the best things about my job is being able to do global first campaigns which can be scaled worldwide. That's what I pride myself on. For example, I launched the first ever Twitter Presents concert series last year, where we were able to bring Cody Simpson (the #1 Aussie on Twitter) back to Australia for exclusive fan gigs around his new album.
This year, I also created, developed, and launched a Twitter based television program with VHits. Tweet The Beat is the first television show where the content is 100% based on Twitter trends, memes, Moments, and more… and viewers can Tweet to request music videos. It's on Monday thru Friday at 4pm so check it out!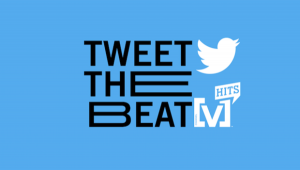 Tweet the beat
How did you get your start in the music industry – what is your story of how you got to where you are today?
I actually started my career in television, but music always played a huge part in what programs I was producing. For example, in the early days of my career, I produced a nightly variety show for NBC in the US, where we had bands play live almost every night. Everyone from Good Charlotte to Metallica to Hilary Duff appeared on that show. Right before I moved to Australia, I was working as an Executive Producer at MTV Networks in NYC. I created, developed, and produced a live, daily entertainment show which highlighted the biggest entertainment stories of the day, but also included in-studio guests and performances.
One of my fondest memories of my career is the day I shut down Times Square to have Rihanna perform live. But, love rules, and I moved back to Australia with my Aussie husband in 2012. Once here, I realised how much Twitter was changing the landscape of television and I really wanted to sink my teeth into social media.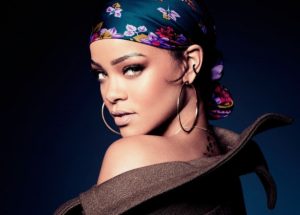 Rihanna
Describe a normal day in the life of Jennie Sager.
Ha ha ha… there is no 'normal' day! One of the reasons why I've always loved working in media is because you never have two days the same and there is no routine. Being successful in entertainment means putting out fires, solving problems, and doing big things, which doesn't leave a lot of time for 'normalcy'. But, to break it down on a basic level, I try to get to the gym by 6am. If I skip it, I have two little alarm clocks who go by the names of Lachlan and Noah. They get me up in the morning, I get them ready for school, and then I'm out the door. Work all day, dinner time with the boys, and then it's either out to an event, back on the laptop, or catching up on tv shows like Game of Thrones and The Walking Dead.
Do you feel that higher education is necessary to establish a career within the Australian music industry?
Growing up in the US, I always felt that university education was needed. In the US, it is so difficult to get a job in the industry without a degree. However, I personally feel that is ridiculous. The most important thing is hands-on work experience. When I'm hiring people, I really don't care about where they went to school, what they studied, or if they have a degree. I'm looking at internships, attitude, etc.
I can't stress the importance of work experience/internships enough. There is just nothing that compares to hands-on experience. I also highly recommend working in another country for a bit. I've worked all over the world. In dozens of cities and countries, and I think it's hugely important. You can pick up incredible communication skills, but also learning the challenges faced in other markets is invaluable.
Have you got any advice or recommendations for artists to better their Twitter presence?
Of course! So many! But if I had to choose a few… I'd say be authentic and Tweet rich content. Content is the key to success on social media. Tweeting photos, videos, GIFs, etc directly within your Tweet (no external links!) will increase your engagement by 72%. And when I say 'be authentic', be true to yourself. Don't try to do something you're uncomfortable with because you think it might work. Just be you.
The majority of music artists on Twitter manage their own accounts, unlike other platforms where it is usually the manager or label doing the posts. Music fans know this, and this is why they come to Twitter, so embrace the authenticity. I also recommend Tweeting 2 – 3 times a day… and don't forget to engage with other people's content. Retweet and Fave!
If you could go back in time and experience one music moment, what would it be?
As a music fan, I would have liked to have seen Michael Jackson in concert once before he died. I've seen thousands of shows throughout my lifetime, but I never got to see him. I also would have loved to attend Woodstock, but I wasn't even born yet!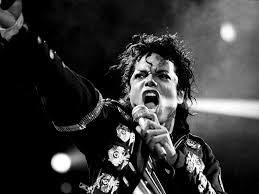 Michael Jackson
Have you had to overcome any challenges or adversity in your career, and if so how did you approach them?
It's always been a very male dominated industry, and I think that presents its challenges. It gets doubled when you have children. I was shocked at comments people made (and still make) to me and the fact that many still seem surprised that it is possible to be successful and also be a mum. I overcome it by continuously kicking major goals.
What does the rest of 2016 hold for yourself and the Twitter? Any exciting things that you can tell us about?
We've been doing a lot of large scale fan events with major domestic and global talent, such as Meghan Trainor, 21 Pilots, Jimmy Barnes, and Delta Goodrem. So, you can expect to see more of those. And, of course, the #ARIAS! The ARIA Awards are a massive priority for us each year, and this is the 30th Anniversary, so you can expect big things! Globally, the platform is constantly developing its video product and capabilities, so there will be big changes in live video and video tools.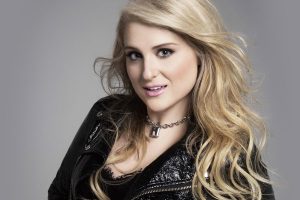 Meghan Trainor
Top 3 artist you're currently listening to?
I simply cannot get enough of Macklemore/ Ryan Lewis. I listen to their latest album at least once a day! I've also been playing some of my old Powderfinger albums lately. I really wish they would reunite one last time. And my kids love Conrad Sewell, Bruno Mars, ACDC, DNCE, and One Republic, so they get a lot of play in my house.
What's your go-to karaoke song?
I grew up in New Jersey and was a massive fan of glam rock, so my go-to karaoke is always Sweet Child O' Mine (Guns n Roses), Wanted Dead or Alive, or Livin' On A Prayer (both by Bon Jovi).