You are a touring and recording artist and also a mentor for the Desert Divas. How long have you been playing music for both personally and professionally?
I am a naturally musical person so playing music isn't something I can remember having a beginning. I know I started to take my music seriously around 2010, you know, playing in bands and writing songs and performing them live. I went to University to study classical music in my teens, got a degree and then decided I was happier as a songwriter. Now it's what I do – among many other things. Professionally I've been working for about 10 years….I think…
Tell us about the Desert Divas and your involvement with them.
Desert Divas is a mentoring project that teams emerging songwriters from the Central Desert Region (it's a HUUUUGE area) with local and national mentors to assist the 'Divas' in writing and recording their songs and giving advice on how to get their music out into the world. I worked on the DD2 compilation album earlier this year as a mentor and on the skills development program that the Diva's had to take part in during the recording process at CAAMA Studios.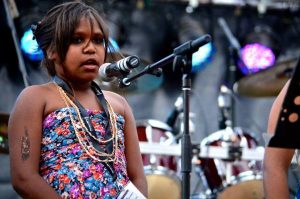 Desert Divas
Describe a day in the life of Leah Flanagan
Oh god. It just depends what day of the week it is. As a self managed artist and a part time (part time on paper – it's never part time) Arts Administrator my life is very hectic and changes constantly. I do not have a routine.
I'm up at 6am most mornings to either check my emails regarding my music and to chill over a cup of tea and stretch. I'm usually out the door by 7/7.30am to get to my day job where I work 3 days a week as a Project Officer. I fit in the 'biz-nis' side of my music into lunch breaks and spend more time on the computer when I arrive home in the evening. Other days/evenings I'm gigging or working on music development programs for various organisations. Days off are dedicated to writing songs and spending time at home with my family.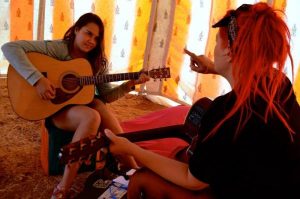 Desert Divas
How did you get your start in the music industry – what is your story of how you got to where you are today?
Playing live and travelling. Trial and error. Making music and not giving up if it seems all too hard. I credit wanting to make this crazy venture into the music biz to my high school VET teacher Roddy Balaam who helped me realise my passion for the live music scene. I started at a very grass roots level in Darwin where there weren't even any venues to play at, we just had to make our own gigs and create our own scene. The whole DIY method is how I still work as a musician now. I'm still broke as fuck but I live in a nice house and get to travel – winning!
What advice would you give someone wanting to become a musician? Did you receive any advice when you first started that has stayed with you?
Don't want everything too soon. Longevity is everything if you want a career as an artist. Put your art first, trust your own judgements, be graceful to those around you and don't let anyone make you feel insignificant.
If given the chance, what would you change about the current Australian music industry to make things better or fairer for musicians?
I would change that fear of, "if it is Australian it isn't as good as…" mentality and I would make FM mainstream radio stations play more Australian content and more content by Australian women. There are so many other things I wish I could change….sigh.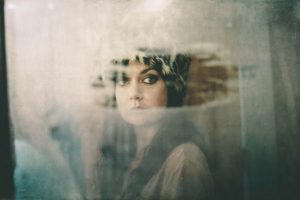 Have you had to overcome any challenges or adversity in your career, and if so how did you approach them?
Many. The main challenge initially was being a regionally based artist before there was such a huge online presence of music and media. Booking gigs meant making phone calls and reading street mags that your mates from interstate would send up to you. It took a long time of travelling and living 'down south' to learn more about being an independent musician.
Another challenge has been the politics that are attached to you when you are pigeonholed as an Aboriginal artist by the industry. That has always been tough and incredibly hard to navigate, especially when I was younger and was still trying to understand what politics meant for me as a person.
As an Aboriginal artist there are so many expectations that are attached to you by the non Indigenous media and music industry and it can be damaging if you do not have the right support around you. I now make it a priority to keep up to date with current affairs and political issues so I can answer questions thrown my way and reverse it back to talking about my non political art.
Are there any skills that you've needed to develop as a musician that you didn't realise you'd need?
The biz man. The biz sucks as it takes you away from playing music but you need it to survive as an artist. Being my own agent and manager has been a pretty wild journey. I just make it up as I go along.
What is your favourite gig that you've ever played and why?
Too hard to say. Nymagee 2009 on the back of a semi trailer in the middle of the bush – that was pretty fun.
What is the song you wish you'd written? (but didn't)
Woman – Neneh Cherry.

Neneh Cherry
What advice would you give to your 18yo self?
Trust your own voice and opinions more.
What tips would you give an artist trying to succeed in Australia? Is there a certain route they should take?
Be great live. It is what makes you stand out from the rest and keeps you in a career as fads and trends come and go. Oh, and be nice to people.
Who are your role models in the industry whether they be international/Australian?
I've been lucky to receive a great deal of support from many women in the music industry who I have learnt so much from and who are my friends so am going to do a shout out to them. Sophie Miles from Mistletone Records, Liz Stringer, Amanda Brown, Lindy Morrison, Emily Lubitz, Tash Parker, Cath Haridy, Kirsty Rivers, Ursula Yovich, Amy Hetherington….and that's just off the top of my head.…these women inspire me all the time at how incredible they are at their jobs, their art and how incredible they are as human beings.
What does the rest of 2016 have in store for you?
Work work work and not enough rest, sigh. I'll be releasing my next album Saudades in September and touring it with my spunky band. Plus I'll be appearing in Clinton Walkers Buried Country Roadshow.
Top 3 artists to watch right now?
What is your go-to karaoke song?