What is the Mayfield Agency, and what do you do?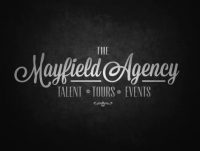 The Mayfield Agency is a company I started in 2013. We run music events, book shows and national/world tours for Australian and international urban artists, as well as offer services (tour managing, PR and stage managing etc) to other music entities.
Why did you start the Mayfield Agency?
I started the Mayfield Agency because I had so much going on, I needed an umbrella in which to run all of my projects under. It is something that I'm growing organically…it really has evolved from my passion of street culture. I had started running tours under another London based agency, then spent some time in New York which brought tonnes and tonnes of inspiration for me. I just loved it. I felt the next step was to expand what I could do creatively and stretch my wings with my own business.
Describe a normal day in the life of Leenie Mayfield.
It depends what project I'm sinking my teeth into at the time, but just recently I was tour managing an urban circus, 360 Allstars (breakers, loop artist, basketball freestyler etc) around Australia for 5 months. On that gig I would wake up early, do a spot of yoga on the hotel floor (God bless youtube), grab a coffee from the local cafe, plan out the day individually for the tour party of 10, answer emails, go to the theatre, liaise with FOH management, set up the merch display, wash costumes then set up the backstage area with rider and costumes, do a couple of trips from the hotel to theatre with artists for sound check and warm up, call minutes, operate AV at the show, sell merch and coordinate photos and signings, pack up, sort dinner, drive artists back to hotel, then collapse into the hotel bed and thank the lord for the coolest job in the world.
What drew you to the hip hop scene initially? And what makes you stay?
I've always been naturally drawn to street culture. My older brother who was and is a graffiti artist taught me about the elements of hip hop and it's philosophy when I was in high school, I couldn't get enough. I dabbled in all elements but I've always been more of an entrepreneur, running parties where artists could showcase their talents and encouraged them to do their thing.
I remember I used to catch the train in the outer burbs' of Brisbane listening to Indigenous kids make a beat with their fists, then rap and beatbox over it and I thought it was so cool that they could just make music wherever they were with whatever they had on the spot. So raw! My music taste has evolved a lot over the years but these were the beginnings. At it's roots, hip hop is a very positive movement.. it puts the power back into the people's hands because it gives those without power a voice and I believe this is a catalyst for a lot of conscious change within people and communities. So this is why it's close to my heart. I really believe in it as a powerful art form.
Have you got any advice for people wanting to start a career in the industry?
Align yourselves with people who are already successful in the industry and learn from them. The music industry is very much hands on, so create your own opportunities if there are none being offered to you. You don't necessarily have to study music business to work in it, whatever you want to do just start doing it, start from the bottom and work your way up! You learn way more by just getting out there and doing it, find a mentor to check in with and be open to feedback. Keep setting your sights higher too, that's a lesson for us all!
A lot of people get burnt out in the music industry – both artists and industry professionals. What do you think is the key to sticking it out?
Intention is everything. Remind yourself WHY you do what you do and what your intentions are, what drives you in the music industry. Get to the root of it, write it down and put it up somewhere you can see it every day. You will get energy from reigniting your passion and will be more effective when you know your purpose. Also, holiday a lot. I do it, and it's great! It is an industry that requires a lot from you.. after a tour I'm always in dire need of 'me' time. Why not spend it in some exotic location overseas and switch off or set up office there for a while? You've got to always switch things up to keep it fresh and keep inspired. It's the key to living.
Describe 2 of the most memorable tour experiences you've had.
I was touring Promoe and Cosmic from Looptroop, an old school Swedish hip hop group with a diehard graffiti artist following in Australia. They wrote a song about an artist in Sydney named Bingo who got hit by a train when he was out painting in 2003. He was a big fan of theirs. When we did our show in Sydney and they performed that track, many of Bingo's friends jumped up on stage and sang along. People were crying in the audience and it was the most electric, sad and powerful moment. I will never forget that.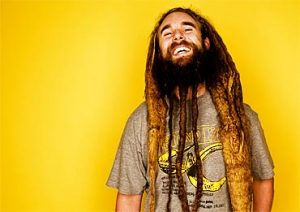 Promoe (from Loop Troop)
The other one would be the post show experiences while on tour. I had a very eccentric artist I was touring once from the States run up and down the hotel hallway extremely intoxicated. He took all of his clothes off and decided to start slapping his member on the door handles of other rooms – he was looking for the vodka and didn't know what room the DJ who had it was in. The headline act answered one of the doors and just shook his head, he had two girls in there and they screamed as they were chased by him around the hotel. Imagine trying to control that situation. Hah. There's been a lot of that on tour. I always remember the after party debauchery. I guess artists just have to let off some steam after their shows and what better way than running around naked in your hotel hallway (apparently).
What issues/potential issues do you think the current Australian music industry face?
It really depends on what facet of the industry you work in. For me, the two biggest issues that come to mind would have to be the extensive paperwork and exorbitant price of Australian entertainment visas for international artists. Secondly the lack of protection and support for live music venues from local and state governments, we have to keep those babies open and thriving! It's really important.
If you were to change one thing about the structure of the Australia industry, what would it be?
Australia is a very multicultural place, and I feel it isn't reflected in the radio play of our more commercial stations. There is amazing and good quality music from all over the globe that Australia should know about. Not to mention amazing Indigenous music too! I would like to see more diversity on the airplay.
Have you had to overcome any challenges/adversity throughout your career? If so, can you tell us about them and how you approached them?
I have come across many challenges and adversities in all areas of my job. From conflict within the tour party to visa issues and much more. Within this sector of the industry a lot can come up, particularly while on tour. It's up to you to use your good judgement and be level headed about how to deal with each situation as it arises. I feel like I've learnt a lot from trial and error and you naturally get better at dealing with situations and people from learned experience. Having contingencies and choosing the right people to work with has become mandatory for me.
What does 2015 hold for you? Any exciting things that you can tell us about?
How do you unwind/destress?
I go out and let off some steam on the dance floor… usually to some latin/hiphop/reggae. Holiday. Get reiki'd. Swim at the ocean. Or sleep.
Who are your role models in the industry whether they be international/Australian?
Vicki Gordon from Sydney based Oxygen Music. First (and only?) woman to be on the Aria board of directors. She's on top of her game business wise and has her heart in the right place. Meghan Stabile from Revive Music (NY Based) – she programs seriously good quality jazz events. Elliot Wilson of Rap Radar for excellent journalism.. etc etc etc.
Who are three Aussie artists you're really excited about?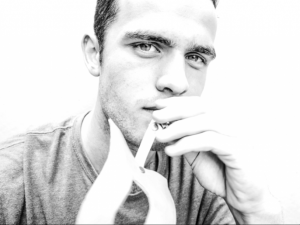 Brisbane based soul singer and producer. Sleek production and smooth vocals. Not entirely groundbreaking but just a high quality of sound. Australia's next big export I imagine!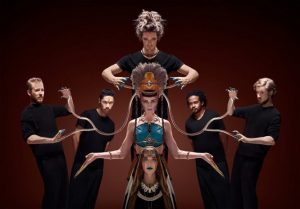 It's a jazzy / funk / hip hop inspired neo-soul electronic wonder group lead by the truly amazing vocals of the eccentric zulu queen Nai Palm. I find their music so interesting and exciting. They are skirting new grounds… they've really coined their own brand of sound, and to do something like that these days is quite the challenge. I am a diehard fan!
RaRa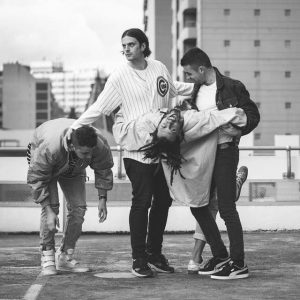 4 piece indie rap/electronic goodness. They're super cute and fun, and have really grabbed their music projects by the balls and just gone all out creatively. Definitely one to watch.
What's your go-to Karaoke song?
Beastie Boys – sure shot.