Can you tell us about your current role/s and what you are working on at the moment?

For the past two years I've handled the Communications & Artist Management for CAAMA Music, the Aboriginal record label based in Alice Springs, which has been recording, supporting and promoting Aboriginal music since 1980.
The complex socio political environment here in Alice Springs requires working across different cultures and facing challenging circumstances that make my role pretty unique and exciting. The title on my business card only really scratches the surface of my job description, which also includes publicity, marketing, tour management, grant writing, and a fair bit of social work.
At the moment I'm coordinating the Alukura songwriting competition (funded by the Australia Council), which is going to see eight female Aboriginal singer- songwriters from around Australia fly to the CAAMA Music studios in April. The experience will include songwriting and music business workshops, mentoring by the Stiff Gins, recording in the CAAMA Music studios as well as camping in swags under the stars on the West MacDonnell Ranges, involving a cultural and musical exchange with the Aboriginal community of Hermannsburg.
The winners have just been announced, and you can read more about it all here.
Describe a normal day in the life of Nicola Pitt.
These are the kinds of things on my 'to-do' list:
1. Write press release about Desert Mulga's new album.
2. Submit artist applications for Alice Desert Festival.
3. Load new Jacinta Price single onto Air-It community radio platform.
4. Write grant to tour Tjintu Desert Band to Barunga Festival.
5. Organise North Tanami Band album launch (venue and travel logistics for remotely located bands, some communities are 12 hours away via dirt roads and do not have mobile or internet coverage).
6. Submit artists for the National Indigenous Music Awards.
7. Write website news posts and maintain social media accounts.
8. Liaise with journalists and schedule media interviews (and first locating the source phone numbers to call in remote desert communities – not easy!).
9. Source material for album artwork (photos, lyric translations, credits etc).
Of course, there are many days I never even get a chance to look at my to-do list because something unbelievable/urgent/hilarious/tragic occurs which will throw all my best laid plans out the window. I've definitely learned lots about patience and adaptability in this job.
How did you get your start in the music industry? Did you choose to work in music or did it choose you?
I was a book publicist for six years, who then went to live in Mexico City for a while and returned to Australia feeling that Sydney wasn't quite the right fit anymore and neither was the publishing industry. I wanted a change. So when I read an advert in the Sydney Morning Herald for a job at an Aboriginal record label in Alice Springs I knew that this was my chance for both a change of scenery and a change in industry.
I think I can safely say that I definitely chose to work in the music industry, because it didn't exactly fall in my lap. Moving 1,500km away to Alice Springs is no small matter but I am so glad I did. I now live in one of the most spectacular regions of Australia, part of a diverse and artistic community, have immersed myself in the music industry and have the privilege of working amongst the oldest living culture in the world.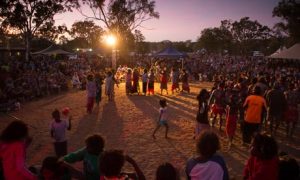 Barunga Festival
I wrote an article for Rhythms magazine last year, which goes into this story in a bit more detail – including touring Tjintu Desert Band up the Stuart Highway to Barunga Festival. (In which I learn that a music tour is quite a bit different to a book tour.) You can check it out here.
Have you got any advice for people wanting to start a career in the industry?
What I tell our Aboriginal artists who come to record at the studios can apply to all musicians: write music because you love music, not because you want to get rich. It would be great if more musicians did get rich, but the structure of the music industry doesn't allow for that very much.
And to those who want to work in the music industry I say the same as to anyone who wants to do something a little different. When you spot an opportunity, be ready to jump at it. You may have to pack all your belongings into a van and drive into the red desert at high summer – but think of all the adventures to come!
Do you have any advice for musicians wanting to tour to regional areas, or musicians from regional areas wanting to reach the urban centres?
There are all kinds of grants you can get to help fund tours, especially if you include very remote areas in your tour. (Check out Australia Council's Regional Performing Arts Touring Fund.) Get in touch with ArtbackNT and Country Arts WA, which organise many tours across regional WA and NT each year.
Partnerships are essential when applying for touring grants. Not only does the review panel take them into consideration, but it makes less work for you if you can utilise the skills and resources of others. For example CAAMA Music has musical equipment for hire, plus a wide network of contacts stretching across the desert. So it makes sense to get in touch with us if you're planning a tour to Central Australia.
You work with a lot of indigenous artists at CAAMA Music. Do you feel that indigenous artists have particular challenges when it comes to getting their music played or heard? Is there anything that could be done differently to assist in getting their music out there?
Actually I think that Aboriginal artists have a few more avenues in getting their music heard, because their background provides a point of difference when trying to break out from the pack of new musicians emerging every month. There are many indigenous community radio stations across the country that are always on the hunt for new music. Then you've also got indigenous programs included within other stations, such as 'Big Mob' on PBS in Melbourne and Radio National's 'Awaye' program. There are performance opportunities that come from the Aboriginal cultural festivals around Australia like Barunga Festival or Yabun Festival in Sydney. Then festivals like Woodford Folk Festival have a dedicated indigenous stage, which provides a great platform to a huge audience. The tricky part is how to move from the indigenous stage to eventually performing on the "main" stage, but at least your foot is in the door.
What issues/potential issues do you think the current Australian music industry face?
Many people see no ethical problem in music piracy, because there's a peculiar but commonly held notion that by simply listening to a song the audience are doing the musician a favour. This can also be seen in the pricing structure of online music streaming sites, which pay the artist next to nothing, while the rest of the music chain makes a comfortable living.
The source of the biggest problem for music industries everywhere continues to be the perceived worth of music.
If you were to change one thing about the structure of the Australian industry, what would it be?
I see that music streaming will soon be the way most people access music, rather than downloading entire albums. So if there was one thing I would change about the industry it would be a re-assessment of the pricing structure of music streaming sites. The profits should be distributed more evenly, taking into account the likelihood that digital album sales will decline and the bulk of artist earnings will need to be made from streaming.
What does 2015 hold for you? Any exciting things that you can tell us about?
CAAMA Music has just launched a new sub-label called 'Therrka' which is specifically for remotely located Aboriginal grassroots community bands, so we'll be recording and producing more albums in a shorter timeframe and for a more accessible price. We're going to be flooding the desert with lots of new music this year!
Top 3 Artists to watch in 2015?
In May you'll be hearing all about a young Yolngu man from Arnhem Land, whose debut self-titled album Lorrpu, bridges the divide between traditional Aboriginal culture and modern pop music. Later in the year a new album by Catherine Satour (of the Desert Divas and NITV) and the next big desert reggae band is Desert Mulga.
What was the best gig you saw last year?
There's an amazing festival held each year near Alice Springs called Wide Open Space, which features lots of eclectic bands from around Australia. Watching Tom Thumb perform his beatboxing there last year absolutely blew my mind. You can't believe the range of sounds he can produce with just his mouth and a microphone!
Pick up your iPhone/music device and click shuffle – what is the first song that comes up? Be honest!