What is your role at Wonder MGMT and how long have you been in the position for?

I'm the General Manager and joined Matt Emsell at Wonder 5 years ago this month. I also run 1825 Records, our joint venture with UNFD through Warner Australia and Atlantic Records USA.
What does a typical day for you involve?
In the morning I drag myself out of bed a little before 7am, I'm not an early morning person and it's a daily fight to not hit the snooze button. Matt Emsell and I usually have fierce text or email wars if we can't speak before I get in the car.
I always try to do a lot of quick brainstorming with our staff either over Skype or in the office – sitting by yourself looking at a blinking cursor is not a good way to get creative, and neither are long drawn out meetings.
My role works across all aspects of the business, from the creative ideas, to negotiating contracts with artists and labels, to working through songs and producers on the label and their release timelines and schedules. I oversee the financials for the company and our artists along with the artist brand overview. I send a lot of emails and make a lot of phone calls.
Going to see music is obviously the best part, so I try to go to something I love and something I have never heard of weekly. If not I'll sit at home with a bottle of red wine and watch the Gilmore Girls.
How did you get your start in the music industry?
I was late to the industry professionally – I actually got out of high school and started working at a finance brokers as the receptionist. After working and training to become a broker, I realised I hated the job and was only really doing it because I got told I couldn't. I left in 2007 and went to TAFE to study Music Business and at the same interned for Frontier Touring and a recording studio in Five Dock. The studio had a lot of labels coming through to meet with the producers, one of the artists recording there I actually took on for management.
To this day I'm not really sure how I managed to convince Sean (Snob Scrilla) to work with me other than I was passionate about his music and would do anything to get it to work. A lot of sleeping on floors, hustling for any opportunity and long hours while working a part time job, as there was no income at all made for an intense couple of years, but looking back it was the most fun I ever had. Sometimes the less you have the more resourceful you have to be.
Snob Scrilla
Where did you grow up and what was your childhood and teenage years like?
I was born in Australia and lived here until I was about 8 when our family moved to a very small village in the north of England. Having those two passports has come in very handy later in life! Moving from a city like Sydney to a village where tractors drove kids to school was a pretty hard change, while it was a great place as a kid to play in the streets, becoming a teenager and finding any music which wasn't Take That was a lot of work, but those bands I found continue to be my favourites to this day. And I still also love Take That.
I may not listen to them as much as I'm not quite as angry anymore, but I will still go to a Pennywise show if they are playing. I drove from LA to San Diego after a day of meetings to go see them at the House of Blues, then drove back after the show. No regrets.
What artists do you work with/have you worked with?
Snob Scrilla was my first management client and got me a start in the industry – he then moved to LA to pursue a very successful song-writing career. At Wonder I worked on 5 Seconds of Summer before they moved to LA, Matt Corby from the Winter Tour in 2012 and I continue to work with him along with Lakyn, Taj Ralph, R.W. Grace and Morgan Bain.
For 1825 I work on Fountaineer, Xavier Dunn and two new development acts we have on the label. Oh, and most importantly, I also helped out Bangs for a week back in 2009, and what a week that was.
If given the chance, what would you change about the current Australian Music Industry?
Sometimes I think we are too ready to make light of our achievements both in Australia and internationally, there are some great industry people who you might never hear about, as they aren't as good at self-promotion than others.
What advice would you give someone wanting to get into management?
Find an artist and start working with them. Be ready to make a lot of mistakes and learn from them but also be aware that your naivety can actually open a lot of doors, sometimes what is acceptable when you are still learning and coming up, can get you a lot further than an established manager. People respect that determination and hunger, as long as you aren't being a punish.
How do you unwind when you're stressed?
I go for a lot of walks to clear my head – sometimes even 10 minutes can make a difference to how I'm dealing with a problem. I'm not much into yoga or meditation but getting a good manicure and a blow dry can be just as good for me.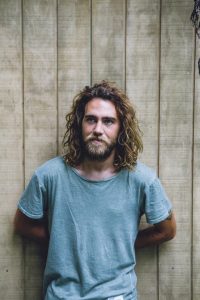 Matt Corby
Give us your take on the local Sydney music scene, where do you go to see shows and who are some local artists you'd recommend we keep an eye on?
Having the Newtown Social Club close was a blow, but having the Lansdowne open again is awesome. There are good mid to high level venues but not as many lower level club nights like we used to see, and can still see in Melbourne. I've seen some great shows at the Record Store in Glebe, OAF gallery bar, and Metro Lair is a cool space and the Botany View is great.
Ruby Fields is someone I know everyone has an eye on, I saw her play the Lansdowne opening weekend and she was brilliant. Sloane Petersen has an amazing live show, and think the guys from Lulu Raes are going to do some big things this year.
Have you had to overcome any challenges or adversity in your career, and if so, how did you approach them?
After Snob Scrilla moved to the states I was at a bit of a loss of how to go forward, I couldn't find an artist that excited me as much as that project and thought it meant the end of my career in the industry. I had to learn that you find the projects that excite you when you find them and there is no rule about how often they come around.
Only working with one artist is something I don't think I would do again for that very reason, having only one project can be all consuming instead of exciting. Now I have lots of things to work on when there are down times as there will be in all artists' careers, so you never lose the drive and the excitement of what we get to do.
We all know the saying, "What happens on the road, stays on the road", but are there any crazy/bizarre tour stories you can share with us?
Lying about being students and sleeping in a University dorm in London for three weeks was definitely weird, I kept getting woken up to speak to dorm security in my pyjamas, not a position of power I can assure you.
I got lost in the outskirts of Berlin and having a friendly Uber driver willing to do some speeding so I could re-join the tour bus before it left for France. And hiding in the same bus with all the lights off as a football riot erupted in Dublin.
My favourite moment will always be watching an empty tent turn into a full tent at Glastonbury on a Sunday afternoon with gear that was broken, and a drum kit not mic'ed up as the techs counted down the seconds before the show had to start. And then watching Matt Corby and his band do one of the best shows I have ever seen. I'm not much of a tears kinda person, but there were tears that day.
Do you feel that higher education is necessary to work in the music industry?
I don't think education is a bad thing in any industry, I went to TAFE for a year but didn't continue on studying because by that time Snob Scrilla was a full time job. I also met a lot of people in that course who then went on to work in the industry, so I had a tour manager, tech and promoter as some of my first contacts, we all helped each other out.
But actually getting out there and volunteering and working with musicians will always be the best way to learn though.
Who are your role models in the industry and why?
Richard Branson is probably one of my biggest role models. People laugh at me when I say that but he hustled and built a business from a flatsit in London. He was also smart enough to realise what he didn't know, and hired the right staff to make up for his shortcomings. There is a lot to be said for hiring people more intelligent than you, and it's something I try to do.
What is your go-to Karaoke song?
It used to be Lisa Loeb's "Stay" but recently Little Mix's "Touch" is a car favourite. That is one hell of a pop song.