Noamme, you're a Tour Manager currently based in NYC. Tell us your story! Where did you grow up and how did you find yourself in crazy, New York City?
I wanted to be involved in live music in some way since I was young. I grew up in Europe with very supporting parents who enabled my love of live music and who had the unfortunate task of accompanying me to festivals all throughout my early teens. I have a very distinct memory of my dad standing knee-high in mud at Roskilde in 2006, and it was a very special moment when I returned to Roskilde ten years later in 2016 with Tame Impala. It wasn't nearly as muddy.
I moved to NYC for New York University and ended up staying after graduation. I love calling New York City home because no where else in the world can you get off a twelve hour flight completely jet lagged at 4am and grab the best slice of pizza of your life. The city both celebrates and enables the touring lifestyle.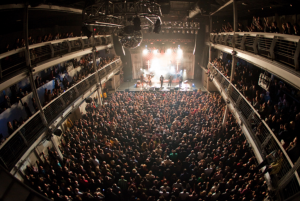 Terminal 5, New York City
How did you get your start in the music industry?
In high school, I somehow talked my way into a festival production team as a production assistant. The job itself was pretty nebulous but I got to watch a lot of free shows. Shortly after I moved to New York City, I started out as a production assistant for The Bowery Presents and Terminal 5. Most of my coursework for university was done backstage between sets at various venues in New York.
Working at a venue was a great experience because it introduced me to the ins and outs of touring and it enabled me to start forming relationships with a lot of other tour managers, many of whom are now friends and colleagues.
What artists do you work with/have you worked with?
My first tour was with The Flaming Lips. They hired me straight out of college, and I was out with them for just under ten months as their Tour Manager's assistant. It was the craziest time of my life, and anyone who's seen their show can attest to that.
Following that was the Currents album cycle with Tame Impala, a short stint with The Monkees, and currently I'm out with Foxygen.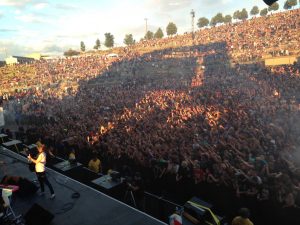 Tame Impala, Sasquatch Music Festival
You've recently been on the road with Aussie artist, Tame Impala. Tell us about your experience working with an Australian artist and team. Did you have any expectations going in to the tour?
I had a blast with Tame Impala. I went into the tour without any expectations to find that Australians are some of the warmest and funniest people. I'm super grateful to have had the opportunity to tour Australia with them. Some of my favorite moments were playing at Sydney Opera House and Sidney Myer Music Bowl in Melbourne as well as hanging out on the beach in Fremantle and having breakfast at Toastface Grillah in Perth.
Even in the two years I was out with them, it was amazing to see the growth of the tour. We started the album cycle playing mid-level clubs in North America and within a couple of months we had two sold out shows in Alexandra Palace with over ten thousand people each night.
Besides that, I've permanently adopted some Aussie slang and know way more about the AFL than I need to.
What's the longest stint you've done on the road and for what tour?
Tame Impala was by far the longest tour, on and off for two years. Summers are hectic and winters are quiet. Festival season is always intense, especially bouncing between different continents. It's important to take the time to check in with yourself mentally and physically, because as a TM, you have to be on 100% of the time.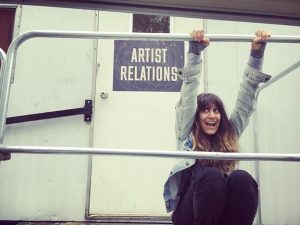 backstage @ Meadows Festival, NYC
If given the chance, what would you change about the current North American music industry?
I'm interested to see when the festival bubble will burst. I think the North American music industry should focus on the quality of festivals as opposed to the quantity. New festivals crop up every year and not only do they cannibalize the market for each other, there's always less money to work with and inevitably it becomes an unpleasant experience for everyone involved. North American festivals should aspire to be more like their European counterparts.
What advice would you give someone wanting to become a Tour Manager?
Get a gig at a local venue. Be effective, professional, and courteous. Make friends. I always made a point of keeping in touch with different TMs or artist managers that came through Terminal 5 and checking in with them if they came back to New York. If you're good at what you do people will notice.
Give us your take on the local NYC music scene, where do you go to see shows and who are some local artists you'd recommend we keep an eye on?
Bowery Ballroom is my favorite NYC venue, it's such a staple. Other great spots are Berlin, Baby's All Right, and the now defunct Elvis Guesthouse. I've been listening to Frankie Cosmos a lot – is she still considered local?
Have you had to overcome any challenges or adversity in your career, and if so, how did you approach them?
Kill them with competence! One issue I've faced is not being taken seriously or being underestimated because I'm young and/or a woman. There are some seriously talented women on the road, so it's unfortunate that this still happens. It's little things like someone saying, what's a nice girl like you doing on a stage like this, or flat out being told no one will respect me as a tour manager because I'm a woman.
Proving people wrong is a good motivation, but I keep on doing a good job for myself, because I like my work and it feels awesome to put on a successful tour.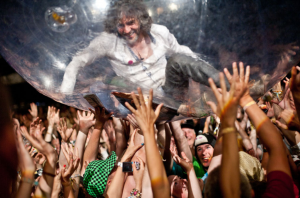 The Flaming Lips
We all know the saying, "What happens on the road, stays on the road", but are there any crazy/bizarre tour stories you can share with us? Any faves?
It's impossible not to come home with a fountain of stories, and most of them a little too risqué to print, but one of the funniest things that I'll never get over was when The Flaming Lips put me in a costume and the next day my face got plastered on MTV in gif form.
What is your go-to Karaoke song?
Total Eclipse of the Heart. It's my jam every single time.