Zoë, you're the Music Editor at JB Hi Fi's 'STACK' magazine. Please tell us your story! How did you get to where you are today?
It's a tale of triumph and woe, beginning when I attended my first ever comped live show to write a review for Beat magazine around 10 years ago. Beat also gave me my first interviews with artists, on-camera work for their What's On segment, and extra bits and pieces I picked up by inserting myself into the workplace between uni classes (Bachelor Of Arts represent), just to see how it all functioned.
After that I wrote freelance, and developed a hell of a lot of respect for writers who operate this way – I struggled enormously. Just as I was about to go mad, I serendipitously met the Co-founder and Director of STACK at a St Kilda pub. (The lesson is, LinkedIn isn't everything.)
I started at STACK as a film writer and interviewer, but my boss knew my interest was in music, so I was already helping out in that section when the Music Editor job came up. I moonwalked right into it and have loved it ever since.
Tell us about your role with 'STACK', what does your day-to-day entail?
First thing in the morning is dedicated to listening to new music – as much as can fit into my brain during this window (because unlike every other music writer I've ever met, I am almost totally unable to write while music is playing – it's a curse). Even if I know I won't have room or time to cover certain releases, I listen to as many singles I can, including from smaller/emerging acts which don't have records out yet or aren't stocked in JB Hi-Fi (our parent company), to keep myself up-to-date.
Then it's typically procuring advanced album streams for my stable of very awesome reviewers, prepping/conducting/writing up features based on my interviews, updating my own lists of upcoming releases and cross-checking with JB's special offers and limited edition vinyl, and uploading our music features to the STACK site. There's always something different to do and I'm blessedly given a long leash by our Editor-In-Chief when it comes to ideas.
What has been your proudest achievement so far?
Aside from the many illustrious and personal-fave artists I've been lucky enough to interview (Shirley Manson, Angus Young, Alison Mosshart, Kylie Minogue, Beck, Tim Minchin, Matt Berninger, Samuel T Herring, Boy George, Billy Corgan, Neil Finn, Liz Phair), my proudest achievement has been doing red carpet interviews at the ARIA Awards. And that's because each time I do it, it's a massively personal achievement.
I do not love being on camera, I do not love the pressure of a red carpet environment, and I do not love elbowing for literal body-space with other journalists – but you've just got to do something scary every once in a while, right?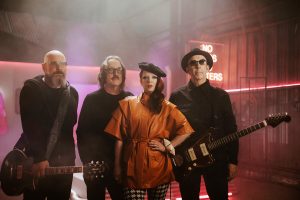 Who are your role models in the industry, be they international or Australian?
I'm admiring of women and NB artists who don't give a damn about when they're supposed to sit down due to age. It's not something that applies as much to desk jobs (my role in the industry) but the chutzpah it takes to not just recognise, but fully believe in and own that you deserve to be seen, is something I take really seriously.
What is your top artist interview moments?
I always chortle when I remember a moment from my phone interview with Primal Scream's Bobby Gillespie.
He was sitting in his parked car to do the chat, and he stopped mid-sentence so he could cat-call someone out of the window. I was silently horrified for a second, but then he then gigglingly reported back to me that his wife loved it. Cute.
What is your big picture career goal?
I've always been terrible at this question, because I do not do my five-year plans like everyone should. But my big picture goal in general is to be working remotely from my farm, on which I will have a big beautiful studio where artists can come to record all tucked away amongst the gorgeous rural Victorian landscape.
What is the best piece of life advice you've ever received?
"Nothing matters nearly as much as you think it does," from Mummy. It can sound nihilistic if you take the 'nothing' literally, but I find it really peaceful to apply it to the not-yet-manifest, pessimistic worries you get sometimes. Second-best is in a similar vein: "Don't sweat the small stuff," which I got from a Rexona commercial.
What does the rest of 2021 hold for you? Anything exciting you can tell us about?
I may have a personal project brewing but I'm far too neurotic about its progress to give any details yet.
What is your go-to karaoke song?
Kim Carnes – Bette Davis Eyes. Someone once gave me the fabulous compliment that it reminded them of me, so I like to remind myself whenever the opportunity comes up.