What does a typical day look like in the life of Bethany Atkinson-Quinton?

Depends on what is going on from week to week as I do a bit of project based work but generally I have a few ongoing roles. So half my week I spend working from the music library at PBS, programming interviews and then some days I'm teaching radio/podcasting at various places and then the rest of my time I dedicate to making radio, be that broadcasting, creating radio documentaries and/or making creative audio pieces.
I'm currently co-organizing a listening party and audio exhibition for All The Best, which is keeping me busy! I do tend to work a lot but I love the projects that I spend my time on and get to work with extremely passionate people so it keeps me really motivated. I'm fairly social too so love to go out to gigs, talks and theatre or just spending time with the wonderful humans in my life. I'm also a serial volunteer so tend to be doing that some nights too and like doing yoga! And of course, cheese and wine, I love cheese and wine.
Tell us about the PBS Access Training Program and what pushed you to advance it?
I think that all community broadcasters have a responsibility to accurately reflect the community that they exist within. I believe that this was the biggest driver of this project. I'm really passionate about the values that underpin community radio – access, diversity and being an alternative platform to existing media channels.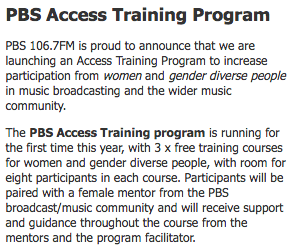 I thought that we needed to be doing a better job at actively looking at ways to address the gender imbalance on air. So many have mentioned (just a few times.. ha) the urgent need for something to change. As well as the gender imbalance, Australian media in general is so white-bread and if this doesn't start changing from a community level it's not going to change anywhere.
This new program isn't drastically different from the current training program, it is still geared towards learning the skills of radio making so we haven't had to rewrite the whole course but I think our approach to recruiting has changed a lot. I think that with this course we have had the time and resources to be able to proactively seek out people and let people know that we really want to make space for women and gender diverse at PBS. We want people to learn and engage with the station in a safe space and to connect with other people from the station. The PBS Access Training Program is an eight-week broadcast training course. The course content includes introduction to radio, writing for radio, presentation, program making, interviewing, broadcast law, technical skills, programming on PBS, using the studio and prepares you to make a radio demo. On top of this each trainee receives mentorship from current PBS announcers.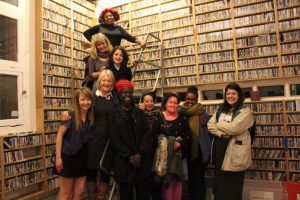 The course also includes specialist training classes from the likes of Namila Benson, Jacinta Parsons, Areej Nur and Tracee Hutchison. The key specialist areas we are focusing on are cultural competency within radio presenting, program making and interviewing.
I think these specialist classes are really beneficial for trainees as they create more space for discussion with other contemporary media makers and they are able to learn different approaches to the same tasks.
I think the main aim of this program is to actively create space for people that historically haven't been and currently still aren't being accurately represented in this area.
Following the eight week course, participants will gain access to a one hour radio program on our digital channel at an accessible time to practice their skills from the course. They will be put on a rotating roster where they can practise the role of host, producer and panel operator. From here, we strongly encourage our new broadcasters to apply for a program in order to gain a regular position on air.
What were some of the difficulties you encountered in the early ideas of the PBS Access Training Program?
I think when we started thinking about the realities of this program, we realised that we'd need a lot more time and resources than standard PBS training. I think for programs like this to work, it's really important to account for flexibility in every sense. It's important to allow for flexibility within learning styles and within work/life/family/religious commitments so having some time outside of class dedicated to following up and meeting up with trainees is really important. So we were stoked to be successful in a grant from Creative Vic to make this program happen.
Also, like most programs like this, you will inevitably get the knee jerk MRA reactions but generally I feel like there has been so much support behind this program that I think those few comments were drowned out by the positivity. I also think that people are generally really open to learning about the program and are interested in helping make it a great experience for the trainees.
Do you think the views around any issues encountered in your experience have changed? If any?
I think programs like this one are a great conversation stater and ask people to question their privilege. I've had a lot of people ask me about it and I think it creates an opportunity to talk about concepts such as representation, access, emotional labour and the confidence gap, as well as creating spaces for reflection.
We received over 160 applications for this first course which I think shows that people may not have felt like the space was there for them before and that having it clearly stated is necessary.
Who are your role models (either musicians or people in the music industry) whether they be International/Australian?

Chloe Turner, Evelyn Morris, Elspeth Scrine, Jo Eaton, Katie Pearson, Bexx Djentuh – all the engaged and passionate women and gnc legends that run the LISTEN collective. I am one of the volunteers for LISTEN and every time I walk away from a meeting I feel so inspired and hopeful for the future of not only Melbourne's music scene but hopeful for the world to be a world that I really want to live in.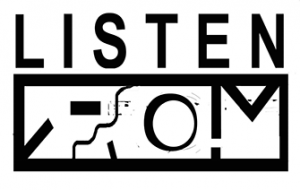 Everyone that I have met that is part of the collective is individually and collectively creating conversations and action around making spaces safe, creating access and just generally driving positive change.
Also, the women that I am lucky enough to be working with on this PBS project – Namila Benson, Jacinta Parsons, Tracee Hutchison, Areej Nur, Kath Letch, Fiona Wright and Carly Findlay. They are all broadcasters and community radio folk that I have been looking up to for years. I feel so privileged to be able to receive advice and guidance from such a talented and experienced group of people, all striving to create important discussions and change within the arts and music scenes.
Also some new role models for me are all of the trainees in this first group. They are all individually such impressive humans doing really wonderful work within our arts and music community.
I also want to say how much I love Bjork, she is just fabulous.
What is one thing about the Australian music industry that you would like to see a change in?
Having all male line ups. It's 2016 and it still happens. Be better!
What in particular is it about all the things you do, that make you feel so passionately?
I feel really privileged to be able to work with so many intelligent, passionate, creative and driven people. I feed off other people's enthusiasm and it keeps me motivated.
What are your Top 3 artists to watch?
This is a collaboration but I love it! Both individually great artists too
.
What is your go to karaoke song?