What is your role at Amrap and FBI Radio and how long have you been in the positions for?
I'm Amrap's Airit Music Distribution Coordinator. I've been working in this ever-evolving role for about ten years now and have the pleasure of being part of the team which rebuilt Amrap when it was refunded back in 2008.
I also present and co-produce FBi Radio's experimental music program Ears Have Ears. I work alongside a dedicated duo (Scarlett DiMaio – Executive Producer, Sam Eacott – Digital Producer). This year we marked five years on air and celebrated by hosting a series of live broadcasts featuring some of our favourite musicians playing live in front of a studio audience at FBi's new performance space.
For those who are unfamiliar, tell us a bit about Amrap. What is Amrap's role in the industry and what artists do you work with/have you worked with?
The Australian Music Radio Airplay Project (Amrap) is funded by the Commonwealth Government to distribute new Australian music to community radio and to empower broadcasters to promote musicians on air and online. We build a bridge between community radio and the music industry by providing services to artists and radio makers.

Amrap's 'AirIt' is community radio's Australian music distribution service, accessed by over 3,000 program makers at 300 stations. Over 6,000 musicians and 100 major and independent labels use AirIt to get their tracks to community radio. Program makers also use 'Amrap Pages' embedded in station websites and Facebook, to log the tracks they air and promote musicians online. Artists can keep an eye on their radio airplay by using 'Amrap's Airplay Search', which collates reports in real time from over 1,000 programs using Amrap Pages. Amrap is a project of the CBAA (Community Broadcasting Association of Australia).
The list of artist reps and musicians who have used our services is long! Labels include Rice Is Nice, Aarght, Mushroom Group, ABC Music and everyone in-between. Tash Sultana, REMI, The Peep Tempel and Julia Jacklin have all recently appeared in Amrap's Metro Charts. The Amrap Metro Charts are a weekly top ten of tracks most ordered for airplay from AirIt by metropolitan community broadcasters.
Describe a normal day in the life of Brooke Olsen.
Busy! Right now I'm working on campaigns and AirIt playlists for the ARIA Awards, WA Music Festival, South Australian Music Awards, the National Live Music Awards and I'm locking in Music Directors for a fortnightly Tone Deaf feature on new AirIt tracks.
Between mountains of emails, I oversee all of the releases that are added to AirIt. I spend a heap of my time listening to new Australian music and identifying what's a fit for community radio – that music will land on AirIt.
I'm often checking out new Australian labels who can fill genre gaps on AirIt (we've got your back, Doom Metal presenter in Kalgoorlie)! We're also launching a new Amrap Radio Program which will go out nationally to hundreds of stations through the Community Radio Network (CRN) so I'm working intensively with the show's host right now – with my Executive Producer hat on – to develop the show's sound and style.
Sunday day and Thursday nights are mostly dedicated to making radio – sourcing new music for playlists and scripting the show with EP Scarlett, scheduling in musicians to contribute new work for the show, organising and editing interviews and much more.
How did you get your start in the music industry – what is your story of how you got to where you are today?
I started by just doing stuff. Helping friends out with gigs and festivals, volunteering my time on community radio, putting on gigs. Between those things I finished my degree, interned where I could, taught a radio training course and freelanced. The Amrap job came up at exactly the right time for me and also ran in parallel with me doing other music related projects -co-running a warehouse venue and Co-directing Sound Summit music festival.
Have you got any advice for people wanting to start a career in the music industry?
Volunteer your time for things you care about and make sure you get to know the people working at those places. If you do a good job and show passion for the project they will remember you! Make sure you follow up from time to time and ask for things also. Most folks I know employed in the music side of radio worked their way up from volunteer or intern.
Do you feel that higher education is necessary to establish a career within the Australian music industry?
Yes and no. There are many jobs in the industry that require higher education but I also know a lot of people who have been hired based on the contributions they've made to their local music communities and the amazing skills they've gained through their experience. I think it's ideal to have a balance of real world experience and education and with heaps of people vying for a small pool of jobs it's important to stand out where you can!
What tips would you give an artist trying to succeed in Australia? Is there a certain route they should take?
It depends on their definition of success!
For new Australian acts I would say, define what it is you're about. Make that thing really incredible and create music from the heart (in my opinion community radio folks can smell a rat a mile off). Then, muster up the energy to make sure people actually get to hear it!
It's always amazing to see community radio build up a musician from their first demo to becoming well known, sought after acts. Community broadcasters are brilliant at getting behind musicians they love from the get go and pushing them forward. Most community radio folk also work on gigs, run labels, organise festivals and are deeply embedded in their local music communities. If you can get their support make the most of it and use it to bolster the other successes you have had so far.
Were there any skills in your roles that you had to develop that you didn't originally think you'd need?
I've certainly honed by multi-tasking skills. As I write this I'm doing three other things.
Who are your role models in the industry whether they be international/Australia?
I thought about this for a long time because there are a lot. I'm surrounded by a bunch of inspiring women and men at Amrap, FBi and the broader music/radio communities who have certainly become role models in their own ways. I think it would be unfair to just name a few!
Further afield, I think Brian Turner, Music Director at New York free form radio station WFMU is brilliant. His passion for music is next level and he wrangles such an eclectic mix of programs with grace and humour. I showed up at WFMU a few years back during a trip to the states, with a dodgy CD of experimental Australian acts I was loving and he was thrilled about checking them out!
I've been hugely inspired also by BBC's John Peel(RIP) for his brilliantly warm interviewing style and bold chameleon-style music taste and PJ Harvey for being 100% uncompromising and delivering huge, brilliantly executed ideas through her albums.
Top 3 artist you're currently listening to?
Here are my most listened to releases right now (not sure if they're tops):
Carla Dal Forno
Fast Moving Cars – You Know What It's Like
Ausmuteants
Music Writers – Band of the Future
Rashad Becker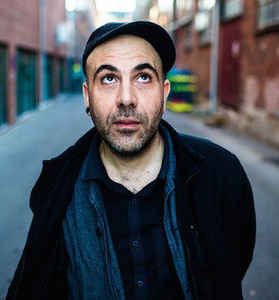 Dances II – Traditional Music of Notional Species Vol. 1
What's your go-to karaoke song?
Wuthering Heights by Kate Bush. I can't sing so picking something that accentuates my impressive lack of talent and awkward dance moves is a top priority.