Bryget, you're the editor at The Music. Tell us your story! How did you get to where you are today?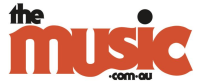 Music has always been my everything (I've been stalking/fanning out over bands since I was about 12) and I adore writing – my friends have received greeting cards with words covering every inch of available space since I was a teen.
After completing a Bachelor of Education at Deakin University (majoring in drama, dance and English), I got distracted by a working holiday in the UK – and just overseas travel in general – before somehow finding myself stuck working in retail for many years.
Then a dear friend at a shop I worked in was suddenly diagnosed with a terminal illness and immediately admitted to hospital for treatment. Post-treatment, Sammie was self-conscious about the way she looked and was often too unwell to receive visitors anyway so I began writing letters to her on a weekly basis. One day when Sammie felt well enough, she phoned the shop and told me that I must pursue writing as a career, because she believed I had a gift that should be shared more widely. This inspired me to look into part-time writing courses. I applied for the Professional Writing & Editing course at RMIT and got in. Sammie was delighted to learn that I was accepted into this course and passed away on Valentine's Day in 2006 just a few days after receiving my exciting news.
While studying at RMIT, one of my friends in the course, Tom Baker, was already penning live reviews for 'Inpress' and recommended I do the same since I was a live music junkie. I emailed a sample live review to the Editor at the time, Adam Curley, and he immediately added me to the live reviewers email list. I started contributing live reviews – at least one a week – while working full-time in retail and studying part-time at RMIT as well. After regularly submitting live reviews, Curley soon encouraged me to also write album reviews and then conduct artist interviews to write up as feature articles (for which I was paid – exciting!).
When I was just about to graduate from RMIT, Curley got in touch to ask what I was up to, letting me know that a full-time staff writer position was about to become available at 'Inpress' and saying that he hoped to recommend me for it. Before the job interview I remember buying a snazzy new outfit.
At the job interview, I sat down with the 'Inpress' Managing Editor Andrew Mast for coffee and he told me that there were no other candidates and the job was mine.
At the end of my first week, Curley resigned to go travelling and I was understandably gutted, but also grateful that he'd recommended me for the position and essentially set me up with a new career as a music journalist/editor.
Ten years have gone by, the weekly street press publication is now monthly and our website TheMusic.com.au also keeps us extremely busy these days.
Tell us about your role, what does your day-to-day entail?
It's basically a juggling act of managing the Victorian live reviewers and photographers, subbing and proofing submissions, researching, fact checking, interviewing artists, transcribing and writing feature articles, and reviewing shows and albums – all the while listening to new releases, responding to emails and trying to keep my finger on the pulse when it comes to emerging buzz acts.
What issues/potential issues do you think the current Australian music industry face? Specifically in the journalism and online media realm.
Because immediacy is crucial and all online media outlets are keen to break news or secure exclusive content, there seems to be a lot of re-reporting of the same stories without adding a fresh spin and properly accrediting the writer or publication who broke the story.
There's also so much competition for page space these days that it's really difficult to run extensive pieces on emerging artists or find the time to write passion projects, which can be frustrating.
The gender imbalance continues to be a struggle in this industry. There's a lot of talking, but not enough action at this point.
More people also need to actually speak up and take a stand against inappropriate behaviour or call people out on sexist/racist/homophobic/generally insensitive comments at the time instead of laughing along uncomfortably.
Give us your take on the local Melbourne music scene, where do you go to see shows and who are some local artists you'd recommend we keep an eye on?
It doesn't matter where I travel around the globe, whenever I return to Melbourne I am so proud to be a part of our local scene. We're spoilt for choice with so many gigs on every night of the week and the amount of venues of varying capacities in Melbourne that are regularly hosting live music events is next-level.
I travel all over town to see shows and some of my favourite venues include the Palais, the Forum, Melbourne Recital Centre, 170 Russell, the Corner and Howler.
Could punters please always make sure they get to shows early and watch the support/s? There's nothing more satisfying than discovering future superstars from the get-go and then watching with pride as their careers take off going, "I was there when…"
Just a few of the local acts I've caught live so far this year who promise great things are Thando, Didirri, Southern River Band, A Swayze & The Ghosts, Kaiit, Amyl & The Sniffers, Hachiku and Baker Boy.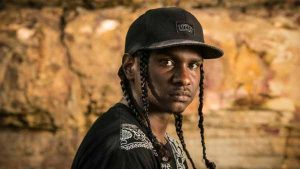 Baker Boy
Have you had to overcome any challenges or adversity in your career, and if so, how did you approach them?
I suffer from anxiety, which has been debilitating at times. As this is an invisible illness, it's difficult for people to understand how hard this condition can be to manage on a day-to-day basis so getting the support you need can be challenging to say the least. The more I talk about it, the more I realise anxiety is a condition that people often suffer from in silence and there's a certain sense of failure involved, which needs to be dispelled.
Particularly in this industry, work/life balances tend to get blurred so it's important to regularly take time away from gigs/writing/checking emails and just flop on the couch to watch some crap reality TV while patting your dogs or catch up with friends outside of the music industry.
If you could interview or write about an Australian artist that you have yet to work with, which artist would that be? What about internationally?
Throughout my 11 years of interviewing artists I've ticked heaps of Australian artists off the wishlist, but I'd certainly love to interview Daniel Johns.
Internationally, I've got my eye on Grace Jones, Beyoncé, Iggy Pop, Mick Jagger, Keith Richards, Simon Le Bon, Ozzy Osbourne, Jack White, Debbie Harry, Paul McCartney, Madonna, Paul Weller, Liam Gallagher and Cyndi Lauper. Anyone able to help a sister out?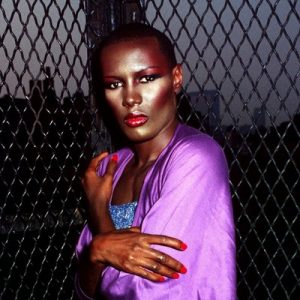 Grace Jones
How do you relax when stressed or burnt out?
I used to love going to my parents' holiday house in Rosebud to reboot and walk along the beach or go for bike rides along the shoreline, eat fish and chips, and watch a DVD boxset across the weekend, but they've just had to sell it. Peninsula Hot Springs – so good! I might have to explore Airbnb options from now on.
I also find yoga is fantastic when it comes to focusing in on your breathing, tracking how your body's travelling and putting whatever it is that's causing you stress into perspective.
What is the best piece of advice you've ever received?
Never submit anything you're not 100% happy with and proud of. In this day and age, everything stays up there online and you don't want a quick Google to reveal that pile of shit review or interview you smashed out.
What advice would you give to someone wanting to work in your field?
Work hard and stop making excuses, read the work of other writers constantly – especially your competition – and dissect what you like and dislike about it. Never miss a deadline. Network and make an effort to introduce yourself to people because you never know who they know or how they may be able to help you down the track. Be mindful of how you treat people at all times, because you never know where they'll end up. "Be nice to people on your way up because you'll meet them on your way down" – thanks, Wilson Mizner.
What is the best gig you've ever seen and why?
Desert Trip in Indio, California: three nights, six headliners and no supports. This experience was heightened by the fact that I initially missed out on purchasing a ticket despite setting my alarm for 5am on a Sunday and giving it a red-hot go on multiple devices. When one of Nick Cooper's mates could no longer make it, the ticket was offered to me just a few weeks before the festival. A Palm Springs villa was already booked and they'd hired a car, so I just had to pay cost price for the ticket (don't ask!) and my share of the accommodation cost and front up! And you'd be hard pressed to find a better party posse than Coops, Mel and Rusty!
Night one: Bob Dylan (who opened with 'Rainy Day Women #12 & 35' as the smell of weed illustrated its chorus: "Everybody must get stoned") and The Rolling Stones. During The Stones' set, Mick Jagger hilariously welcomed us to the "catch 'em before they croak" festival.
Night two: Neil Young played his song 'Harvest Moon' as we gaze up at a full moon hanging over the Californian desert and Paul McCartney was joined on stage for a few numbers by Young, who took a ball-tearing guitar solo during the rarely played 'Why Don't We Do It In The Road?'.
Night three: The Who complete with Pete Townshend's windmill arm and Ringo Starr's son Zak Starkey on drums plus Roger Waters utilising surround-sound speakers, showcasing the glory of Holly Laessig and Jess Wolfe (from Lucius) on BVs and squarely taking aim at Trump – whose face graced the trademark flying pig – throughout the show.
Needless to say I bought the T-shirt.
What is your go-to Karaoke song?
'Angels' by Robbie Williams with masterfully rewritten chorus lyrics dreamed up while drunk with the fabulous actress/comedian Lulu McClatchy.