Please tell us your story! How did you get to where you are today?
I knew I wanted to work in live music from my early teens when I first started going to gigs. As soon as I graduated from high school, I began studying at JMC while temping at Sydney Festival, and through this learnt a lot about what it took to put on shows in unique spaces, what it was like to work a 15 hour+ day, and the importance of attention to detail!
I would also volunteer at music festivals any chance I got (working in ticketing for Homebake or helping to run the silent disco at Big Day Out etc). I started interning at Select Music almost 9 years ago, then got promoted to running our admin department, worked my way up to agent assistant and eventually to be Senior Agent here at Select Music.
Tell us about your role, what does your day-to-day entail?
There really isn't a standard day-to-day routine. I tend to not get around to my 'to do' list until early afternoon as I will spend my morning dealing with enquiries and different curve balls thrown at me by artists. My assistant, Sheri, and I will usually have a bit of a catch up on what we want to achieve by the end of the day – that could include anything from routing a tour and getting dates on hold, to setting up ticketing, booking supports, pitching to festivals, listening to new bands, emails, emails, emails. I try to finish up in the office around 6pm, head to the gym, then back out again to gigs up to 4+ times a week.
For those who are unfamiliar, tell us a bit about Select Music, what artists do you work with/have you worked with?
Select Music is the biggest independent booking agency in Australia. We represent our artists across all aspects of their live careers, so that's strategizing their headlines tours, international and local support opportunities, festival appearances etc.
I feel very privileged to book Amy Shark, Skegss, Ruby Fields, The Veronicas, Stella Donnelly, Kian, The Chats, Polish Club, Japanese Wallpaper, The Beths, Miss June, Electric Fields amongst many more beautiful artists.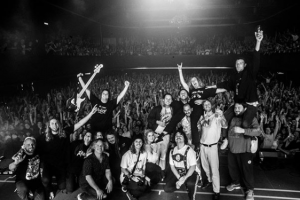 Do you feel that higher education is a necessary step to enter the music industry
Studying at JMC was great for me as I graduated high school when I was under 18, so it allowed me some time to gain a little more maturity, while giving me a good lay of the land as to what exactly each role in the industry were responsible for. I don't think it is a necessary step, and there are many other invaluable ways to get your foot in the door.
Have you had to overcome any challenges or adversity in your career, and if so, how did you approach them?
The agent world can be a bit of a boys club, with only a very small handful of non-male agents working in major agencies in Australia. This started off feeling like a bit of a challenge, but I have grown to embrace what makes me unique, and in turn I think this drives me to be the best agent I can be.
On the flip side, I am also incredibly privileged to be surrounded by a good support network (personally and professionally), had access to a good education and grew up in metropolitan areas that provided me with access to so much live music growing up. Any challenges I have had have been fairly negligible in the grand scheme of things.
Who are your role models in the industry be they international or Australian?
I am inspired by artists who work towards creating a healthy change in culture in our community, so musicians like Thelma Plum, Stella Donnelly and Georgia, Thommo and Kelly from Camp Cope are some examples. They are great role models I look towards when I am assessing how I want to move through this industry as an agent.
Who are your top 3 artists to watch?
Jess Day, Eilish Gilligan & Erthlings
What does the rest of 2019 hold for you? Anything exciting you can tell us about?
I am working with lots of new exciting acts, putting on some of the biggest tours of my career, and there have been some exciting changes internally in our office. Really looking forward to the rest of this year!
Let's talk about the highs vs the lows of your career, what is your greatest achievement vs a moment you'd prefer to forget?
There really is nothing like the feeling of watching one of your artists play a sold out show, or command a tent full of people at a festival. Those are some very proud highs. In terms of lows, I haven't had any days that have made me want to throw in the towel, just lots of learning opportunities along the way.
Who has been your greatest champion in your career, who has helped you along the way?
Steve Wade & Rob Giovannoni have taught me everything I know about being an agent and I am very grateful to have had them to be my sounding board from day 1 of booking bands. I was Rob's assistant for 3 years, and had him take me along to his meetings, include me in his decision-making process and essentially gave me a backstage pass to his 'agent brain' throughout this time.
My assistant Sheri has my back every day, and I am amazed by her ability to keep me sane, organised and to know when I need a hug.
And my best pal, Katie Rynne, who is also an agent. She is one of the most supportive people I have in my life and is always cheering me along when I have wins in my career.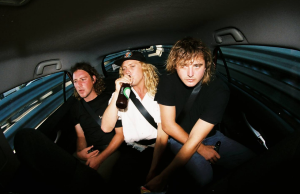 Skegss
What do you think is the biggest threat to artists or the industry and what would you do to change it?
Some of the most passionate people I have met have been professionals working in the industry, and avoiding music industry burn out is one of the biggest threats to those long term careers. There is a never ending list of things to do, and it's hard to find the time to recover and reset.
I'm not sure of the best way to change it long term, but some things that I try to do are: set some time to disconnect from technology each day (my friend Elle/Woodes recently told me that she regularly has "homidays" she puts all the technology in a drawer on 'do not disturb' and plays board games, listens to records, and totally disconnects – I want to start doing this!!), exercise regularly, and reduce my alcohol intake. I have also learnt to just say NO to things I don't want to do.
What Aussie acts are you keen to catch at BIGSOUND?
Electric Fields, Dulcie, Imbi The Girl, Japanese Wallpaper 😉
What would your younger self like to remind your current self?
That it's okay to put myself first sometimes.
What is your go-to Karaoke song?
Rage Against The Machine – Killing In The Name Of