Describe a typical day in the life of Cash Savage, whilst lapping the globe
There is no such thing as a typical day for me. The biggest constants are that I go for a walk most mornings and that I have a coffee at about 11am.
Whilst touring a gig, day normally goes along the lines of; have breakfast at 9am then try and figure out if any of the band are missing or worse for wear from the night before. Lobby call for leaving is usually between 10am and 12pm depending on how far we need to travel. We normally self drive, there are 3 other drivers in the band including myself. Drivers are nominated the night before. Once we arrive we will normally check in first and then go straight to soundcheck. After soundcheck we eat and then it's show time. It sounds kind of mundane and it kind of is. From my experience, most of the work of a touring band is the touring part not the being a band part.
I sometimes joke about running a delivery company. I deliver 7 people to a destination, we put on a big party, pack up go home and do it all again the next day.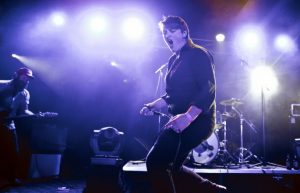 Cash Savage & The Last Drinks // Croxton Bandroom
What advice would you want to pass on to those making their beginnings in music?
Get good at keeping diaries and budgets. I have 3 different google calendars and 2 or 3 multi page excel spreadsheet budgets. They keep me sane.
Don't worry if one of your shows is a dud. It happens to everyone. On our last AU tour, every show worked really well but one. It happens.
Also, never be afraid to ask for help, most people I've come across understand that we are all in this together. There are some really great organisations out there that run panels and the likes – the panels themselves are great, but it also gives you access to people who will most likely be happy to talk to you afterwards, if you have specific questions. Remember everyone is human.
Your recent set at Golden Plains looked an amazing experience. You were surrounded by so much love and you dedicated "I'm in love" to your wife. Describe that moment and what that particular performance means to you.
We have played many special gigs over the years. The Golden Plains crowd was full of friends and family so it was a pretty memorable one. We'd played Meredith a few years back and we were shitting ourselves before we went on. We've played quite a few festivals and bigger shows now, so once we hit the stage at Golden Plains we knew we had it in the bag. And yes, I did give a shout out to my wife as it was our 2 year wedding anniversary.
You have such a controlling presence on stage and there were a plethora of praise written of you and your band post Golden Plains. During your career, have you had to deal with any negativity and if so, how did you approach those experiences?
Not really, I can't really think of any negativity off the top of my head.
2015 was a difficult period in your life, what are some methods that helped keep you healthy and helped you grow strong through time?(Perhaps you have something you could share with those grieving for a loved one lost through suicide?)
Well first of all, if you are having a hard time don't be afraid to reach out to Beyond Blue, GriefLine or another free phone service.
It was such a strange time for me, I knew a handful of people who took their own lives, all in a very short period of time. All were individual occurrences. Two were close to me. At the same time I had such wonderful things happening in my life. I got married, I toured with the band overseas for the first time, so I was also feeling really lucky.
Not much makes it easier. I don't think our society teaches us much about death and grief. If you know someone going through grief, don't be afraid to check in with them, even if you have nothing to say – just tell them that. Often there is nothing to say, but the connection means more than the words.
What were some of the first moments with music that you cherish, and, what's the story of how you came to be where you are today?
Both my parents are musicians, I have very early memories of going to see my mum and dads gigs when I was maybe four. They have both been champions of my career from the start. Dad got me my first guitar when I was 7 but I didn't start learning till I was 11.
I started the Last Drinks about 8 years ago. We've played many many many gigs over that time. We sold out the Tote at our first album launch, The John Curtin for our second and The Croxton Bandroom for our third. I don't know what to tell you, we have worked pretty hard over that time but everything has felt like a natural progression.
What are some positive changes you've recognised throughout the industry in recent years?
There is a lot more gender diversity these days. Not just in the business side of things – there are so many women on stage now, to the point that you don't really hear the term "Girl band" anymore, which is just the best. I think there is still a way to go but it's pretty noticeable. Something else which I've noticed recently (I'm sure it's been coming for a while) is the visibility of transgender performers. Gender diversity is a great thing.
When I started the Last Drinks, people kept trying to put us on line-ups that were all fronted by women. It used to drive me insane. It shouldn't be a big deal if women are all on a stage together. None of the venues have 'All male line up' written over every gig.
What do you like to do to unwind?
I drink with mates and I fish. The first I probably do too much, and the second not enough. I try to get back to where I grew up in South Gippsland as much as I can. It really resets me, even though while I'm there I try and cram as much as I can in to my time there. My wife and I spend two or three nights a week out with friends. I would probably do it more but she puts a limit on it, because if she didn't I'd probably have plans for us every night.
Who are your role models in music, whether they be international/Australia?
This is a hard question. I don't really have any individual role models.
Top 3 artists you're currently listening to?