What is your current role or roles within the music industry?
Currently I'm an Artist Manager who can't help dabbling in publicity. I manage Baker Boy, Benny Walker, and an incredible Songman from NE Arnhem Land called Rrawun Maymuru. Soon we're about to take on another young kid called Jelly Oshen. Until a couple weeks ago I co-managed KIAN with his dad Dion.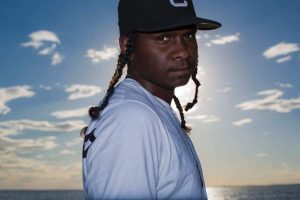 Baker Boy
Describe a normal day in the life of Chryss Carr..
Other than a dedicated exercise practise and clean eating there is no normal in my world. There never has been professionally or personally. Which is why I can operate like I do. Living with a paradigm outside of the norm you develop a capacity to be fluid and dynamic at all times. I find this gives you an edge and protects you from the typical music business shenanigans. It also keeps you youthfully minded.
How did you get your start in the music industry – what is your story of how you got to where you are today?
My professional story starts at the age of 18 when I was doing a degree in Psychology but was too young to truly understand the subject matter in a meaningful way so I quit. An office job out of the blue came up in the "entertainment" business and I decided to go for it. It was my typing speed that got me that job with long time industry player Terry Blamey. From there and thanks to Terry I went upstairs to Mushroom Records in the role of "Label Manager/Assistant" to Michelle Higgins. I'm a dedicated worker, probably workaholic even at that age, so I was quickly poached by Virgin, then by EMI, back to Virgin then back to EMI when they bought Virgin out. At the time I was the first ever 21-year-old State Promotions Manager, let alone a female one. In the end the 'major' label vibe wasn't my thing so I took off and worked in the international luxury sector where I learnt a lot more about developing profiles and seducing markets. After 6 years of that I got bored with the shiny set and returned to the arts. It was by chance that I returned to music back in 2007 when I spotted Dr G play his first show on a 'white' stage in Darwin. He took my breath away, he still does and I was given the job of creating and executing his 'break through' campaign. From there a steady stream of Indigenous artists reached out to me in my capacity as a publicist and I've been entrenched in the Indig scene ever since transitioning to management 3 years ago at their request. I've got to tell you my Dan Sultan story over a drink but it's hysterical and it really was Dan that gave me the impetus to take management on by insisting I take on his mate Benny Walker. If you've heard Benny's voice you will know why you cannot say no to this man, I reckon he has one of the best voices in the country.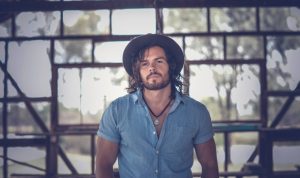 Benny Walker
You live both in the NT, and in Melbourne. How do you feel this impacts your life, both personally and professionally?
I've been living in two homes for over 13 years now and it's normal to me. I believe your environment really informs your experience of life and also the way you think and create. In Melbourne it's a lot about working with teams, meeting people, going to festivals, gigs and getting the grunt work done. Darwin offers a spatial quality and a rich sense of expansiveness that allows for greater intuitive insight and creative inspiration that helps initiate new campaign cycles. For me the movement between different homes also prevents stagnation so I feel it's become a necessity.
Have you got any advice for people wanting to start a career in the music industry?
Yes, don't unless you really love music. Or like me it was more than the music it was about helping get Indigenous artists heard in the mainstream world, that's where I get my juice. The rest of the business is largely bullshit. Before you decide to enter read the book "Welcome to the Jungle" by Andrew Watt.
Do you feel that higher education is necessary to establish a career within the music industry?
It depends on what aspect of the industry you are keen on – if it's in law and accountancy yes, everything else probably not. I always see degrees such as communications, marketing, and song writing those sorts of things as something best learnt empirically. When employing someone I go for experience and disposition rather than a piece of paper. What a degree does tell me though is that the person has the capacity to focus and apply themselves to a project through to the end.
What is the best life advice you've ever received?
Most recently John Watson said to me "You're not losing an opportunity you're avoiding a disaster". Those words came at exactly the right time and continue to resonate with me. I also really resonate with the Buddhist philosophy of 'detachment'. Meaning if it was all going to be taken away from me tomorrow – so what – I've got the confidence and belief that it's all working out the way it should. Sometimes it might not look like it, but I'm old enough to know that if you stick to your guns and maintain integrity there are never any regrets. When you come from a place of integrity you can play the game like there's nothing to lose and when you do play it like that, not only is it more fun but it provides a stronger platform from which to negotiate etc.
What issues do you feel the Australian music industry is currently facing and how do you think these could be changed and improved?
Women are coming to the fore more so than ever which is a great thing and also a natural order of things in terms of how the world is generally evolving. It will be interesting to see how far women will go in this industry. I always point out to people the word 'man' in manager. Until recently few women went into management. Hopefully they will bring the better female virtues to the fore; compassion, nurturing and intuition which leads to the second concern and that is the mental health of the industry, namely the creatives – the artist, producers etc. It's a crazy headfuck the fame-game, then throw in greed, ego driven fears and all the other bullshit and you get some pretty intense mental conditions. Dealing with those is never easy but if women can bring their quality feminine traits to the table here where we care for the artist beyond their financial currency maybe that will make a significant difference.
Everyone, men and women alike with an evolved level of awareness recognise that woman have a holistic intelligence that goes beyond the mind. Yes we are complex, but that is because by nature our bodies are built to create other human beings. Men are decidedly more simple and whilst I've met several exceptions to that rule, generally speaking their egos get to drive a lot of their decisions. Women on the other hand look at the big picture – the health and the wealth of their community of artists and colleagues etc. It's a far healthier and sustainable mode of operandi. If woman can bring their resilient virtues to the fore and operate coming from a place of "we" not "me" and not think they need to act like men to get ahead – well then I think women will have a strong future.
Have you had to overcome any challenges or adversity in your career, and if so how did you approach them?
There's always daily little challenges and obstacles to overcome, but just as with the big things like professional betrayal or sabotage you've just got to do as I mentioned above – maintain detachment and go with the flow. Don't take it all too seriously and manoeuvre yourself in a manner where you are always safe no matter what gets thrown at you. One of the AUM mantras is "Don't react >> respond." The latter is where the power is. Reaction is a lower vibration that has you wishing you never said what you might have said or done what you might have done.
How do you unwind from all of your responsibilities?
I do shitloads of yoga, ride my bike and I get a lot from being in nature. Also hanging with friends outside of the industry where we just laugh at it and all its crazy characters and antics. They can't wait to hear my stories – and I can't wait to tell them in their full cinematic comedy drama glory.
What is the most rewarding experience that you've been a part of during your career?
In his footsteps came Dan Sultan, Briggs, Gawurra, Radical Son, Mau Power, Shellie Morris, Oetha, Dallas Woods all whom I have worked with and there's so many others I haven't like Jimblah, Emily Wurramurra, Mojo Juju, Thelma Plum, Kuren, Alice Skye, DOBBY, Electric Fields, Yirrmal the list goes on and on and it was all from that point. He changed the course of life for so many Indigenous artists showing them it can be done and lifting their self esteem enough to give it a go. In my eyes he's a music super-hero. As a result of The Gurrumul Effect there is now a discernable Aboriginal scene in the business.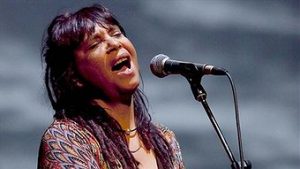 Shellie Morris
What has been your proudest achievement so far?
Of having a long career spanning and surviving over 30 years in the industry working with a fine roster of incredible talents and still finding inspiration to keep on keeping on. Every time they succeed I feel elated. As for that really big 'proud' moment I think I'm still yet to have it.
Who are your role models in the industry whether they be international/Australia?
I have a lot of respect for Bill Cullen, Michael Parisi ,John Watson and Rick Chazan.
All of them have generously given me great advice. Bill Cullen in particular is my mentor and I feel proud when I tell people that. I also love the work that Leanne De Souza is doing with AAM right now. She's creating a powerful network and simultaneously a powerful sistahood in amongst everything else she does, that woman is inexhaustible.
What does 2019 hold for you? Any exciting things that you can tell us about?
Well there's a debut album from Baker Boy later in the year, an EP from Dallas Woods, Benny Walker is in the studio right now with Pip Norman and Jan Skubiszewski. We're also in the final stages of preparing the release of an exceptional collaboration between Songman Rrawun Maymuru and producer/musician/composer Nick Wales. It's a merging of experimental electronic sonics with ancient Songlines and it's a cosmic banga. I'm also heading off to SXSW for the first time this year…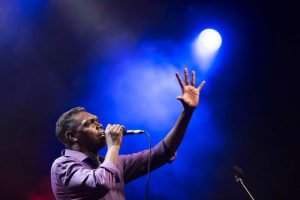 Rrawun Maymuru
Top 3 artists you're currently listening to?
Right now I am totally in love with rapidly rising US singer/songwriter LP. She is on high rotation in my world. Her songs 'Lost on You' and 'When We're High' are fan-bloody-tastic. Other than that I've been enjoying Rufus Du Sol and Maggie Rogers.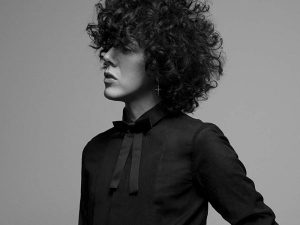 LP
Tell us about your time working with Aboriginal artists. How did you get started doing this, and who have you worked with?
It was 2007 and I was doing the publicity for Darwin Festival at the time. It's a gruelling 18 day and night festival and I had this one night off where my attendance was not mandatory. I was exhausted, kicking back on the outdoor lounge with a nice glass of chilled wine, incense burning, music playing feeling fine about doing absolutely nothing when my housemate looked at me in shock and said "This is one night you cannot miss the festival? You have GOT to see this blind Aboriginal guy who sings like an angel". The glass of wine was taken out of my hand and I was kicked down the stairs to my car. That gig changed my life.
Watching Dr G for the first time was a spiritual experience where I could feel every one of my bodily cells resonate with his sonic vibration. I felt elated and energised.and importantly I wanted more… After I launched Dr G's debut album campaign the phone calls starting coming. Then I did Dan Sultan and word spread fast amongst the Aboriginal communities and the calls thankfully continue to stream in.
What are some of your proudest and most significant achievements in this field?
What are some things that you have learned from working with these artists?
Firstly I have a cultural intelligence level now I would never have gained had I not been exposed to so many different clans throughout the country. Further, Aboriginal people have provided me with one of the most important skills in my tool kit. They taught me how to work in a free-flowing manner. I call it the dreamtime schedule. Set your objectives, know your priorities and hold them firm but don't be attached to how you get to the end game. Throw the man-made concept of 'time' out the window. It's the distinction of 'timeless awareness' rather than 'time bounded-ness'. Working like that is a whole new world.
What's your go-to karaoke song?
Any version of Frankie Valli's – Can't Take My Eyes off of You. I particularly like the scene in the Deer Hunter where the cast is playing pool and Jon Voight breaks out loud, sings the chorus and gets the tavern signing in unison –It's amazing how a song can make a movie.