What does 'Bad Apples' do and stand for, and how did you get started with the company?

Bad Apples Music was established by Briggs 18 months ago to create and develop Black Excellence. The label was born from Briggs recognising that he is a product of his community and through his music he can construct a reflection of his people at the highest level – an opportunity he was afforded during his early career. He formed Bad Apples to create a pathway of excellence for other Indigenous artists, to flourish at the highest level within the music industry nationally and internationally. I started working with Briggs two years ago and worked closely with him on establishing the label, to now managing it and some of the artists on the roster.
Briggs
For those who are unfamiliar, tell us a bit about the work that you do, and the artists that you work with.
I am the Label Manager at Bad Apples (Briggs calls me the Imperial Leader) and manage Philly and Birdz who are artists on the BAM roster. I manage the day-to-day logistics of A.B. Original with Dylan at Blue Max Music while also spending half the year in Darwin with Skinnyfish Music as the Marketing and Partnerships Manager for the Barunga Festival; an incredible festival of music, sport and culture held just outside of Katherine annually in June. Barunga is an amazing cultural event that forms a major part of our national character.
Describe a normal day (and night) in the life of Coco Eke..
I split the year between Darwin and Melbourne so depending on the climate and café opening times (Darwin cafes open as late as 8am!!!) my daily routine varies. I usually (try to) start each day with yoga, lemon tea and clear my emails before 9am, have my first coffee then check in with the team. Each day from then on is different… innovation with Briggs, planning, new music and shows with Birdz and Philly, keeping up with A.B. Original reclaiming Australia, liaising with partners for Barunga, grant writing, marketing plans and social media for all of the above, book keeping, emails, coffee, emails, coffee, emails. In Darwin I have an office in Skinnyfish's building which is an inspiring environment, in Melbourne I hop between cafes, my dining room table and Briggs' lounge room.
Skinnyfish Music
How did you get your start in the music industry? Did you choose to work in music or did it choose you?
I was working at Essendon Football Club from 2009, where I started working with Nathan Lovett-Murray and his label Payback Records alongside my role as Marketing and Events Manager. We worked together on the clubs Reconciliation Action Plan and the label for a number of years, as I continued to work in the corporate and community sector managing festivals and events with The Long Walk, Ilbijerri Theatre Company, Songlines and other org's. Briggs then approached me about starting Bad Apples, to create real pathways of excellence for Indigenous artists – the rest is glorious history.
Have you got any advice for people wanting to work in management?
Work with people you like and people you believe in. Your team is everything and you have control of who you work with.
What is your absolute favourite thing about your job?
Humans – I work with rad humans!
What is the worst thing about your job, and how do you deal with this aspect?
Emails – I try to break up my day to spend blocks of time responding to emails, then focus on planning and projects at other times… I'm not very good at sticking to this plan though!
What advice would you give to artists trying to succeed in the Australian music industry?
Surround yourself with excellence and strive to develop every day. It is an exciting industry filled with great people, and if you can create a solid team around you, you will create an environment of opportunity.
What advice would you give to your 18yo self?
Keep going – keep going exactly as you are!
How do you unwind and relax?
I find stillness in yoga and quickly realised it is the only time I can completely switch off; so I practise as often as possible. I am also an adrenaline junkie and love finding new ways to raise my heartrate and scare Mum. I know… both activities are completely contradictory, but for some reason I love both!
Do you feel that higher education is necessary to get into the music industry?
In some ways the discipline of study is suited to the commitment needed to succeed in the music industry. We work long hours, need to be self-motivated and continuously use initiative. In saying that, I believe there is no right or wrong way to learn about the music industry. I have learnt my biggest lessons from people within the industry, making mistakes and totally winning – I also believe you could never stop learning in this industry. There is so much room for innovation and the landscape is constantly changing.
What issues/potential issues do you think the current Australian music industry face?
I recently attended The Seed Fund's Management course and I am overwhelmingly inspired by the future of the Australian music industry. The participants were emerging managers or self-managed artists and we were joined by the 'who's who' of the Australian music industry over four days. We learned together, shared challenges, laughed (and cried) and formed long lasting connections. The week made it clear that the future of our industry is in good hands.
The government are road blocking creative industries at every level, through funding cuts, lock out laws and a blatant lack of knowledge about the economic and cultural impact we have on the country's character. This is a huge issue for the growth of our industry and I believe needs to be addressed from the top down immediately.
I acknowledge that I am extremely lucky to be working with trailblazers that are continuously breaking down boundaries and changing the landscape of our industry (and the cultural framework of our country). I think collectively, the Australian Music Industry will continue to thrive, grow and be excellent, even in tough and restricting times.

The Seed Management Workshop team
Were there any skills that you had to develop that you didn't originally think you'd need?
Absolutely – I learn a lot…every day. Coming from a marketing background, there are many areas of the music industry that cross over from the corporate sector, especially sport. I have had to work really hard on my technical knowledge – live performance and creating music are fundamental (!) to our industry and my artists. I had little technical knowledge (still do!) but am constantly trying to educate myself to best support our artists.
How can Australia better support Indigenous artists? What are some of the changes that need to be made?
It's not for me to say. The phrase "Indigenous Artists" I think is misleading. For example – Briggs and Gurrumul are both Indigenous artists (and great mates), but have completely different needs when it comes to supporting their music career. It is like comparing The Lonely Boys (check them out) to The Pretty Littles, there is no commonalities except excellent music. They are so very different in so many ways, "change" needs to be tailored and driven from the ground up.
Bad Apples strives to provide pathways of excellence for our artists to create platforms for them all to succeed – and eventually start their own businesses.
Who are your role models in the industry whether they be international/Australian?
The Bad Apples roster inspire me most days (…everyday), as do Skinnyfish. Both organisations connection and emphasis on ongoing, meaningful outcomes for their artists are ingrained in our value and business.
Top Artists to watch in 2017?
First album you ever bought?
Salt-N-Pepa – Very Necessary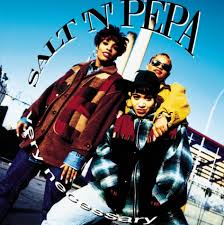 What's your go-to Karaoke song?