How did you get your start in the industry? Any advice for people wanting to work in your field?
I'm actually a musician and I've been playing since I was 12 or something because I come from a very musical family. I co-produced my first ever event at the beginning of this year and I suppose that's what helped me get this gig and have also helped out with a few other events. Advice for people would be to just keep at it and keep trying to get involved because the more people you network with or know, the more you're going to be on peoples' radars. Also don't change your style for anyone.
Have you had to overcome any challenges or adversity in your career, and if so, how did you approach them?
What issues do you think your sector of the music industry faces? (And do you think there are possible solutions?)
Blak people and especially Blak women are underrepresented in the music industry here in so called 'australia', regardless of whether they're a musician or events producer etc. How to solve those issues is a big question. It starts with this country and how they view Blak people and the lack of respect they have for us. But on a smaller scale, these opportunities like Amplify are helpful in terms of elevating our presence.
Being an event producer is a hugely stressful task. How are you holding up!
Haha, it's getting down to crunch time now and I can feel the pressure and stress starting to sink in but I just need to keep reminding myself that I am capable of getting it all done and that no matter what happens, I've got a pretty sick line up and whoever is there to see it will hopefully be just as in awe as I was when I saw these artists perform.
(Dani produced the event Jirrmujina Liyan for the Darebin Music Feast).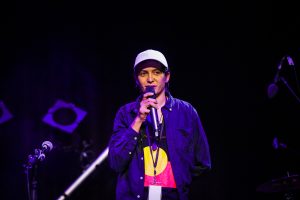 Dani at Jirrmujina Liyan
Being from the Kimberley but residing in Melbourne, how do you find the two parts of you co-exist? What do you do to keep you connected to your land?
Hmm this is a tough question. I guess my reasoning for moving to Naarm was the music scene but writing and performing music is also the way in which I keep connected to my home. So it's an interesting position to be in that the thing keeping me from moving home is also the thing that keeps me connected to it! Haha. But I also just call up my family and have a chat or scroll through photos of home. I'm also trying to learn some more Yawuru language, which has been good and why I actually wanted to name my event in language. So that my two worlds can become connected somehow.
Shout out to three fierce women that have inspired you in your career so far?
My mother is my number one biggest inspiration. She got me into music, fuelled my love for it and taught me how to play the guitar. On top of being a general babe she has also taught me a lot in terms of self love and staying strong.
So I know this is technically two people but second are my sisters, Candice and Emma. They've always been encouraging of me pursuing anything and more specifically anything to do with music. They also don't take anyone's nonsense which I think has rubbed off on me a bit haha.
Lastly, my partner has inspired me so much in the time that we have been together. She's a really incredible Wiradjuri artist who creates really important and needed artworks and it's been amazing being able share ideas together and know that we share a similar understanding when it comes to survival and decolonising through our creative works.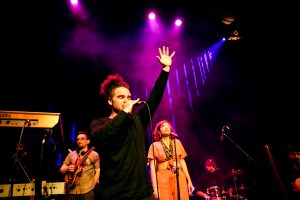 Three of the most valuable lessons you've learned during your AMPLIFY mentorship?
1. TIME SLIPS AWAY – I'm lucky I wrote a lot of my ideas and visions down early on but if I hadn't have done that I'd be a lot more stressed than I am now!
2. Make use of your support networks – I am someone who likes to do a lot of things on my own, because I'm particular and also quite stubborn haha, but it's been good to express my ideas to close friends, my mentor Jessie Lloyd and my co-ordinator Ryan and hear their opinions, take them on board and know I'm heading in the right direction!
3. Quality Over Quantity – I stressed a lot about 'how many people will I get to perform?!' 'what if it's not enough?!' etc. etc. And I realised that it's not about filling time or making time. I should just focus on the content and the message I want to carry throughout the gig. That message being that First Nations Artists are here, we're deadly and our music and reclaiming our space through music is incredibly important.
Who are your top 3 'Artists to Watch'?
Picking ONLY 3 is incredibly difficult but here goes!
Bricky B who's playing at Jirrmujina Liyan is a spoken word artist and rapper. He's actually the brother of my friend and his words have moved me even though I've only heard a few snippets here and there. So I'm really excited to be able to see him perform live and also to hear more of the stuff he continues to express.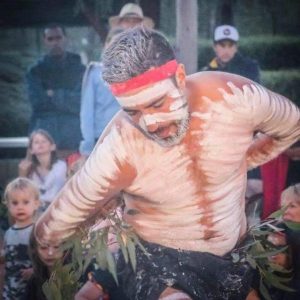 I saw Laniyuk perform at DRMNGNOW's launch a couple of months ago and they absolutely blew me away. They're also a spoken word artist who is spitting some real truths that I think this country needs to hear.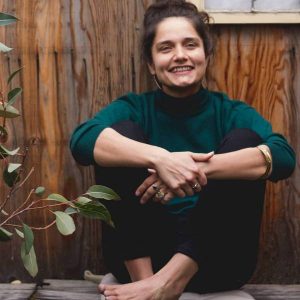 I'm gonna have to be cheeky here and say that everyone on the Jirrmujina Liyan line-up are artists to look out for. I mean that's the reason why I asked them to perform. I think all their music is really important and moving.
What is your go-to Karaoke song?
I actually don't really like Karaoke haha but I used to smash out either Avril 'sk8r boi' or 'I'm with you' on singstar when that was a thing hahah.