Janine, you're the Director and Founder over at Dallas Does PR. Tell us your story! How did you get to where you are today?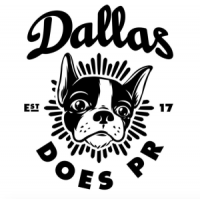 I picked up drums at the age of 14 after my failed attempt as a ballerina, I was never going to cut it. After failing at learning the guitar (thanks fat stumpy fingers), I learnt I was pretty good on the drums so I played drums in my all-girls high school band and took on the role to book shows outside of school. That's where I decided to dabble in managing bands which lead me into studying Music Business at JMC after I completed high school. Half way through my degree I was offered a job with a Promoter & Booking Agency as a receptionist. I moved around in the company for 3 years before deciding to pack my bags and move to Melbourne.
I worked for various companies before landing a part-time publicity role at Roadrunner Records, my dream label. In my 7 years there, I learned almost everything I know today and moved up the ranks to becoming a full-time Senior Publicity Manager. Roadrunner was then merged with Warner Music Australia which I worked within the publicity team before leaving to join Soundwave Festival as their in-house publicist and label manager for 3Wise Records. I departed Soundwave Festival and joined Cooking Vinyl Australia in 2015 as their Head Of Publicity. I left Cooking Vinyl Australia in December 2017 and Dallas Does PR emerged in January of this year.
For those who are unfamiliar with Dallas Does PR, where are you located, what services do you offer and what artists do you work with?
Dallas Does PR is located in Melbourne and the business is named after my pooch, Dallas. If you don't like dogs, I can't work with you – kidding! I offer publicity services across all media platforms such as radio, print, online and TV. My strengths lie with the alternative/punk/hardcore/metal genre, but I absolutely love working across all genres of music. I have the coolest roster and clients.
Right now, I'm working with Adelaide's heart-throbs, The Hard Aches, Brisbane's Indie Darlings, Last Dinosaurs, Wollongong 3-piece Shred-rocker's TOTTY (who I am so obsessed with) and Sydney's metalcore giants, Polaris. As for the international roster, I am currently working with one of the biggest British rock acts Bullet For My Valentine on their new album out in June, Grammy Award Winning band, Ghost on their new release out on June 1, Zeal & Ardor who is a Swiss-American one-man brainchild, Five Finger Death Punch, Bad Wolves, UK's metalcore act Bury Tomorrow and New York Pop-Punk Heroes, State Champs who also have an album out in June.
Dallas Does PR kicked off with campaigns such as Papa Roach's first ever headlining Australian tour, working on Judas Priest's 18th release which was also the highest charting debut in their career in Australia, the one-man party-hard muso, Andrew W.K. on his first album in 12 years, Django Django's third album, Marble Skies and Prophets Of Rage during their first Australian tour with Download Festival and their sideshows.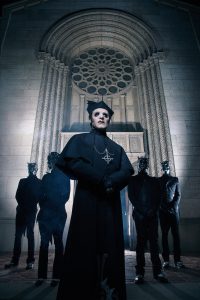 Ghost
Describe a normal day in the life of Janine Morcos.
It really varies, not every day is the same. I wake up with a coffee in hand and go through my emails. My day will consist of writing a press release and getting it ready for distribution and then following up with media. Servicing singles to radio, music to media and videos to TV. Planning each release and pitching interviews and reviews to relevant media outlets. Locking in coverage such as interviews and reviews and ensuring they run out on time. Lots of reporting, media scanning and radio spins. Preparing on-ground media schedules for touring artists and of course fitting in meetings with clients and media.
What issues/potential issues do you think the current Australian music industry face?
I think the most obvious one of the gender imbalance and women to be taken more seriously. It's such a strong and important topic and while we are talking about it, I feel like more actions do need to be made.
Give us your take on the local Melbourne music scene, where do you go to see shows and who are some local artists you'd recommend we keep an eye on?
I think the local Melbourne music scene has so much talent. I go to a lot of shows at the Workers Club and Northcote Social club mainly. I really dig the bands Greyscale Records have been noticing such as Belle Haven and Stuck Out. Slowly Slowly are releasing strong material and I can't wait to hear their album, Thornhill have been a big surprise, I think they're onto something great and I like what I've seen and heard from Better Half. There's also an artist called Bekdö who I think everyone should keep an eye out for – she's so cool!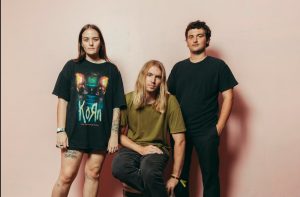 Totty
What tips would you give an artist trying to succeed in Australia? Is there a certain route they should take?
I think it's really important for an artist to know who they want to be and have a point of difference. You want to make a statement and show your uniqueness. Don't be afraid to be creative and approach campaigns with a left of centre approach. Create interesting creative content to build your online awareness and buzz.
Every artist wants to 'make it' without having to do the hard work, but sadly it doesn't work that way. Triple j Unearthed is such a fantastic platform for young, independent and unsigned artists. We have a huge community radio network with so many niche shows to tailor all genres of music, brilliant up and coming blogs and websites.
Have you had to overcome any challenges or adversity in your career, and if so, how did you approach them?
Mental health has been the biggest challenge I've had to deal with. I left my previous job due to this and while I thought I was taking the right steps to improve, my mental health was only leading to more serious conditions such as PTSD, depression, anxiety and insomnia. Removing myself from the situation helped me see the challenges I was tackling from another angle and to really take a step back and focus on myself and live a healthy balance of work and life.
I was challenged with a lot health issues which I am still working very hard at eliminating and it still haunts me. I make a more of a conscious effort in taking better care of my health and being a lot more vocal on my condition. I'm not ashamed of battling mental health, it's helped me push myself to other positive challenges in my career and allow positive role models in my life.
If you could work alongside an Australian artist that you have yet to work with, which artist would that be?
I have been extremely lucky to work with some of the most incredible Australian artists I have always dreamed of working with such as The Hard Aches (Mess), Polaris (The Mortal Coil), Parkway Drive (Ire), The Amity Affliction (Chasing Ghosts), Ceres (Drag It Down On You), Luca Brasi, High Tension (Bully) and Endless Heights to name a few. I am excited to work on the next Australian artist that is ready to send the world in a frenzy and really make their stamp just like the above artists I've had the privilege of working with.
What is the most rewarding experience that you've been a part of during your career thus far?
There is way too many to mention but working with developing artists who you watch grow and succeed is the most rewarding part of my job. I've been very lucky to work with so many amazing artists with the most recent one being Polaris. The yearlong project has allowed me to see the rise of this incredible band who are dominating world-wide with this just being the start of a very successful career. Being a part of number 1 chart debut is also a very rewarding experience.
I've been very fortune to be a part of campaigns such as Paramore (Self-Titled), The Amity Affliction (Chasing Ghosts), Nickelback (Here and Now), Parkway Drive (Ire) just to name a few. Also achieving unexpecting wins on campaigns. A few years ago, I worked with Japanese metal group BABYMETAL. No one in Australia knew who they were – they sing in Japanese. In the 2-month campaign, I managed to get the single added to triple j on high rotation (don't forget they sing in Japanese and its metal) and on countless covers. It was such a great experience. There's been plenty of those in the years.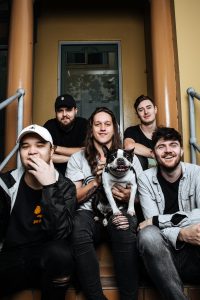 Polaris
How did you get your start in the industry? Any advice for people wanting to work in your field?
You can read the long spiel at the beginning about my start in the industry, but the advice I can offer is work experience. Work experience can lead to employment and I have worked with so many people who have then found work in the field. There are a lot of companies who do offer this, and it gives you a big insight in the field, hell if you're in Melbourne – hit me up.
I am always happy to offer advice or guidance or even a catch up over coffee. A publicist needs to have the right attitude too. Someone who is a go-getter, a hard worker, has exceptional attention to detail and not afraid to work with all kinds of personalities.
What are some of your hobbies outside of music?
I love being active. I work out a lot pushing weights and enjoy hikes on the weekend.
Who are your role models in the industry?
All the bad arse women! I feel so incredibly inspired by all the strong women who are involved in all aspects of the business.
What is your go-to Karaoke song?
It's tough to pick one as I have a few I love to belt out on the mic. The favs are definitely classics such as Bon Jovi – Livin' On A Prayer, Queen – Bohemian Rhapsody and I love a great pop songs such as Lady Gaga – Bad Romance and Carly Rae Jepsen – Don't Call Me Maybe.