Please tell us your story! How did you get to where you are today?
My story begins in North Queensland on Wulgurukaba and Bindal land also known as the city of Townsville. I was born to First Nations parents who are super creative. On my dad's side I am Kuku Yalanji, Jirrbal and Wurrunu. On my mum's side I am from Badu Island in the Torres Straits. In the late '90s when I was born, I think dad was singing Boyz II Men covers at weddings and being Jesus in musicals, whilst mum was busting out the Running Man and 'Rhythm Nation' moves in a dance group. They wanted to name me something in the language of my ancestors that related to their love of creative expression, so they found Kee'ahn. My name derives from the Wik people of Cape York, mob my dad and I have connections to. Kee'ahn derives from a word meaning to dance, to create. This one decision has influenced so much of my life.
Growing up in my family meant that I was always singing and dancing and playing music. My dad and I were in a couple of musicals together and school holidays often involved jam sessions with my parents in our little trio band. Little Kee would always pretend to be in Destiny's Child performing on stage or in a music video but soon fell quickly in love with basketball. Basketball took me across the country and even to the USA representing Australia. I thought I wanted to be a basketball playing physiotherapist but in the first year of university I figured out that this path left me feeling lost. Then I started thinking maybe Townsville wasn't right for me either. So, I began working a couple of jobs and busking at local markets on the weekend, going to open mic nights, and eventually getting my first solo residency at a small local bar. I decided I wanted to try and move away and try to sing and learn to write music.
From there, lots of twists and turns happened. Depression and anxiety, love and breakups and doors that opened here, there and everywhere. At one point, I was somehow stuck in England during the country's worst blizzard to date (The Beast From The East).
But, I managed to set up shop in Melbourne and have been here for almost three years. In this time, I've had a lot of wonderful opportunities including performing and recording with DRMNGNOW, the Homelands Tour, Sampa The Great's Sunburnt Soul Choir, Keep The Circle Unbroken, FOJAM and so much more.
One of the big ones has been working with Pataphysics who recorded, produced and mixed my debut single, 'Better Things', that popped into the world 28th May 2020. I've also recently appeared on 'Stranger' by Dallas Woods featuring me! We recorded it with Al Laska from Kingswood who also produced the track. From there we debuted it on triple j and I was lucky to sing with Dallas Woods in his Triple Like a Version cover of 'What's Luv' by Fat Joe featuring Ashanti. I'm contemplating rebranding to Ashan-Kee now, hehe.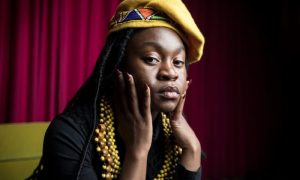 What does being an artist mean to you?
For me, being an artist means to reflect, share, empower, heal. To be an artist for me means to evoke change somehow, starting internally to externally.
What do you think is currently the biggest threat to artists or the industry and what would you do to change it?
That's a big question! COVID-19 is one of the main issues threatening all of us, and the Australian music industry has been one of the hardest hit. It would be beneficial to see processes in place to look after all industry workers, especially those struggling the most.
Have you had to overcome any challenges or adversity in your career, and if so, how did you approach them?
Being self-managed for the first couple of years has had its challenges, for sure. I think I'm still learning to find my voice as an artist and ask for what I'm worth. I'm wary of being tokenised or put into a box for being Aboriginal and Torres Strait Islander where I'm only pulled out for Reconciliation Week or NAIDOC. I think that will continue to be a worry until more strides are made. I'm thankful to have a supportive team around me and friends in the industry who are always willing to give advice and help me navigate this space.
Where do you live and what is your local music scene like at the moment?
I live in the Kulin Nations, also known as Melbourne. The scene feels like it's buzzing back! We've come out of a tough, strict lockdown to a scene that is hungry to connect. It's empowering to see.
If you could work alongside an Australian artist that you have yet to work with, which artist would that be and in what capacity?
I would love to work with Barkaa and Allara. Myself, Barkaa, Allara, Ziggy Ramo, Tasman Keith, Bart Willoughby, Yothu Yindi, Emma Donovan and Deline Briscoe were all apart of Blaktivism at the Sidney Myer Music Bowl. Meeting sis Barkaa and seeing her raw and powerful performance was so empowering. She's a big inspiration for me.
What does the rest of 2021 hold for you? Anything exciting you can tell us about?
Yes, yes! I am very lucky to be performing around the Victoria and the rest of the country A LOT. I think that's the most exciting right now. Being able to connect with folks in real life again is so special and why I do what I do.
I've recently supported Hiatus Kaiyote and Harvey Sutherland at April Sun! Aaaand I also have my first ever gig in Gadigal Country (Sydney) at the City Recital Hall on Saturday 21st of August. It'll be a solo gig highlighting just me, my voice and my guitar. So special. Really looking forward to it.
Let's talk about the highs vs the lows of your career, what is your greatest achievement so far vs a moment you'd prefer to forget?
Releasing my debut single 'Better Things' last year has been so surreal, especially reading all of the responses to it and messages from lovely people across the world.
From that I was awarded the 2020 Archie Roach Foundation Award at both the National Indigenous Music Awards and the Music Victoria awards. I also got to record a cover of Moses Sumney's 'Man On The Moon' for Rising Festival which was soooo lovely to do.
A highlight from this year was definitely supporting Stella Donnelly and June Jones at The Forum! Such a dream come true. I'd like to forget the time I burped directly into the microphone at a packed gig when the whole room was completely silent. Ya live and you learn. I've realised it's cool to just roll with it, hehe. If it happens it happens!
Who has been your greatest champion in your career so far, who has helped you along the way?
There's been so many people and I'm so grateful for each person. I have started a list recently and it helps remind me how lucky I am. The main people championing my career are my parents. They are the most supportive people in the world and I wouldn't be where I am without them believing in me and always being there for a vent or for advice. I don't give them nearly enough credit but I can't imagine how scary it would be for them to see their only child leave with a backpacker and somehow wind up being a musician on the opposite end of the country. They are incredible and the love I have for them is immeasurable.
What is your go-to Karaoke song?
'And I Am Telling You I'm Not Going' from 'Dreamgirls'. I go hard and then go home with karaoke. It's a Leo thing I think. My BIG dream is to be in the Australian version of 'Dreamgirls' the musical, so any karaoke opportunity is a rehearsal for Kee'ahn as Effie White. Just putting that out into the universe so it might come back to me one day, haha.