Uppy, you're the Managing Editor for WMA Media Brands. Please tell us your story! How did you get to where you are today?
I've had a focused goal of working in the music industry since I was a teenager, so after graduating from Journalism at uni, I took my first unpaid internship writing bits and bobs for Drum Media Sydney (now called The Music) while also working in retail and photographing and reviewing gigs in my spare time. Thankfully I lived at home so I was able to simply be paid in concert tickets while I built up my music journalism portfolio, interviewing artists like Panic! At The Disco, The Used, Paramore and more. I was a rabid pop punk fan at this point and would do anything to see my favourite bands. 
Eventually that led to a full-time gig at TheMusic.com.au as a Digital Editor, my first full-time role in music! I really cut my teeth here learning about the Australian industry, interviewing loads of artists and covering festivals, conferences and award shows on ground like BIGSOUND, Barunga Festival, Splendour In The Grass and the ARIA Awards.
While I was there I started doing mid-dawn shifts at triple j on top of working full-time, it was my first time on the radio and a huge learning curve! I left The Music to take a new opportunity at Red Bull as their Music Editor, and then finally arrived here at Warner Music Australia as the Editor of their youth music publication Cool Accidents. I did the triple j mid-dawns for about two years all up, but finally made the decision to focus on Cool Accidents soon after it started (I also really needed the sleep!). Along the way I've also managed to score a few hosting and presenting gigs which have been very exciting. It's been a wild ride but I've been very blessed to have been afforded so many full-time music editor jobs in the music industry, I know I'm one of the lucky ones! 
Tell us about your role with Warner, what does your day-to-day entail?
As Cool Accidents Editor, I primarily manage the channel strategy, social content and editorial direction of the Cool Accidents publication – managing the delicate balance between covering Warner Music Australia's best hip hop, rap and pop releases in unique ways for our marketing team while still championing the best artists in the business from around the world – and creating fun content for the website, YouTube, Instagram or TikTok along the way.
Excitingly, I've just been promoted to Managing Editor – WMA Media Brands, so I'll now be driving the strategy, growth and content of all four of our publications including Cool Accidents, and helping grow our media network to one of the biggest in Australia. I also manage the socials and website content for Warner Music Australia and oversee the day-to-day editors of our two other publications, I Like Your Old Stuff and Maniacs. It's an exciting time for our channels as we continue to expand!
A typical day could include any and all of the following: a meeting with an artist about what content we can create with them for Cool Accidents, premiering a song for a young up-and-coming unsigned artist, briefing a feature article or news piece with one of my contributors, briefing in social advertising for some of our best performing articles, briefing and approving social assets for Instagram, recording a portion of a Cool Accidents podcast, and a gig for TikTok in the office to round it all off.


What has been your proudest achievement so far?
I always aspired to be a music journalist and I'm super thankful that over the years I've gotten to interview some of my favourite artists and some modern music legends, people like Hayley Williams, Panic! At The Disco, HAIM, Billie Eilish, Lizzo, Charli XCX, City & Colour, All Time Low, The 1975, The Wombats, Lauv, Bring Me The Horizon, and so many more. These days I don't get time to do many interviews but if Halsey or Taylor Swift ever wanna chat to me, I'll literally drop everything.
I'm also very proud of my time on-air at triple j – radio was something I'd never considered and it was totally out of my comfort zone, but I feel like I discovered a confident side of me I didn't know I had (or maybe forgot that I have!).


Who are your role models in the industry be they international or Australian?
There are so many fabulous women who are doing awesome things in the Aussie music industry – Myf Warhurst, Ash London, Serena Leith, I admire many people's careers at all rungs of the career ladder, but personally, I do want to see myself reflected in a role model and there aren't many women who look like me at the top echelons of the music industry to look up to. Something I hope we can work together to change in the future – and my door is always open for any young women of colour who want to work in the industry and want any advice from me.


Who are your top three 'artists to watch'?
ASHWARYA, daine and Budjerah.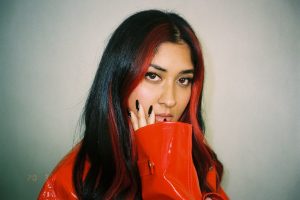 If you could work alongside an Australian artist that you have yet to work with, which artist would that be?
Troye Sivan. I've loved every release – they're fresh and bold, and he seems like a total legend. Not to mention his house looks amazing (I saw it on Architectural Digest, don't worry, he hasn't invited me around – yet).
What is your big picture career goal?
I think a lot of people strive for success and fame simply for who they are – but I'd love to be well-known for doing what I do extremely well. Like Apple Music's Zane Lowe, Vogue's Anna Wintour, or Atlantic Records' Julie Greenwald, they're all absolutely incredible at their jobs and it's a huge part of why they're all so influential and inspiring.
And if I don't achieve that, that's cool – I also would love to just quit music and start an animal sanctuary where I rehabilitate cute critters like wombats and raccoons and cats. So there's that.
What is the best piece of life advice you've ever received?
I do remember that my mum says my "motto" when I was a kid was "try, try again". I can't remember what I would say it in reference to – probably me nagging my parents to get me a new toy or something – but I think it actually still rings true now. If I don't succeed or understand something, I just try and try again until I do. Yes, apparently the best piece of life advice I've received was from my five-year-old self!
What does the rest of 2021 hold for you? Anything exciting you can tell us about?
Cool Accidents turns 10 years old this year and let's just say we're definitely gonna celebrate it!
What is your go-to Karaoke song?
Okay, so I love karaoke and this is a tough question. If I'm solo, anything Taylor Swift, Natalia Imbruglia's Torn, or something pop punk like Sum 41, All Time Low or blink-182. For some reason, I can also rap Eminem's Cleanin' Out My Closet perfectly (and boy, is it probbo).
If I've got my husband up there with me, Linkin Park's In The End – I take Chester's bits in that song (RIP).