You present 'mornings' on triple j, how long have you been in the role for now?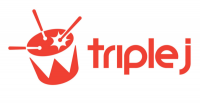 I've been the host of Mornings since 2007. Time has flown!
Describe a normal day in the life of Zan Rowe.
I rise early and get into work usually around 7.45am so that I'm up to speed with any new music, news or anything else I can bring to my show at 9am. Three hours of playing tunes, and chatting with guests, is usually followed by a whole lot more listening to new music at my desk; on average I get sent around one hundred and fifty pieces of music a week so every moment listening, counts.
In between getting back to emails, preparing for interviews, doing pre-records, and discussing music with the rest of the team I also duck out to film my new ABC iView show The Critics every couple of weeks, and on occasion shoot music interviews for ABC TV's 'The Mix'. Let's just say my computer keyboard is a "best of" selection of lunch crumbs.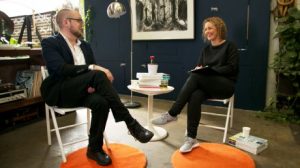 abc iview's The Critics
How did you get your start in the Australian Music Industry? Did you choose to work in music or did it choose you?
A little bit by chance, actually. I've always been a passionate music fan, and spent most of my final year of high school discovering new bands at The Punters Club and Arthouse Hotel in Melbourne, but as far as career goals I was set on being a writer.
One night I was hanging out with a friend who was heading off to his community radio show at SRA FM (now SYN FM) and he asked if I wanted to tag along. I said sure, and watched him do a show. It looked like a lot of fun. The next week I returned, and got behind the mic. I loved it immediately, being able to share the music I loved, with others. Before long I was volunteering and doing my own radio show in their "test transmissions". Pretty soon I deferred uni, then switched my Professional Writing degree to RMIT's Media Studies with a radio/film major, and knew I'd found my place.
Have you got any advice for people wanting to start a career in the music industry and specifically to become a radio presenter?
Anyone who wants to be a presenter should get out there and get some experience. University degrees and TAFE diplomas will teach some of the craft, but nothing can beat real world experience in honing your style, getting comfortable, and understanding live radio.
Community radio is broad, and there are plenty of opportunities to intern or volunteer at talk based stations, the ABC, or even commercial networks if that's more your bag. I volunteered at SRA/SYN FM and 3RRR for almost a decade before I began working at triple j. I'm not saying that you have to volunteer for that long, but I never viewed it as 'working for free'.
As I travelled, studied and coddled together an income, community radio was a constant for me. I learned so much from that time, about radio and audiences and music, and I met people who to this day remain my closest friends.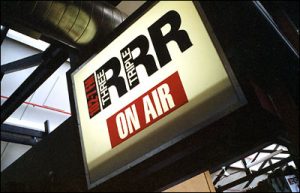 Do you feel that higher education is necessary to get into the music industry?
I guess I answered that somewhat in the last question. My degree at RMIT did teach me valuable skills in Pro Tools, editing, and the craft of radio… but it's not the only way to do it. I did tap into a network of inspiring and smart creatives there, and we made stuff together. I guess – like any community – that's of huge value.
Were there any skills that you had to develop that you didn't originally think you'd need?
When I went through university, the Media Degree had a choice of either majoring in radio or TV. Today that same degree teaches you the full range of TV, radio and online skills because that's what is expected in the modern media workplace. So when I first started doing television presenting with JTV (triple j's TV show, no longer on air), I realised that that kind of presenting required a very different skill set. It took me a while to get used to, and good at it, but I reckon I'm much less deer-in-headlights these days. Although I've realised that I love a good hand gesticulation when having a chat!
What has been the most rewarding experience that you've been a part of during your career?
Wow that's a tough one. I can honestly say that steering the ship of Mornings every day is one of the greatest joys in my life. I have such an incredible audience of friends listening, shouting back on the triple j textline, and going with me with absolute faith, when I want to share something I'm passionate about. It really is such a wonderful feeling to have a community connected across the whole of Australia, drawn together by a love of music and discovery.
Within my radio shows at 3RRR and triple j, I've had conversations with people like Brian Eno, PJ Harvey, Justin Vernon and Jessica Hopper, that I still think about all the time. They are people who have changed my view on music, and creativity. More recently doing The Critics on iView, I've been able to thread my love of cinema into another thing that can be shared and discussed, and have the kinds of conversations I'd have with film friends, on a public outlet, which has been a wonderful new challenge.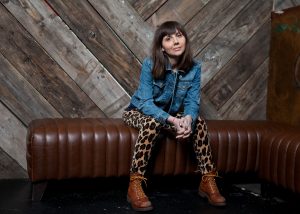 Jessica Hopper
Have you had to overcome any challenges/adversity in your role and how did you deal with it?
Coming up in community and public broadcasting, I've always been in a very supportive environment and been encouraged and mentored through most of my working life. I don't like to say I've been "lucky", because this should be the experience of all women, in all fields. But I know the reality is that it's not always the case.
In the few times where my gender has caused a certain reaction (when I first started broadcasting, people would interpret a warm interview I did as me 'flirting' with the guest), I've shut it down. I'm a strong believer in calling out any sort of marginalisation on the spot, against me or others, and as I get older I call bullshit more often, and more confidently. It feels good. If you see something, say something.
But I can honestly and happily say that I have worked in organisations where women hold the positions of power, and gender isn't even an issue in knowing who is the best person for the job.
What does the rest of 2016 hold for you? Exciting things that you can tell us about?
Many more new challenges and creative adventures I hope! In May I have a story coming out in an anthology called Better Than Sex, published by Hardie Grant. It's a collection of women writing about love, sex and dating in the digital age. Being asked to be part of that, which also features works by Lena Dunham and Roxane Gay, was such a big thrill for me as my passion for writing still lives strong.
My ABC iView show The Critics is being commissioned to continue through the rest of the year, and I'm loving being able to shape and experiment with that format. And I'm enjoying taking my love of conversation to the stage, and hoping to do more "in conversation" style events, like the recent chat I had with Carrie Brownstein for All About Women at the Sydney Opera house.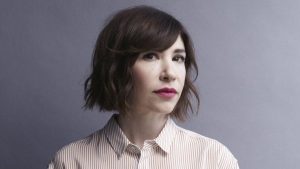 Carrie Brownstein
Who are your role models in the industry whether they be international/Australian?
Jessica Hopper, former editor for Pitchfork and currently at MTV, is a huge role model for me in her reading of music, and the responsibilities of musicians and their art particularly with a feminist gaze. Her work and approach encourages me to question more, to expect more, and to call out when misogyny, sexism and double standards exist in the industry.
Closer to home, Meagan Loader – Content Director for Digital Networks at triple j, is hugely inspiring as a woman who sees every new, untested idea as an opportunity we should take. Her faith and vision drives me to take more risks, and fall into the wonderful unknown.
And more broadly, Bjork just blows my mind with her constant curiosity, fearlessness and talent in constantly exploring new ways to create, make and share what she does. I want to, like her, never sit still.
What was the first album you ever purchased?
INXS's "Kick". I saved up 8 weeks of pocket money and bought it on gatefold vinyl from the local Brashes store.
If you could go back in time and experience one music moment, what would it be?
Patti Smith performing Horses in 1975.
What are some of your hobbies outside of music?
I love cinema, and still love going to the movies, sitting in a dark room and being taken away to another world, at least once a week. I'm a big reader (see #zansbookclub on my @zanrowe Instagram), and love to travel – making food a central point of every journey.
My hobbies are pretty standard; books, film, music, food… but I did once captain a Dodgeball team which was a whole lot of fun. Our name? Dodger Federer. As I get older, in everything in life, I always want to go, do, see something new.
Top 3 Artists to watch in 2016?
What's your go-to Karaoke song?
A Whole New World – from Aladdin. Happy to sing the parts of Jasmine or Aladdin. Or both.