Image credit: Laura De Vu
DAREBIN MUSIC FEAST, SAT OCT 21, MANA! – Click here for Facebook Event
You're a DJ, Artist and the Editor of an inclusive zine with community contributors. Can you tell us more about your adventures for those who may not be familiar.
Adventures! Good word for it! I DJ hip hop & RnB music at parties and events, I DJ and sing vocals for HTMLflowers, I make club installations at Cool Room at 24 Moons, I am a co-founder of an Oceanic art collective called New Wayfinders, I do youth work with young queer people of colour in Carlton and I love cooking dinner at home.
What does a 'day in the life' of Daisy Catterall look like lately?
I revel in my morning coffee in bed!!! My girlfriend or I will make it and come right back to bed to enjoy it. It's often the most peaceful, clearest part of my day. Then most days of the week I do youth work at Drummond Street services where I get to produce programs that foster community for QTPOC.
On my one weekday that I don't work, I might be scrambling around a $2 shop looking for materials for a Cool Room install, rehearsing with HTMLflowers, listening to my friend MzRizk's PBS radio show Boogie Beat Suite in between posting orders from my online store.
At night time I try to wind down and relax at home, but it's hard when so many close friends are doing so many inspiring important things so often I'm out supporting spoken word nights, DJs, live music, etc. It's a lot! But that's what life's about.
Where did you grow up and what was teenage Daisy like?
I grew up in Queensland on land belonging to the Yugambeh/Kombumerri people, now known as the Gold Coast. I spent heaps of time at the beach and was raised by a single mother which made me really independent very young. My love to RnB music started early with Alicia Keys and Usher (the love is still there) and so came my love for singing and music. I longed for connection to my Maori family in Aotearoa and to learn about Pasefika customs and language but had no way to connect with it. I was a good student but hella distracted by socialising. Not much has changed!
What positive changes have you recognised within the australian music scene?
I'm noticing that people expect backlash if they don't book diverse line ups hehehehe. I'm noticing that bands, especially white bands, are acknowledging their responsibility to not stick solely to their mates' bands but to take initiative to go find musicians and book them on their line ups.
I'm noticing that white people are becoming more and more uncomfortable supporting hip hop nights that are produced by white people and non-black people of colour. I think that's positive. Discomfort is positive because it means change is coming. I've noticed how valuable it is to dig a little deeper and get out of your comfort zone and go to venues you've never visited before. And I've noticed that people are angry. And that makes me feel hopeful.
Why do you feel it is important to provide open conversations and safe spaces for everyone, to support and encourage women and those who are gender diverse, within the music industry?
Music is for all people. Historically, music was used and created by marginalized people to regain their power, their mana, but somehow today we've gotten ourselves into a situation where live music events are most accessible for white men? It's so confusing. Music made by black people (women) has been labelled as alternative or 'world' music. It's all so backward and inside out. So we've got to do some work to get it the right way around again. This feeds into decolonising the way we consume and produce art and culture because it's a step towards reviving and revitalising Indigenous practices that are integral to Indigenous culture.
If given the chance, what would you change about the current climate of the Australian music industry?
I'd fast-forward us to a time where we don't have to have all-female line ups to prove a point and to keep people safe, and where we don't we have to have POC-only spaces because white people ruin everything. And I'd deconstruct and reassemble the idea of masculinity so that men feel less suffocated by the idea of performing it and to make them feel more able to get on with business. Just a couple small things.
Have you had to overcome any challenges or adversity in your career, and if so, how did you approach them?
I'd say the main issue I deal with daily is trying reconcile the position that I have in the community with good productive work. I have some intersecting identities happening; some which allow me a lot of privileges like white-passing and my cisgender. Then others which disconnect me from privilege such an my Indigeneity and my queerness. So every day I try to consider where this leaves me in terms of the space that I occupy, who I should be sharing that with and who I should be passing it to. At the same time, trying to redirect the urge to please that I've inherited from my womanhood, I'm learning to take up space in that way.
Also, mental health is a real life thing! Mental illness can strike me down whenever it pleases, and fielding that can have huge effects on my work. But I'm learning to accept that these are the conditions of being a dynamic, sensitive human being.
What tips can you offer to anyone wanting to educate themselves on current affairs within the Australian music industry – across the conversations of gender expression/identity, people of colour and feminism?
Read and seek out information of your own accord! If you get called out or corrected, don't take it personally, just say sorry and thank you and then educate yourself. These are really big conversations and it's a lot, but it's also our responsibility to learn about identities outside our own. If you learn a new thing through conversations with people, go home and read heaps about it so you aren't relying on others keep teaching you. Be easy on yourself- it's a lot of stuff to unlearn but it will allow you to connect with a really rich mix of people and finally, keep it compassionate.
What are some practices you can share that encourage self-love?
Self-compassion is my guiding star. Trying to treat myself and talk to myself like a friend really helps when I'm feeling like a loser or having a hard one. For me, self-acceptance is way more important and realistic than self love. Be easy on you! Also interrogate what you see as valuable to your life. We're taught that being busy and useful to people is the way to add most value to your life but leisure is important and pursuing your interests for the sole reason of self love.
Who are some of your role models in Australian music?
Ripley of Kandere and Wahe is someone I really look to ethically and politically. Their practice is so engaged in community development and they approach all of their work with such empathy and care, such a Pasifika thing! And they throw a mean party.
Olivia Crawford is a community pillar in my eyes. They are another Pasifika babe and New Wayfinders member who lends so much time to supporting and nurturing community and live music events and leads important conversations around disability and access to live music and night life. I think it's really easy to glorify artists and musicians as community pillars but it's important not to forget people who attend these events, share them on social media, work at the venues and provide specific support to people in the community because these are the people literally keeping the culture alive!
Namila Benson is another Pasifika woman who is a radio host and producer and DJ and is someone all us young ones look to with regards to getting race and gender politics in the music scene straight. She's an extremely talented interviewer and moderator and has immense cultural and industry knowledge that she's really generous to share.
11. Top 3 Artists that you are jamming on RN?
I was lucky enough to see Electric Fields live recently at NGV and it was state-altering. Michael and Zaccariah are both such generous performers.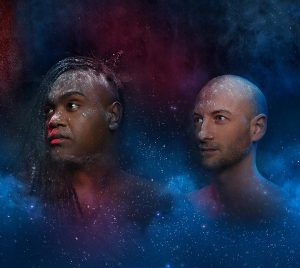 Various Asses is an electronic project that's come up in the last year and she's already managed to book a spot at Meredith Music Festival this year. Visuals are a huge component of her work and each music video her team produces features a tight posse of bossy women and non-binary royalty.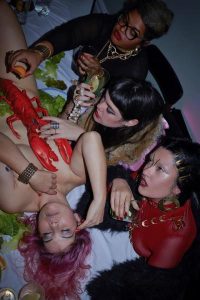 HABITS are described as on the come-up but I would like to announce that they have well and truly COME. They are a 2-piece goth electronic RnB outfit who throw the sweatiest, queerest, most empowering parties and have been for years. They just completed their first international tour and are a really good example of young people taking the mic back and managing their own careers.