Dallas! Tell us your story! How did you get to where you are today?
Well it started when I fell in love with music when I was kid. I dabbled in guitar lessons early on but it wasn't until I was 18 yrs that I started singing by accident when no other singers at a jam sesh at a party. I formed my first band that very night. I then started learning how to promote my own shows in my home-town in Wangaratta, Vic. I figured I needed to learn what a good manager does by just doing my self that way I would know when the right would came along. As it turns out my fiercely independent spirit really enjoyed the business side as much as the music.
In 2006 we won Triple J's 'Light Your Fuse' competition which lead us to play be booked on the main stage at Byron's Bay 'Blues n Roots Fest' and from there have gone on to play well over 900 shows with my current band including 10 international tours.
Coming 3rd in the international song writing competition (ISC) opened big doors for my band in France where we signed to French label Verycords in 2013 (we played to 40K at the Le Mans 24 hr circuit race in the south of France). More recently I have started up my own record label in Melbourne, Spank Betty Records that is helping give artists the tools to DIY by working alongside them for releases, touring etc. and in March I started a world-first festival (A Hitch To The Sticks) with my business partner, Renee Delahunty which is where we take coaches full of punters across 3 days, 10 events in regional areas in Victoria (85% homegrown artists) where we mentor venues that have never put live music on before. We had over 4600 in attendance for the first festival over the weekend, we are still overwhelmed with the success of the event!!!!
I wear lots of hats in the industry including; artist manager, APRA AMCOS Ambassador, festival director, international touring artist, booking agent, venue booker, successful crowd-funder, industry mentor at Collarts Music College, and over the last six years I've been so lucky to work in the N.T with some incredibly talented indigenous women from remote communities that are wanting to engage in music (Desert Diva + Sista Sounds programs).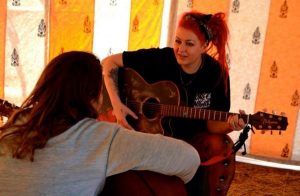 Dallas at Desert Divas
Tell us about your various roles, what does your day-to-day entail?
Every morning I go to the gym then come home and begin my day by checking my diary and prioritise what needs to get done for the day/week. Every project I am working on has it's own separate google drive that all of the team is all looped in to (best invention ever). We are currently in the planning phase for the next 'A Hitch To The Sticks' Festival so at the moment that involves lots of meetings..
I'm also working on my first solo tour for Parlour that commences in August so I'm building a brand new set and contribute something towards that every day. I also currently work at Collarts Music College three days a week (ensemble/ industry mentoring).
The idea for me is to be flexible when things come in and take a break if things become overwhelming. The nature of the game is that you're always getting slammed with unexpected deadlines so I do my best to look at it like; there are no obstacles, just solutions!! Time management is definitely the key when juggling lots of balls in the air. It's important for me to be committed to the tight timelines for each project. I always have diary reminders going off on my phone.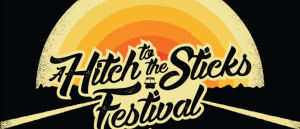 A Hitch to the Sticks
What issues/potential issues do you think the current Australian music industry face? Specifically in the touring/artist/festival realm.
I'm excited that the last number of years, there has been a noticeable shift in the female representation within the music industry and that women are stepping up into roles that in the past have been occupied by men.
Women have really cemented their place into the matrix of the Australian music industry across many job roles; promoters, publicists, managers, TM's, street press editors, bookers and I don't think it's going to slow down any time soon.
Finally we are starting to see a conscious effort to level out the imbalance of female artists being represented on event & festival line-ups and the industry supporting it.
Give us your take on the local Melbourne music scene, where do you go to see shows and who are some local artists you'd recommend we keep an eye on?
Melbourne is the live musical capital of the world right?! I love the community sense of the local scene where you might need to borrow a pedal or a drum kit and your mates have always got your back. There is a such a strong movement of healthy well adjusted forward thinkers that are coming through the ranks and paving the path for all that follow. It's an exciting time.
I see shows in a tonne of different venues. The past few weeks I've seen some rad gigs at Margaret Court Arena, Night Cat, Corner, NSC, Workers Club, Cherry Bar.
Some local artists I'm excited about: This Way North, 30/70 (Allysha Joy), Liv Cartledge, Tanya George, Rick Steward & His Greensman, Rhyece O'Neill & The Narodniks, Droid, Jo Jo Smith.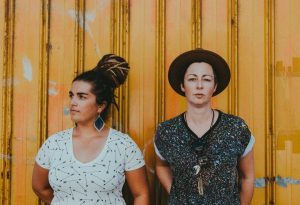 This Way North
What is the best piece of life advice you've ever received?
Pick up the guitar and don't let the boys dictate the style of your vocals anymore… This resonated deeply with me around 15 years ago of which I went straight home and hid in my room for a year and played guitar to my fingers bled. In April 2018 I was extremely honoured to be the guitar slinger for the first ever all female band to play at a sporting event in Australia (the closing of The Commonwealth Games – Estimated 1.5 billion viewers worldwide). Thanks Chris Wilson for that great advice, I am forever grateful.
How do you unwind when you're stressed?
Hanging with mates, venting, drinking beer, gardening, putting my feet on the ground, partying, good food, live music, playing music for the hell of it.
Have you had to overcome any challenges or adversity in your career, and if so, how did you approach them?
Many times over my 20 years in the music industry! The band I play in sits in a super male dominated genre so more often than not you're the only women on tour which can have it's challenges. You grow pretty tough skin after a while. I recently read a great book written by Stacey Copas called, 'How to Be Resilient'. She is rad.
I think that a lot of the time you can feel quite isolated working in the industry when the reality is, you're sitting in front of a computer planning. It's important to reach out if you are stuck on something as you will find, people are so awesome and you're never alone. Humans are always willing to help.
If you could work alongside an Australian artist that you have yet to work with, which artist would that be?
Hmm, that is a tough one. If I could manipulate this question to be 'dead or alive', it would be the late and great Chrissie Amphlett.
The greats are few and far between and I think by studying our greats and even who their influences were is where you really start to learn.
How did you get your start in the industry? Any advice for people wanting to work in your field?
I'm not sure if I really had a 'start date' but maybe it was when I began my 1stresidency at The Vine Hotel in Wangaratta that lasted for two years every Friday night. Maybe it was me BELIEVING IN MYSELF enough that I was good enough to play a show that got me started. I think the sky is the limit when you really think about what your dream is, so never limit yourself in what you to achieve… DREAM BIGGER, BE YOURSELF and always BELIEVE you can (even when you don't). Surround yourself with people that lift you up.
Who are your role models in the industry?
This week two very rad ladies: Katie Noonan, Kate Ceberano.
What is your go-to Karaoke song?
Work It Out – Beyonce. I once won first prize at karaoke competition on tour singing the tune. I was on your at the time & it fed the band for a whole week 👌🏻