Elise and Rosie, you're both members of Feels as well as Founders of WOMPP – Women of Music Production Perth. Tell us your story! How did you get to where you are today?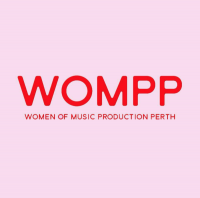 We met at a nerdy after-school percussion program when we were 14. We were playing hand drums in a group and when the opportunity for individual drum solos came, we gave each other the nod of respect at how lit we thought each others solos were. From then on we were friends and knew we would make music together.
We both went on to pursue music professionally and each studied Bachelors of Music, thinking we wanted to be classical musicians. During our time at uni we discovered the program 'Ableton' and discovered the amazing combination of using our training in percussion and composition and mixing it with electronics.
We started writing and playing together casually in 2013, but it wasn't until 2016 we made 'Feels' an official artist and started committing to every Monday as a Feels working day.
We started releasing music and playing gigs as Feels and it was during this time we realised there weren't many other female electronic artists to connect and play gigs with. In January 2017 we started our Ableton user group 'WOMPP', with the goal being to connect with other female, trans and non-binary electronic artists in Perth. Our first ever monthly WOMPP meeting started out in our studio with about 5 other female artists and over time, grew to the 400 members we have today. We started running WOMPP events and the movement naturally progressed to what it is today – an Ableton user group community, booking agency and record label.
Feels and WOMPP are now both our full time commitments (along with some music tutoring) and we have found that hard work, good time management and determination is what has got us to where we are today. We are both passionate people and it is the passion we have for improving gender equality within the music scene and writing and performing electronic music that drives us to do what we do everyday.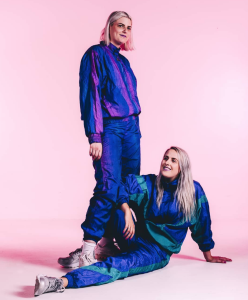 We were excited to hear that WOMPP exists! For those who are unfamiliar – what services do you offer, where are you located, and what artists do you work with?
WOMPP was founded in Perth and is predominately based in WA. WOMPP runs monthly meetings where members come together to discuss topics on electronic music production, specifically building their skills in Ableton. The meetings are designed to be a safe space for learning and growth whilst encouraging members to share their work and engage with other artists for feedback. We also run bimonthly showcases that give WOMPP members a chance to perform a live electronic set or DJ set.
Seperate to this, WOMPP functions as a record label and booking agency. WOMPP is currently home to 8 live acts on the roster and 1 on the label. The current roster is: Hi. OK, Sorry., Alex and Yell, Kopano, G*Rey, Elsewhere/Rebecca, Wyn, Lana Rothnie and Hyclass.
Tell us about the WOMPP community, how did you all connect and who is involved?
WOMPP started out in January 2017 in our small studio in Fremantle. We started a Facebook group and invited all of the women we knew that were into electronic music and production. It started out with us and 5 others and overtime, word got out and we now have over 400 members. We run monthly meetings that are now held at UWA.
The goal of the meetings is to not only connect female, trans and non-binary artists in Perth, but to also help nurture skills development and encourage confidence within individuals. We have seen many amazing artists either start out or push their practice even further from being apart of WOMPP – artists like Jamilla, Your Girl Pho, Kopano and WYN to name only a few!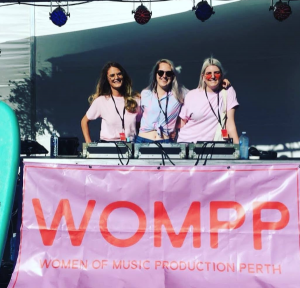 What are your goals for WOMPP? Any plans to expand beyond Perth?
Our main goal for WOMPP is to encourage gender diversity in the electronic music scene by providing a platform for women, trans and non-binary artists to grow. We have always imagined WOMPP to expand beyond Perth and have already made small steps to achieve this. We have plans to sign more artists to the WOMPP label and will be looking at not only Australian artists, but international artists to sign in the near future.
We are already engaging with artists from other states in Australia and plan to expand to a global artist roster and audience over the coming years. While are we proud of our origins in Perth, WOMPP is in no way exclusive to Perth and we see it as an international community and company.
What does your day-to-day entail?
Monday is Feels day and we basically get to the studio first thing in the morning, reply to some emails and get onto writing and rehearsing. Tuesday – Thursday we both tutor music individually at different high schools and universities. We are always organising gigs and replying to emails during our breaks and will usually touch base with each other everyday about things that need to get done that day/week.
On a Friday we have a half day of tutoring and then are back in the studio rehearsing for whatever gig we have coming up or working on improving our live set. On the weekends we will often we playing gigs or attending gigs and if it is a really busy week we will also do a full day of Feels/WOMPP on a Sunday – this seems to be more often than not lately!
What issues/potential issues do you think the current Australian music industry face? Specifically in the production realm.
The main issue is not that female, trans and non binary producers don't exist, it's that as a group we are vastly under represented. Electronic music in Australia has been a heavily male dominated part of the industry for a very long time. If we want to encourage diversity we need to see it within in the scene and take gender representation on local lineups and national festivals more seriously.
The Perth electronic music scene is a perfect example of this not being an issue. Through the creation of WOMPP there is now abundance of female, trans and non binary electronic artists which are consistently represented in lineups on a local level. Funnily enough, when a large-scale festival comes to Perth the local acts chosen are still often all male artists even though their are more female acts available. Promoters need to do their jobs and research the local acts available to them to ensure a diverse lineup.
If you could collaborate with an Australian artist that you have yet to work with, which artist would that be?
We would love to work with Mallrat. Her rapping would sit really nicely on some Feels production 😉
What advice would you give people wanting to start a career in music production?
We think the most important piece of advice for anyone pursuing a career in music is to work hard and to be organised. If you write amazing music but don't have the energy or work ethic to be constantly writing new music while simultaneously following up on emails and organising your live sets and gigs, you won't get very far.
There have been weeks where we have each worked as tutors/freelance musicians 8am – 4pm each day and still had to do a Feels rehearsal and admin session each night along with playing gigs the whole of that weekend. You really need to love producing music and be able to make sacrifices to follow your passion – it can seem like a crazy lifestyle the majority of the time, but it is well worth it!
We think it is also really important to always be open to learning new skills and putting aside time into skills development in production. Even experts don't know everything, we love getting shown something new and will always acknowledge when we don't know something. Even as tutors in music we are still always learning new skills and ideas.
What is your go-to Karaoke song?
Call Me Mother by RuPaul
https://youtu.be/2MDvJwHAq7Q