For those who don't know already, can you tell us the story of how you got started in the music industry?
My brother Jesse and I started a band, a grunge folk duo (at the time) called Killing Heidi, and entered our first decent song, Kettle into Triple J's unearthed competition. It was 96, I was 13 years old and much to my surprise we won for our region, the goulburn valley. The airplay that followed led to us being booked to play PushOver at Shed 14 in the Docklands, and it was a huge deal for us. We added a drummer and a bassist and played a shonky but undeniably vibey set that day.
We were spotted by a producer at that gig and went on to record our debut album Reflector which started spawning singles in '99 (Weir, a song about my friends and I floating contemplatively in the town water supply became an indie then mainstream hit, and was a bit of an anthem for teens at the time) and the rest is history!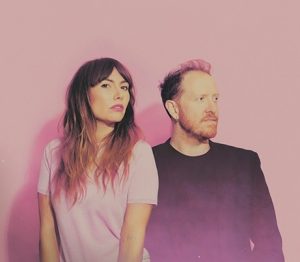 You've been in the spotlight for a long time, how do you manage not to burn out?
Haha, I DO burn out. I'm getting better at sensing when burnout is creeping, but it still occasionally wallops me. I have always loved to try many different things, at once, and i do what I do with a fair amount of gusto, so even though that does sometimes lead to a burnt out week in bed eating biscuits with a head cold, it's also probably the secret to my success. I feel it's a massive blessing to have had the career I've had and am still having so I try and give it everything.
Describe a normal day in the life of Ella Hooper..
Okay, at the moment Killing Heidi (the aforementioned high school band gone banana's) is having a TWENTY YEAR anniversary tour, it's a celebration, not a reformation and we are only doing a hand full of shows, but there's a lot of promo and rehearsing and designing involved, so I'll often be on the phone and/or email in the morning spreading the word about that.
Then I'll head off to a radio station to do the same thing face to face or from a tardis booth. I nearly forgot how much promo was involved in a national tour, got to get those bums on seats!
Then I'll have a planning meeting with my solo project band and maybe canvass potential producers for the next record. I've got three solo releases under my belt now and I'm incredibly inspired to keep producing new music that feels and sounds relevant to where I'm at in my life. The last release was a pretty dark, gnarled break up album, so hopefully the next one will be a sunnier affair. Then I'll hop to a media gig, my other job, at either TV or radio. Last night I was on the panel of The Project for example, helping interview Hans Zimmer and Geoffrey Rush.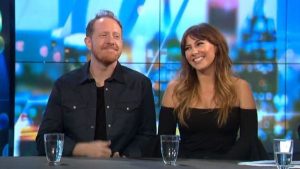 Killing Heidi on the Project
In there somewhere is likely to be a board meeting. i sit on two boards, the Victorians Women's Trust, an incredible gender equality organisation and the Creative State Advisory Board, giving advice on aspects of strategy and implementation of Victoria's new Creative Industries Strategy. Then last but not least, dinner at The Tramway Hotel in Nth fitzroy, mmmm, pub grub, not much time for cooking at the moment, where I will also do some much needed socialising AND catch a band by the fire. Tonight for example I'm going there to see Gena Rose Bruse, a friend and collaborator play some new stuff.
What is your favourite part of doing what you do?
The connection between artist and audience. When it's on and flowing cyclically it's really pretty moving and rewarding.
What is the LEAST favourite part of doing what you do, and how do you manage this?
Repetition, in terms of singing the same material for a long time in the same way can be challenging. I just try and access the most honest version of the emotion needed that I can. And financial insecurity. Not knowing what the next gig, job, opportunity is, when it will come and whether it will be worth the time and energy you know you're going to pour into it. It's a patchy way to make a living, this mixed bag approach that I take. Feast and famine, which can be stressful. I haven't quite worked this out yet, but I get help from my management team and my bro, who are way more fiscally astute than I am.
What's the greatest piece of advice (relating to work/music/life in general) that you've been given?
Back yourself, trust your own taste. I STILL want to improve on walking the talk with this one. But it's also the advice I would give to anyone else in a creative pursuit.
What tips would you give an artist trying to succeed in Australia? Is there a certain route they should take?
Well, thanks to the internet Australia may as well be the world right? Though I'm not sure it's as easy to break through in terms of radio here, we have very limited channels that don't represent a huge swathe of genres, and radio really affects touring. So in lieu of being a Triple j darling, I would focus online. on kick. arse. content. And make sure your live shows are killer, but scale them up carefully, when needed. Don't bite off more than you can chew in the real world. Online, go crazy.
Have you had to overcome any challenges in your career and if so how did you overcome them?
Many! Over the 20 years of my career so far there's been some biggies, fallouts with management, band breakdowns, getting sued, getting detained, vocal health disasters (I've had 3 operations) being super cool, being super un-cool (both are hard on your mental health) growing up and making mistakes in public. All of these challenges can usually be met and overcome with self education, reflection and persistence.
Who are your role models (either musicians or people in the music industry) whether they be international/Australian?
Adalita, her seamless transition into respected solo artist and icon. Vika and Linda Bull, their warmth, talent and just the way they live their lives. Julia Zemiro, my hosting hero, she is the best. Tim Rogers, his stick-with-it-ness and ability to try his hand at many things, theatre etc. Bonnie Raitt and Lucinda Williams for keeping on keeping on, and how! Clare Bowditch for being an inspiring juggler of many things (as I try to be) and her work ethic from hell!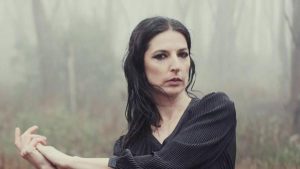 Adalita
If you could change one thing about the music industry to make things fairer/better for musicians what would that be?
One of my managers Tom Larkin told me an alarming stat that a musician's life expectancy is around 56! So I think it would be great to address the massive booze and drug intake and its effect on mental and physical health, via education and support. Maybe discounted mental health care plan sessions for artists? I hate to propagate the 'tortured artist' stereotype but it's obviously an issue. Does it have to be? Is there room to improve on this and encourage a healthier happier community of artists? I think so.
How do you unwind?
Go to the country, sit on the porch, drink wine with my mum. Talk it out. Then yoga, if I'm able to be woken the next morning. It's 50/50 on the yoga. But 100% on the porch and wine.
Top 3 Artists you're listening to currently?
Angel Olsen, love her voice and writing style. Sofi Tukker, to get my feet shuffling in the AM, and the new Jack Ladder track, Susan. Delicious.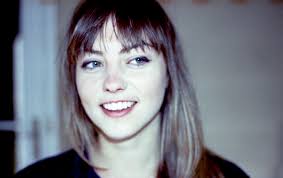 Angela Olsen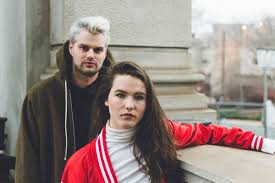 Sofi Tukker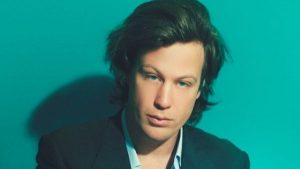 Jack Ladder
What's your favourite gig that you've ever played and why?
I honestly can't say. They all have highlights and lowlights, but I DO love the ones where people cry. I feel like I've done my job. (perversely?!)
What's your go-to karaoke song?
I actually dislike doing karaoke. I'll go but I'd rather watch and laugh than hit the stage. It just sounds so bad, and i know that's the point, but save it for like one scene in a Wes Anderson or Sofia Coppola movie, not a whole evening. Oof. I'll do Rufus Tell me something Good if it's a straight joint, or something by Ween if it's a hip one.