What is your role at On the Map PR, and how long have you been in the position for? What were you doing previously?

I'm the director of a small music publicity agency, ON THE MAP PR. I started ON THE MAP in early 2012 after a brief stint on TV (My Kitchen Rules 2012 with my sister, Carly) and before that I'd been at Sony BMG and Sony Music for seven years. I started off working for Sony as their VIC PR assistant in 2005 and moved to the Perth Sony office to work as WA PR Manager for 3 years and then headed back to the Melbourne office to look after the commercial radio and TV accounts as VIC PR Manager.
Describe a normal day in the life of Emily Cheung..
Every day is generally pretty different from the next, depending on the artists on our roster that month and what PR exposure we can snag for each act. But the average day will involve getting up at 7am, taking my pooch Chevy the Rottweiler for a jog before returning home to breakkie and a cuppa while getting through a few emails (and anything urgent that may have popped up overnight). We don't start in the office until 9.30am, as we go to a lot of weeknight gigs that often don't see us getting to bed until after midnight. Most days are spent pitching for media coverage for our artists, across all print and online platforms, whether it be news pieces with soundcloud or videoclip embeds, reviews, stories, photoshoots or performances. We also spend a lot of time on the road visiting media, meeting with artists for consults and sitting in on shoots, interviews, performances and other fun things. Often there'll be some drinks or a media dinner after work, then off to one of our artist's gigs before doing it all again the next day!
How did you get your start in the music industry? Did you choose to work in music or did it choose you?
I've loved music for as long as I can remember. My parents raised me and my three siblings on some of music's greats, quite a few of whom are still touring and recording to this day – Simon & Garfunkel, Rod Stewart, Bruce Springsteen and also The Beatles, The Beach Boys, Elvis and also The Phantom of The Opera soundtrack (ha!). My sister was also named after Carly Simon. When I was at uni studying journalism and PR, my boyfriend (now hubby) was a full time muso who was always on the road touring and promoting his band; so often I'd jump on tour with them to sell merch during uni breaks. But somehow despite my life and love of music, the music industry found me in the end. I was working my first full time job in PR for the Australian Bridal Service (promoting bridal exhibitions), and my colleague's sister was advertising for a PR assistant at her Sony BMG office. Over 200 people applied, and luckily my connection scored me an interview and then the job. Back then I had a show on SYN FM and PLUCK TV (Channel 31) and had just come off a stint on RRR, so the timing was perfect given the PR assistant's role was to manage and service secondary media (including SYN FM, RRR, streetpress etc). I happily ditched the bridal world and that's how my career in the music industry began. I've never looked back and know and appreciate that it is a privilege to work in this shrinking trade.
Have you got any advice for people wanting to start a career in the industry?
The music world is a tough industry to get in to, but if you are passionate about living and breathing music, it is well worth the persistence. Apply for all the internships you can, whether you're interested in publishing, record labels, music journalism, PR, tour management etc. The more experience you have under your belt, the more employable you are. It's also a shrinking industry with the move to digital, piracy and streaming, so you're going to need to do all you can to be noticed. There are also some pretty cool uni, tafe and private music courses you can look in to around the country.
Any advice for musicians wanting to get their music out there and at what point they should enlist some help with PR?
We always tell our bands to only engage our services once they have all their tools ready to go. And the more stuff they have to promote, the stronger the pitch and hence the more pick up there will be at a media level. So once emerging artists have their EP/album ready to release, we suggest picking a single, organising to have a film clip recorded and edited and then it's time to engage a publicity firm once they've got some gigs in the mix to promote also. If we're pitching a new act with a straight single to a media outlet, it's fairly likely there are ten other awesome indie acts being pitched who probably have a single, a film clip, an EP and a national tour to chat about, and so the media outlet is more often than not going to support the band with the biggest story and the strongest pitch. Other things you'll need to swing your publicist's way to assist in their pursuit of your media exposure include; single and EP/album artwork, digital streaming links (usually on soundcloud), release purchase links, active social media account links (facebook, twitter, instagram, youtube, website etc), artist logo, bio, MP3 of the single, promo pics and a full list of all the shows with ticketing links.
What issues/potential issues do you think the current Australian music industry face?
In my opinion, the biggest issue the Australian Music Industry is facing is the evolution of the digital age. But ironically, I don't believe it has to be an issue. We need to embrace it and activate new business models and techniques to not only survive, but to thrive. Just as cassettes and CDs have faded out, record labels and recording studios are becoming less of a requirement as technology and the internet allows for home studios and a global platform with access to mass audiences. The debate over digital sales and streaming revenue will continue, but in this current environment touring is usually where the money can be found. Indie bands need to grow their audience by touring regularly and supporting bigger acts than themselves in a bid to try and win over the headliner's audience and convert them in to fans of their own. The Paper Kites are a great example of this – they spent over a year focusing on playing relevant supports (jumping on national tours with Boy & Bear, Josh Pyke and Bombay Bicycle Club) to grow their audience before launching their own national headline tour, which they ended up selling out before they even hit the road.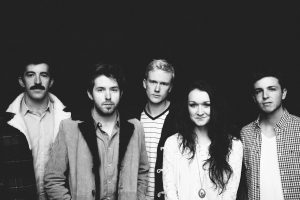 The Paper Kites
What tips would you give an artist trying to succeed in Australia? Is there a certain route they should take?
Writing, recording, mixing and mastering your release means you're probably only half way there. The next step is to get it heard. So here are some tips on what to do next:
Gather content: Take photos, videos, write diaries whenever you're doing something relevant to your art – whether you're writing songs, or in the recording studio, or on the road etc. These snippets will make for great content to roll out across social media or traditional media (music sites etc).
Actively work social media accounts: Social media has become one of the most important tools for music artists to embrace as it allows them access to a mass audience who have already shown enough interest to support the page with a 'like' or a 'follow'. Work on growing your audience by being active and engaging across all your channels. If you have any accounts that you no longer update, delete them so everything searchable is current and relevant.
Apply for all the grants you're eligible for – government grants, gear endorsements, competitions, private grants etc: It's a sad truth that the financial burden can be the sole hurdle standing between an insane talent being heard and making a name and career for themselves or not.
Take advantage of any friends in the business that may be able to help you save a buck or reach a greater audience: Sister's a photographer? Get her to take your promo shots. Dad's a web designer? Get him to build your website. Buddy's a journalist? Get them to write your bio. Bestie's in a band? Get 'em to share your new video clip on their socials. Cousin is in the Foo Fighters? Get him to bring you on board to open their stadium shows. You get the point!
Engage a team that believes in your music as much as you do and get your music heard. Ideally you'll find a booking agent to book your shows and support gigs, a publicist to get the word out there about your new release and shows, a radio plugger to get your song played on the radio, and management when the time is right. And right about now I think it's worth mentioning that it's very easy to sort your own distribution through an online distributor such as Ditto Music, CD Baby or Tunecore. These guys will make your song available for purchase across all the major online retailers such as iTunes and Amazon.
What does 2015 hold for On the Map and yourself? Any exciting things that you can tell us about?
This year will be another big year for us at ON THE MAP. We're about to start work on Bank of Melbourne's annual Victorian music initiative, Melbourne Music Bank – a project dedicated to unearthing local unknown Victorian music talent. We worked this project last year and it was a lot of fun and a huge success. The 2014 winners have gone on to receive a heap of exposure across mass media, including everything from major paper features to Triple J spins, so we're super keen to get back in to this one to give another new artist their big break. We'll be promoting the Melbourne Guitar Show which is returning to the Caulfield Racecourse in August after a ten year hiatus. We've also recently started working the PR for all of Sony Music's Wonderlick arm, so this year will see us promoting albums and releases from Holy Holy, Josh Pyke, The Paper Kites, Montaigne and more unreal talent. We also like to save at least one spot on our monthly roster for an indie Australian artist, as breaking new acts and growing developing artists is one of our favourite aspects of what we do.
Top 3 Artists to watch in 2015?

Forest Falls
Forest Falls – a Melbourne alt-folk six-piece that will draw you in with their 5-part harmonies, alluring melodies and ambient instrumentals all kicked up a gear with a bit of sax thrown in for good measure.
Montaigne – a sassy, quirky pop starlet with a killer voice and insane songwriting ability. Her 'Life of Montaigne' national tour earlier this month sold out weeks before her first show and her Triple J 'Like A Version' of Sia's 'Chandelier' has had 200,000 views.
Morgan Bain – a Perth alt soul artist with a vocal and songwriting ability well beyond his twenty years. Earlier this month, Morgan won a WAMi for 'song of the year', was selected as a finalist in the International Songwriting Competition and the John Lennon Songwriting contest, opened the main stage at West Coast Blues N Roots Festival, headlined a national tour and is about to close his tour at Sydney Blues & Roots Festival, before flying to Singapore to represent Australia at the infamous Music Matters.
What advice would you give your 18yo self?
There's plenty of time to work and earn a living, enjoy the uni lifestyle and don't fill your summer breaks with extra 'summer school' semesters to belt out uni faster. What a doofus – not having ever had that three month summer break is my biggest regret ever.
What has been one of the biggest challenges/adversity you've had to overcome and how did you do this?
I was 22 when I moved to Perth to run Sony's WA publicity. I would walk in to music meetings with commercial radio & TV music directors and editors at major newspapers telling people twice my age with ten times my experience why they should be playing my roster's songs and review my releases, and it was daunting. To add to this, I am not a coffee drinker and would order strawberry milkshakes at important meetings, which never did help with my age sensitivities! It was my continued experience and time spent slogging it in the industry that helped me truly overcome this feeling of unworthiness. I just carried on doing my job with confidence and passion and it wasn't long before my media became friends, many of whom I now consider as some of my closest friends.
How do you unwind after a busy or stressful day?
My favourite thing after a tough day at work is to come home at a decent hour and get straight in to my kitchen and cook up a mean feast. For some reason, when I'm cooking I can completely forget about work and get soo blissfully lost in chasing the flavours of a perfect dish. I love experimenting with new foods and cuisines and usually use my time in the kitchen to also catch up on some episodes (in the background while cooking) of Vikings, Banshee or whatever other TV series' I'm trying to get through at the time.
What is your go-to karaoke song?
My dad is Chinese and used to buy heaps of karaoke laser discs (back when they were the trend) whenever he'd return to Hong Kong on holiday, and my fave track to perform as a five year old (and has stood the test of time to this day) is 'Cecilia' by Simon & Garfunkel. Dad's version had the lyrics (with poor English) come up on the screen, alongside a filmed narrative of an Asian beauty being wooed by her handsome man. Just thinking of this makes me smile! And Rod Stewart's 'Hot Legs' comes a close second!