Tell us a bit about DeathproofPR, what artists do you work with/have worked with?

​We're a wee music company that primarily works in public relations, lending our mad skills and media contacts to artists to assist in getting their music into the world. We aim to get songs on the radio, reviews in street press, words in the papers, videos on your TV on behalf of our rad bands.​
We're currently working with some huge acts like Marilyn Manson, The Smashing Pumpkins, Motley Crue and The Prodigy which is always an honour. We're also working alongside absolutlely amazing locals like Luca Brasi, The Bennies, Ecca Vandal, Clowns, Ceres, Super Best Friends and The Peep Tempel. In the past we've teamed up with Soundwave Festival, Against Me, Steel Panther, The Smith Street Band, Korn, The Gaslight Anthem and Descendents.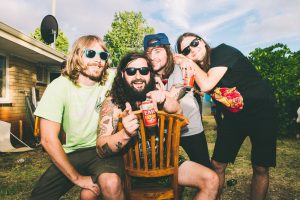 The Bennies
How did you get started in the music industry? Did you choose to work in the music, or did it choose you? ​
Everyone who works at Deathproof (there's currently three of us) got their start in a similar fashion. We definitely chose to work in the music industry, studying and interning non stop until someone was foolish enough to offer us paid work. All of us were adamant on working with music, refusing to let the scarcity of jobs deter us from the dream gig.
Can you describe a day-to-day at DeathproofPR? ​
We check our emails as soon as we wake up (it's a pretty annoying but entirely necessary habit). Check social media mentions of our acts. Burn into the office on our bikes, pick up coffees and proceed to get inappropriately caffeinated throughout the morning as we start banging out emails. There's usually a couple of meetings with current or potential clients. If a band is in town, we might pop our heads into a photo shoot or radio interview to ensure things run smoothly. Then more emails and more phone calls until the early evening.
There's heavy use of gifs, maniacal laughter, sometimes some tears involved in there somewhere too. We leave the office around 6 or 7 but usually proceed to a gig, launch or any party where there's a bar tab. Check emails again at the gym and try not to stack it on the treadmill in the process. More social media, then drop our phones on our faces at least three times as we check email in bed. Y'know. Standard.
What's the greatest piece of advice (relating to work/music/life in general) that you've been given?
I​ don't know that anyone ever told us this, but one thing we've learned is that in the music industry, you're unlikely to make a lot of money so it's important to ensure you love the music or the work that you're doing. If you're not fuelled by your passion for the music or love of the job then you'll probably get chewed up and spat out fairly quickly. ​
Who are your role models (either musicians or people in the music industry) whether they are international/Australian?
​All my role models are fictional characters. Does Liz Lemon count?​
What is your go-to Karaoke song? ​
Bec and I are determined to one day master something from Dre's Chronic 2001 to bash out on unsuspecting karaoke crowds but are yet to deliver on that. It remains but a distant dream. I usually go to Go West's King Of Wishful thinking as a back up. ​
Top 3 Artists to watch in 2015? ​
1) Ecca Vandal. I swear to god, if she doesn't blow up in the next three years I'll dissect my keyboard and eat each letter of the QWERTY keyboard individually.
2) PUP. These Canadian dudes made the best album of 2014 then aced the best performance of 2015. If they keep delivering like that, they'll be huge.
3) Every local act on our roster. We try and make a habit of working with very good, very promising local acts. If we're backing it, it's usually because we genuinely believe in it. ​
What does 2015 hold for you? Any exciting things that you can tell us about? ​ ​
Hopefully a stack of new things, but we're not one for counting our chickens. Hopefully everyone will hear about them in due course. And hopefully Forget About Dre will go down at a late night karaoke bar near you. If we can achieve that then who knows what we can do. ​
#NOWPLAYING