Isabel, thank you so much for taking the time! Please tell us your story! How did you get to where you are today?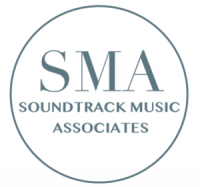 I started in the music industry in 1994. I didn't realize that there was even an option to work in music on the business side. I've always had a fascination with soundtracks and music in film and TV, so I worked my way into the Film & TV Music/Soundtracks division of PolyGram. I typed out contracts and learned about the copyright and licensing side of things.
I moved on in the soundtrack world, then a stint at Festival Mushroom Records, then started my own boutique sync company placing independent Australian music into U.S. film & tv productions. I also worked with APRA in LA, and now I've accepted a position at Soundtrack Music Associates, an agency specializing in representing composers and music supervisors. I also run the Heath Ledger Scholarship on behalf of Australians in Film.
Tell us about your role/ what does your day-to-day entail?
A lot of research about upcoming projects, having demo reels put together and pitching, negotiating contracts, meeting new talent, and maintaining contacts with productions and studios.
What issues/potential issues do you think the current, composing industry face?
Not to act like the sky is falling, but the new streaming media platforms are concerning when it comes to artist/composer royalties. Also, I worry about the loss of live musicians on low budget productions. We're also adjusting to the push for inclusion, which means it's going to get a little squishy to make room for everyone.
As an agent, what issues do you see your clients encounter, specifically as female composers, in a male dominated industry?
Only 3% of composers are female, and if you take that down even further to females of colour, it's almost impossible to think that this has happened accidentally.
Also, the rebuttal that women composer's reels aren't "strong enough". Perhaps it's because they haven't had the opportunity to earn credits with healthy budgets like their male counterparts? It's still a struggle.
I think initiatives like the Alliance of Women Film Composers are helpful. What I like about them is that they do their best to include everyone in their panels and events, so you'll see plenty of male colleagues joining the conversations. I try and refer projects to them if I can't fill from my roster. We have to support each other.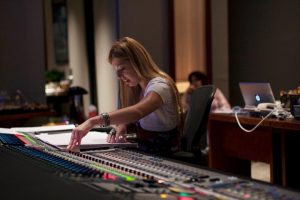 Image featuring composer, Pinar Toprak
What advice can you give to composers who are trying to promote themselves? Do you find social media is a relevant platform?
First, you have to get some projects under your belt. Secondly, find yourself an agent you're happy with. Together you will work on social media and even engage PR companies if the project is big enough. In the meantime, everyone likes an insight into what your inspirations are, your daily life, your pet… just be genuine and remember not to take it all too seriously. Unlike artists and other parts of the industry, we don't care how many followers you have, we want to make sure you can deliver your material on time, in the right format, and get along with producers & directors.
Who are some composers you'd recommend we keep an eye on?
Definitely Leah Curtis. [Her] score to Killing Ground was just AMAZING. Thriller music from a female point of view is always going to be interesting.
I'm very excited about what Pinar Toprak will do on Captain Marvel with Brie Larson. I'm a fan of Ben Frost and his work on Fortitude.
There's a new Amazon Series called "Too Old To Die Young" that our client Cliff Martinez scored I'm looking forward to!

What is the best piece of life advice you've ever received?
Before I accepted my current agency position, I sat at an awards dinner for film and tv and was the only female at the table who wasn't a spouse or partner, and the only one under age 50. I felt out of place and texted my friend, Allyson Newman (composer), about how I didn't think this was the right fit for me. She told me, "look, we can either bitch about it or do something about it." I credit her for realizing sometimes it's bigger than ourselves. One year later I sat at the same dinner, with Allyson by my side as the first client I signed and am now active in the pursuit of championing composers with diverse points of view.
How do you unwind when you're stressed?
I have a ridiculous adopted family including young artists and actors who I love spending time with, usually cooking for all of them. Or I take myself to the Korean spa and get pummeled into relaxing.
Have you had to overcome any challenges or adversity in your career, and if so, how did you approach them?
Being a female in the music industry running my own licensing company in the early 00's was hard enough. Adding to that my emphasis of representing Australian independent music meant I had to earn the respect of two markets. I had to deal with comments like, "well good thing you don't have kids so you can travel so much," or if I had a male companion with me they would assume he was the one in charge, and business conversations were directed at him.
I heard of an untoward nickname some of my colleagues had for me that related to the size of my chest. I've had rumours start about me because I was seen in a hotel room with an artist and their manager. None of which would have happened if I were male. My favourite thing is to calmly ask, "why would you say that to me?" and redirect it back at the asker. Sometimes it promotes a healthy conversation, other times it just ends it.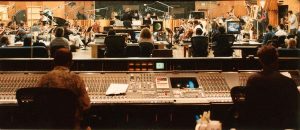 Leah Curtis conducting A List Orchestra, Fox Newman Scoring Stage, Los Angeles.
What changes would you like to see for female composers and females alike in the industry moving forward?
I already see it happening with requests coming in specifically for females or persons of color. I'd like to see more encouragement from an early age for women to enter music and sound. I'd especially love to enter a room, whether it be a recording session or post production studio, and not be the only female there.
How did you get your start in the industry? Any advice for people wanting to work in your field?
I interned for free and worked two part time jobs to pay my bills. There's no substitute for on-the-job training, a good work ethic, and self-motivation. A music degree still doesn't mean you're going to automatically understand the nuances of industry politics and networking. Learn from a good role model – ask to shadow someone you admire.
Who are your role models in the industry?
I worked for Jacquie Perryman at PolyGram who's a legend in the industry. I admire so many of my music manager friends like Cath Haridy who've come up through the same ranks and gone through the same dramas I have. And a nod always to the late Shirley Walker, female film composer who held her own amongst the boys.
What is your go-to Karaoke song?
You will NOT find me singing in public. But left to my own devices Dolly Parton. Always Dolly.
Do you have anything to add?
I get to bring one of my dogs, Rocco, to work with me every day. Find a job where you can do that and anything is achievable.