Ivy, you're a Promoter for Magnetic Asia. Tell us your story! How did you get your start in the industry and how long have you been in your current role for?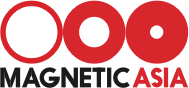 I joined Magnetic Asia in 2012 and started as project coordinator working more on the production side of the festival. This was also the year our monthly show series, YourMum, started too. It all just happened for me by chance and I'm very grateful to have taken on this challenge and to keep working on it.
I moved on to the Promoter role in early 2015, which has enabled me to see more of the story behind the scenes of booking and gain more understanding of the industry at large. This has equipped me with a more full picture of how the festival and music shows run from end to end and how things are closely linked with each other.
I'm still green to the industry and there's always things for me to explore, especially when I go to conferences/ festivals like The Great Escape, SXSW, Slottsfjell etc. where I can meet all lovely new friends. It feels just like my first day going to a new school with challenges and excitements. And now it's my first time to come on Aussie soil!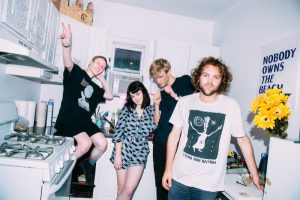 Yumi Zouma
For those who are unfamiliar, tell us about Magnetic Asia.
Magnetic Asia, is an integrated event and entertainment solution house based in Hong Kong. Magnetic Asia is a promoter – organizing the annual Clockenflap Music & Arts festival & Sonar Hong Kong, plus our regular touring series "Your Mum". We also run a regional digital ticketing platform called Ticketflap, and offer a wide array of event and marketing services to external clients.
What does your day-to-day entail?
My most important responsibility is to keep track of our upcoming shows and artists and how people react to them. And of course, responds to all the emails, calls and liaise with different parties on the booking side. My day to day jobs my sound quite plain, though when you manage to book the artists you've always dreamt of since being young, and end up with a sold out show at the end of it, it's an overwhelming feeling of joy!
What issues do you feel the Asia music industry is currently facing and how do you think these could be changed and improved?
It's difficult and dangerous to generalize. Personally, I think the Asia music scene is getting very exciting at the moment.
What we focus on is how we can positively move things forward, by responsibly and reliably providing what we believe to be the best platform for artists in our city. We're very proud to not only work on international talent but also the best from the regional and local scene. That includes artists like HYUKOH, SEKAI NO OWARI, HIGHER BROTHERS who are acts who are making more headway on a more global radar now. What's exciting and what we hope to further encourage is a wider spectrum of artists coming up across genres, and as artists have more exposure and opportunity, we hope their individual profile levels also rise.
Highlights of your career so far?
It's nice when we get feedback from artists that they really appreciated our efforts and what we're doing. Nile Rodgers said in press: "My favourite festival? Clockenflap. It's so beautiful… completely magical. It has the best view from any stage in the world."
I'm thankful that I'm part of this as we try to do something positive for our city.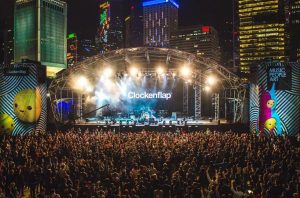 What advice would you give someone wanting to become a Promoter?
Be passionate in what you're doing and be responsive – it's crucial to turn things around quickly despite time zone differences with the West. This is no ordinary 9-5 job!
Give us your take on the local Hong Kong music scene, where do you go to see shows and who are some local artists you'd recommend we keep an eye on?
The local scene is in developing mode and gets better each year.
Hidden Agenda is one of my favourite spots in HK to catch shows, and the latest iteration of Hidden Agenda is their best yet with a beautiful wooden exterior and well-appointed interior. Of course it still retains at its core its underground, DIY, spirit and remains the best place to catch the local and up and coming scene.
For artists to watch, GDJYB are a really good local Math-rock band. They played in various music festival like Laneway Singapore, OzAsia Adelaide, Gwangju Sound Park Festival in Korea and are going to Iceland Airwave this year! TFVSJS is another very talented math-rock band in HK and were the first HK artist to play Summer Sonic Japan last year.
Another very young electro pop artist Merry Lamb Lamb is worth keeping track of – We had her open up for both Oh Wonder and Yumi Zouma in Hong Kong and she's always getting better.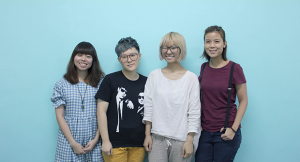 GDJYB
Have you had to overcome any challenges or adversity in your career, and if so, how did you approach them?
Wherever you are, whatever you're doing, there will always be challenges. We're just so grateful and blessed that we get to face these as our daily jobs and are very conscious of how lucky we are working in an area we feel so passionately about.
Overall, our focus is always on how do we deliver the best possible Clockenflap experience each year, and then how do we better it the next. I can't see that changing really as we'll always push the bar to rise.
What Australian artists are on your radar? Any artists you're keen to catch at BIGSOUND?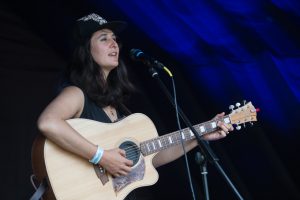 Jess Ribeiro, Clockenfap, The AU Review
Acts like Mansionair, Oh Mercy, Confidence Man, Big White and Sleepmakeswaves are on my radar – and Jess Ribeiro played Clockenflap a few years ago so will be nice to see her again, though honestly what I'm looking most forward to is coming over and discovering new music I've not yet come across.
Who are your role models in the industry?
It can be quite stressful and competitive in the industry and I always admire and respect the people who manage to retain their positive energy all time. No matter what comes in life, they can always tackle it with a smile.
What is your go-to Karaoke song?
I'm not a fan of Karaoke and I feel super awkward when it comes to singing (I'm a very bad singer!) so I always avoid doing this…