What is your new role with Triple M and what are you most looking forward to in 2015?

I'm the new host of Mornings (9am – 12pm) on Triple M Melbourne, following the reigning #1 FM Hot Breakfast team of Eddie McGuire, Mick Molloy and Luke Darcy.
I guess the thing I'm looking most forward to in this role is making great radio and engaging with our audience. We are a uniquely Melbourne station and we love our rock and our footy. Reflecting what's going on in this great city and playing tunes I love is a pretty great gig. I feel really lucky to have landed here.
Describe what a normal day is like, in the life of Jane Gazzo?
A couple of coffee's, lots of listening to music, chatting to listeners on the air, planning the show and trawling websites like twitter and triplem.com.au to find out what's going on in the world.
Have you had to overcome any challenges/adversity throughout your career? If so, how did you approach them?
I've been a broadcaster for 25 years this year so you can bet I've definitely come across challenges and adversity! I've learnt that the best way to counteract these moments is to:
1. Deal with it head on – don't let it fester or become a bigger problem
2. Once it has been dealt with, move on.
3. Learn from it.
How did you get your start in the Music Industry? Did you chose to work in music, or did it choose you?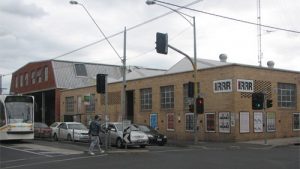 3RRR
I was on a definite path to work in music and media since I was around 16 years old. I always knew that this was what I wanted to do and I never veered away from it. I started answering phones and making coffee at community radio station 3RRR FM when I was in Year 10 and from there, it led me to Triple J, working in radio overseas, music television presenting and now back on Melbourne radio here at Triple M. I've been fortunate to make a living from doing what I love.
In what ways does the Australian Music Industry differ from that of overseas markets?
Well it's a lot smaller for a start! But apart from distance to overseas markets and the size of our industry, I don't think there's majorly glaring differences. We all work the same way and the internet has made things so much easier for everybody. I think a great band or artist can break any market if they have the goods. Gotye is a recent case-in-point.
How do you unwind/relax when things are busy or stressful at work?
Trash TV is my saviour I'm afraid. I love my daggy, baggy trackky daks, my ugg boots and a good dose of reality TV to unwind.
What is your favourite way to discover new music?
I love to listen to online and student radio for my new music fix. It's great to find out what kids are getting into and I'm not one that sits and trawls through streaming services to find new music. I still enjoy someone else playing me something new and having the ability to make up my own mind. There's a Melbourne school student radio station called SYN which I listen to a lot. It's great to hear young people giving radio a go.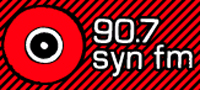 SYN FM
What has been your career highlight thus far?
That's a tough one. Broadcasting live from Buckingham Palace for the Queens Jubilee in 2002 is definitely up there; as well as producing Russell Brand's ill-feted breakfast show in London at the start of the decade. More recently though, landing the gig at Triple M Melbourne has definitely been a big deal for me. I'd grown up with the station and legendary DJ's like Lee Simon who is now my colleague. It's probably one of the best work environment's I've worked in too. My initial thoughts were that it may be quite blokey behind-the-scenes, but there's probably more women running the place than men!
What is your go to karaoke song!
Boys In Town – Divinyls.. it's Aussie female fronted rock at its very best and in a key I can sing!