(photograph above – Heather Lighton)
2014 had been a huge year for yourself and High Tension. What does 2015 hold?
We worked really hard last year and saw a lot of our goals manifest, 2014 was pretty magic; somehow we managed to record the second LP before the year wrapped up.
2015: Release of the second LP, lots of touring.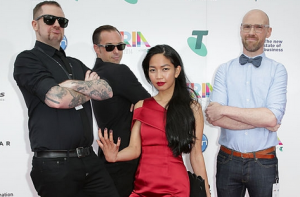 High Tension
Describe a normal day in the life of the lead vocalist of High Tension
I juggle freelance work and full-time work on top of High Tension; my mornings involve pressing the snooze button a number of times, making a comprehensive plan for the day while I am in bed (i.e. effective procrastinating). A typical day usually involves working my day job / working on freelance work on my days off with band activities after work (rehearsals or recording or sound check / show) depending on the schedule.
I take my career outside of music very seriously; I have been fortunate to work with incredible employers who support what I do outside of work, I work very hard to maintain a harmonious balance with all my commitments so everyone stays happy.
How did you get your start as a musician? Has it been something you just had to do or did you make a conscious decision to become a musician at some point?
I had my first taste of recording in a DIY home studio when I was 12; my sister and I were hired as session musicians to sing adaptations of Western folk songs with Indonesian lyrics for an educational 'learn Bahasa' tape. It was pretty much the best paid-work scenario a 12 year old could have.
I was kind of a weird kid as I was really into 're-enactments'; I would tirelessly study video clips, then re-perform them to anyone willing to endure. It seemed like a natural progression to then want to start learning guitar/write songs as a teenager, then eventually start a shitty band in high school; although it was not until I started going to hardcore shows in Canberra that I made a conscious decision that it was really important for me to make heavy music / contribute to that scene. Hardcore / punk shows to me is a true celebration of living in the now; it is uncompromised expression with no fear. It has a pretty powerful effect on me as it crushes common, modern anxieties. I still feel the same when I go to shows now (good).
What's the greatest piece of advice (relating to work/music/life in general) that you've been given?
My very inspiring, successful friend Sarah Schofield (who has worked for Dior & Louis Vuitton and is the designer behind ASSK) once said: "… keep working really hard because someone has to get that dream job and it may as well be you." It's so simple.
My mum used to always say: "one step at a time darling", she showed me that big dreams are easily achievable if you break it down.
What tips would you give an artist trying to succeed in Australia? Is there a certain route they should take?
Don't be a dickhead. No one wants to work with dickheads and no one wants to help dickheads. Remember this, always. Make life easy for yourself.
Celebrate little wins. Last year I really wanted to get better at low death growls to broaden my vocal abilities. First attempts resembled really weak burps; but after lots of practice, I am close to the grindcore level I want to get to. I am constantly giving myself a pat on the back, because who else will?
Stick with your gut and don't make a compromise on your intentions. There is nothing more fulfilling than really sticking with your intentions and seeing it manifest. My personal goal with High Tension was to only play with bands we like and respect, to me that was a list of brutal, heavy bands that in the past seemed like a bit of a pipe dream. We aimed to make music we like so we could play with bands we like. In 2013 – 2014 we played with my top favourite bands that have been a huge influence; The Bronx, High On Fire, King Parrot – positive affirmations manifest.
From an artists perspective, what issues/potential issues do you think the current Australian music industry face?
We need more ways to facilitate / support up-and-coming bands; more grants should be offered to hard working bands so they can pursue bigger audiences and cover touring / promotional costs, that's only the beginning.
Have you had to overcome any challenges/adversity throughout your career? If so, can you tell us about them and how you approached them?
I am often approached with this question, with the underlying theme of being a woman in a man's scene and the challenges that come with it. I am a firm believer that if you want equality; then you have to see yourself as an equal.
I try not to take things personally, everyone is entitled to their opinion. If someone isn't into your band; it's very unlikely because you are woman or they are racist, your music might just be shit to them.
Who are your role models (either musicians or people in the music industry) whether they be international/Australian?
My friend Claire Collins; she is no-fuss, highly intelligent & witty, works hard and has the Midas touch – naturally, it is no surprise that she is the woman behind some of Australia's most successful artists.
Trad Nathan & his partner Tyla Dombroski who started/run Crowbar in Brisbane; Crowbar facilitates shows for all genres of heavy music and even have hardcore / metal karaoke!
What's your go-to karaoke song?
I spent an entire afternoon learning 2 of my favourite rap songs so I could bust it out for any karaoke opportunities: 'Hip Hop' by Deap Prez and 'Go to Church' by Ice Cube / Snoop Dogg.
'Another Night' by Real McCoy is also one of my favourites and I will never get over the back-to-back hooks; this song has it all.