Tell us about your role at VEVO and how long have you been in the position for?

I'd just returned from a year in Germany mid-2013 and Vevo had recently been launched in Australia, so it was certainly a case of right place, right time. Hard to believe it, but I'm coming up to 3 years as the Online Content and Content Acquisition Manager for Vevo in Oz and I'm still getting a great kick out of the position. Just when you think you know it all there's always a new product development, a new strategy, a new artist to keep track of. The job has changed quite substantially over 3 years which has definitely kept me on my toes and also kept it very interesting!
Describe a normal day in the life of Kate Yencken.
Vevo's an international company, so I normally come into work with 50-100 unread emails. Our main offices are in the UK and US so there's plenty happening while I'm sleeping! After sorting through emails, I'll spend time updating our online platforms, scheduling social media posts, liaising with record labels regarding upcoming videos, planning (as much as humanly possible, video live dates are forever moving around!) for upcoming premieres, attending meetings at strange times of the day thanks to time differences, and once or twice a week helping out with the recording and production of live performances and interviews.
How did you get your start in the music industry?
I'd always been really interested in music, but didn't really know where or how I could fit into the industry, let alone make a career out of it. My first gig was as a music sales assistant at JB Hi-Fi. After saving up the funds, I headed overseas and ended up doing an internship at a radio station in regional Ireland. After a year there I worked regionally again in Victoria before making it back to the big smoke, and gradually moving from radio presenting and production to online.
Have you got any advice for people wanting to start a career in the industry?
There's certainly a lot of very talented people in the industry which makes it competitive, but if you hang in there long enough, (insert cliché) doors will open! Be prepared to take on internships, work weird hours and embrace random tasks. If you're still enjoying yourself, then you know that this is the industry worth pursuing. The biggest buzz I still get is attending gigs, or watching an acoustic performance in our studio, makes the long hours and craziness all worth it. (And ummm, probably don't expect to earn millions!).
What issues/potential issues do you think the current Australian music industry face?
The rate technology is progressing at the moment is really exciting and slightly terrifying. It's now possible to record a studio quality album in your bedroom, which means there's more music to ingest than ever before…but until the media laws catch up to technology, not everyone wins. Most people I know download music illegally and if one site gets shut down, there's another waiting to take its place. There have been some advances in the last couple of years with artists now able to capitalise on streaming services, but the money's still not great and the platform choices are endless.
If you were to change one thing about the structure of the Australian music industry, what would it be?
I definitely believe that Australian music is underrated by commercial radio and TV stations. There should be a greater effort made to nurture, support and celebrate local artists. There's a bunch of incredibly talented Aussie artists that work extremely hard and are ignored by local media which is a shame.
I also find that the industry is very male dominated, with not enough female representation at the top level, or on boards/panels etc. Seems odd in an industry that is so forward thinking in other areas. (Sorry, that was two things!).
What tips would you give an artist trying to succeed in Australia? Is there a certain route they should take?
There's an element of right place, right time, right sound. However the hard working artists tend to stand out after a few years. It's a fine line between business and art. Without wanting to crush creativity, if an artist wants to make a living from their music, they need to have a thorough understanding and appreciation of the business side. Make sure you also embrace social media, some artists are still reluctant to, but it can be an incredibly powerful tool.
Have you had to overcome any specific challenges in your career and if so how did you do so?
After experiencing many changes in the music and radio industry over the last 10 years, the rate it continues to revolutionise itself still amazes me. I've experienced many restructures and business backflips over the years, so I learnt early on that you need to be more than a one trick pony. If an opportunity comes up to learn another skill or a position opens up, go for it. For me it was moving from radio to online, something I was reluctant to do, thank goodness I did!
What does 2015 hold for you? Any exciting things that you can tell us about?
I was lucky enough to attend Vevo's global content and programming conference in London a few weeks ago. Aside from gaining a greater appreciation of how the industry functions in other territories, it was also an excellent opportunity to discuss the struggles and wins you experience on a daily basis plus learn about some really awesome new artists.
For the rest of year I'm looking forward to working with new up-coming artists on our Vevo DSCVR platform…and of course attending plenty of gigs!
Who are your role models in the industry whether they be international/Australian?
Clare Bowditch, aside from her amazing voice, she's an incredible writer and super skilled musician. She's professional, passionate and doesn't take herself too seriously. To add to that, she's the founder of bigheartedbusiness.com which teaches creative people about business and vice versa, amen sister.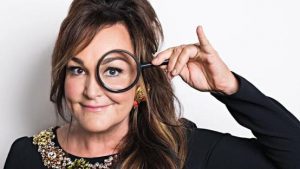 Kate Langbroek
Kate Langbroek, (she's kind of in the music industry, right?!) she divides crowds, but I'm a huge fan. I love how true she is to herself, and never gets stuck playing the ditzy female sidekick whether on radio, TV or an open forum. She's highly intelligent and also has an interesting outlook on the world.
Top 3 Artists to watch in 2015?
Years & Years – These guys are already big in the UK, should only be a matter of time before they break here.
Peking Duk – I really hope these guys take off overseas, amazing live and the production on 'Take Me Over' is sweet as.
DMAs – Oasis for Gen Y/Z?! I was lucky enough to see a stripped back acoustic from this band a year or so ago, awesome stuff! I've got my fingers crossed for them.
What is your go-to Karaoke song?
Salt n Pepa's 'Shoop' is a favourite, I once tried Blondie's 'Heart Of Glass', turns out it's very high! I may have also given Pat Benatar's 'Hit Me With Your Best Shot' a crack…I imagine it was bordering on appalling.