Tell us about your role at Music NSW and how long have you been in the position for?

I've been at MusicNSW for about 4 years now, in the role of Executive Officer. I think the title makes my job sound a lot fancier, or more corporate than it is somehow – but don't worry, I wear jeans to the office and sit at an Ikea desk just like most people without such elaborate titles.
I oversee the running of the organisation essentially, so everything from creative project based work, to grant funding, advocacy, day-to-day staff management and financial management. We are a not-for-profit peak body and so there are a lot of compliance issues to think about, not to mention, constantly searching for new revenue streams to continue our work.
I absolutely love my job! It combines my love of the music industry, with my passion for the social and political.
Describe a normal day in the life of the Executive Officer at Music NSW.
Some days I feel chained to my computer, some days I get to take lots of meetings. Mostly, my day revolves around planning the next thing, thinking about how we can improve on the thing we just did, and working with other industry bodies and partners to deliver new things!
How did you get your start in the music industry?
I started out in streetpress and magazines (after deferring my gruelling Law/Politics degree) – first photographing live gigs, then reviewing and interviewing. I got an amazing job as the editor of Sydney streetpress The Brag, which taught me sooooo much, and was literally the most fun someone could legally have at work. It was so great, that I never bothered to finish that pesky degree. In my time there, I experienced so much amazing music, made lifelong friends and truly saw all facets (good and bad) of the industry.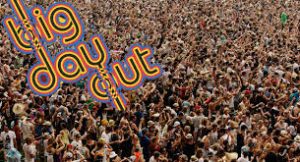 Big Day Out
I took an opportunity to write and edit the Big Day Out program for several years, which, when 14yo me thinks about seeing my byline in the booklet I literally fall over with glee! I have since worked on festivals including directing Sound Summit, and have some writing credits to my name that I am really proud of.
Have you got any advice for people wanting to start a career in the industry?
Be flexible, know what your skills are and exploit them for your own gain. I knew I was a good writer, but I also knew that I could take a mean photo, that I was sociable, articulate and that I could handle high-stress environments like festival sites and weekly publications.
So that allowed me to "try on" a lot of different hats, get a lot of experience, see what I enjoyed doing the most, and importantly, it allowed me to diversify my income. Because you will not be paid well for a long time – but the perks can be amazing, and if you are regarded as hard-working, reliable and fun to be around, the work opportunities will flow.
What issues/potential issues do you think the current Australian music industry face?
While we have a thriving, invigorated music industry for the most part, there are many challenges facing us. Living and working in one of the most expensive countries in the world throws up a unique set of challenges for artists, and given the vast nature of our country, there is often a ceiling for success that can be difficult to break through.
Many people within the music industry would never consider themselves to be anything but culturally sensitive or politically astute and yet, I look around and see many obvious challenges that face us in this regard. We know it is difficult for women to achieve the same level of success as male songwriters and performers- they have access issues, to things like radio and it is even tougher for Indigenous artists, or artists from remote parts of the country. Many workplaces are still male-heavy at the top, only hiring women in marketing and publicity roles. There is a large diversity gap in roles like sound engineering and production, festival directing, booking and radio programming, board representation and the like.
I've felt that the dialogue has begun to open up in the last year or two, and I am looking forward to the industry continuing to self-evaluate, respond intelligently, and open ourselves up to the many different versions of talent and success that music itself, is so well known for.
If you were to change one thing about the structure of the Australian music industry, what would it be? (eg. more commercial airplay for Aus artists, more funding).
If I could wave a magic wand and make it easier for Australian artists to tour and create in regional Australia, that would be the first thing I would immediately address.
There is so much talent beyond our capital cities, and so many wonderful audiences who would love to see as much live music as we take for granted in the City, but because of how cost-restrictive it can be, the huge distances between places, and a lack of venues, many artists can not afford the risk involved.
Have you had to overcome any challenges/adversity throughout your career?
Yes, I fought a long time to be taken seriously as someone who was not in the music industry for fame-by-association, the bragging rights, or the free shit.
I wanted to be paid properly for the work that I did, and to be treated equally. Many times I felt that my youth (I was Managing Editor of The Brag when I was just 22) allowed people to take advantage of me – particularly when it came to equal-pay.
I was also called a "lesbian" because I refused to be sexualised by my work – I never slept with any musicians or famous people, which seemed to make many men suspicious of me. Many times I heard the comment that only two types of woman worked in the industry – starfuckers or dykes. Being neither, (and not really seeing an issue if I was one, or both of those things) I was offended on behalf of all the hardworking, dedicated young women I knew who deserved to be taken seriously and not reduced to such tired, old, sexist stereotypes.
If so, can you tell us about them and how you approached them?
I was jokingly called "The Union Rep" for a while, because I had a keen sense of justice and I was not afraid to speak up in defence of others and myself.
I learnt what my rights were, what my responsibilities were to those I managed, and dedicated myself to being an advocate for industry professionals. I take it very seriously that workplaces should be supportive, collaborative environments, which are strengthened by diversity.
Being plainly spoken yet assertive, learning how to talk to people in positions of power without seeming as though I was attacking them, and never letting my annoyance get in the way of delivering great work was how I successfully tackled those challenges.
What does 2015 hold for you? Any exciting things that you can tell us about?
I am currently deep in the world of strategic planning, which might not sound exciting, but I am really looking forward to reviewing our operations and opportunities and forging a new direction for MusicNSW.
Oh yeah, and I am having my first baby this year, which is a whole other level of excitement, coupled with existential terror! 2015 is going to be a big one for me both professionally and personally.
Who are your role models in the industry whether they be International/Australian?
I have quite a few people that I look up to in the music industry. Hard working women like Denise Foley from Q Music, Millie Millgate from Sounds Australia, Kirsty Rivers from APRA, and Cass Wilkinson from FBi Radio have inspired me to maintain my sense of humour, cynicism, and work as hard as I can to create opportunities for myself and the industry I work in. They keep me grounded, and are an unending source of support and advice for which I am so grateful.
I also look up to a lot of young women, who I think are innovative, creative and forging new avenues in the industry – ladies like Meg Williams, Evelyn Morris, Claire Collins and Jess Krishnaswamy are future industry leaders who I am proud to call peers.
Pick up your iphone/music device and click shuffle – what is the first song that comes up? Be honest.
This could have been really embarrassing, but I am pleased to say that 'The Recipe' by Kendrick Lamar came up! Great song by a great artist!
Top 3 Artists to watch in 2015?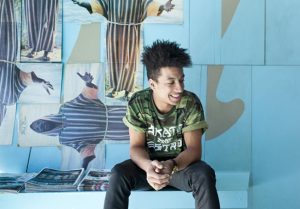 Remi
Argh! So hard! I'm super into Tkay Maidza and can't wait to hear more from her. Remi is producing some great hip-hop that I think sounds really modern and exciting. And evidently, I am over guitars right now, because I'll be looking forward to what Lucy Cliché releases in 2015 too.
#NowPlaying