Hi Leah! Thank you so much for taking the time! Please tell us your story. How did you get to where you are today?
I started my composition work in the contemporary classical music world, playing in bands and orchestras, which seemed to mean plenty of travel, time spent developing good friendships and collaborations, and getting on the inside lots of brilliant music. I was intrigued by the idea of scoring Shakespearean theatre at sixteen. The music I wrote for a production then opened up a mentorship with the Sydney Symphony and Richard Gill plus a commission for the SSO, a two-week study tour of England as Young Shakespearean Artist of the Year and a commission for the Tasmanian Symphony Orchestra.
From a very small start and a glimmer of an interest, it was as though the stars aligned to take me into this world. From there I studied music, composition and conducting in Sydney at AFTRS and UNSW, and in the US and took on a Fulbright Scholarship as visiting composer at USC's renowned Scoring for Motion Pictures and Television in LA. I worked as an orchestrator for some composers I really admire, including Reinhold Heil and Johnny Klimek (Run Lola Run, Sophie Scholl) and in parallel, started scoring films and boutique branded content with filmmaker collaborators.
Tell us about your role / what does your day-to-day entail?
I spend my days engaging in routines and rituals that all feed into creating the bigger long-range works, keep my energy fueled, and nurturing collaborations. I take time to carefully plan out the very large projects so that on a daily basis I can direct all of my resources into being creative, present and focused on the fine details and adventurous explorations. This creates safety and structure to hold the risk and adventure inherent in tackling the new work. My days look differently depending on what stage of a project I'm at.
At the very beginning, I'm establishing musical and conceptual ideas for the work and speaking with the director and my collaborators. It's about finding those threads of gold that speak directly to, or emerge out of that particular story, project or setting. It always involves research and exploring and reaching out to collaborators and charting and refining or redirecting our course. When I'm composing, ideas meld and grow.
The goal is to reach that creative flow state where you lose track of time. It feels as though the work moves much more quickly here than the initial idea development phase, but they're both essential parts.
What issues/potential issues do you think the current, composing industry face?
Australia benefits greatly from engaging our best minds and growing our world-class creativity. Space for creative thinking at all levels enables the development of a self-aware empathic culture with a focus, clarity, and diversity that allows us to enjoy a rich innovative cultural life. This growth is rooted in ensuring we having sustainable artists that reflect the diversity of our world, who are able to develop to artistic maturity, with their abilities and work enjoyed and celebrated along the way.
It asks of us to be leaders the discussion as methods of delivery and commercialisation of music change so rapidly. We currently have the opportunity to define the conversation in this regard, so we aren't left trying to catch up, or adopt a model that may work for another region and might not serve our unique needs.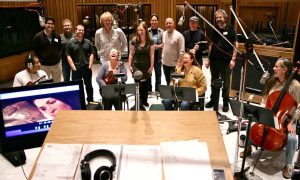 Scoring Team from 'To Rest in Peace' (Music Composed and Conducted by Leah Curtis) Capitol Studios A Hollywood California USA.
Being Australian, did you find relocating to Los Angeles was a pivotal move to benefit your career?
It is / has been the best of both worlds in many ways. Having access to Australian and US collaborators enliven and enrich each other, and LA opens the world up meeting face to face with international collaboration too.
So many filmmakers from all corners of the world converge here, and that access for my work has been pivotal in creating music for projects from India, Canada, Kuwait and others, as well as being able to sink back into Australian projects. I feel fortunate to have this vantage and engagement point.
What advice can you give to composers who are trying to be successful?
See if you can find alignment and overlap between your views of work and life, of what is important to you, and be comfortable that your journey is going to be unique to you and that there is also no one right path, but many. Listen and take action when ideas or experiences or potential collaborators spark something in you. Try things, cultivate a community around you, and be prepared to take risks and stay open, as each new project takes off for you.
Engage in self-care so that your work emerges from a place of clarity, energy, and strength and so that you're able to be resilient amongst the inevitable setbacks and falls.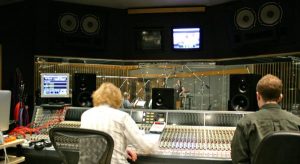 Leah Curtis conducting the score to Fawaz Al-Matrouk's Drama To Rest in Peace – Capitol Studios A Hollywood California USA.
Who are some fellow female composers you'd recommend we keep an eye on?
Icelandic composer and cello player Hildur Guðnadóttir (Mary Magdalene, Sicario: Day of the Soldado),
Bjork as a performer, songwriter and composer across genres and her creative leadership across formats and ventures,
Los Angeles screen and musical theater composer Cindi O'Connor,
Trance/EDM singer and songwriter Fiora from LA via Berlin and Tasmania,
Composer and incredible violinist Savannah Jo Lack from LA via San Francisco and Queensland.
Laura Karpman has been providing stellar leadership with both the academy and in her composing work.
All of these creators have engaging projects coming up that will push their abilities and our ears into new worlds in the coming months.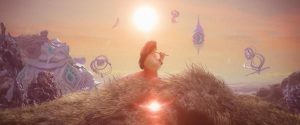 Photo of Bjork by Andrew Thomas Huang
When working on such time-consuming and/or demanding projects, how do you choose to unwind?
A restorative yoga practice, an unwind at the Korean spa with some good friends, and fresh air with a hike outdoors in a forest wherever I find myself. There are thousands of old eucalyptus trees right by where I live, so I get a little taste of Australian air here in California which brings me back to centre pretty quickly.
Have you had to overcome any challenges or adversity in your career, and if so, how did you approach them?
Yes, I think everyone has stories of great challenge in life. I believe that we then all have an opportunity to find the strength in choosing how we come to be defined by them.
What changes would you like to see for female composers and females alike in the music industry moving forward?
I am excited to see a fuller range of talent on the table for consideration in this demanding field which has an awesome responsibility to share the human stories of our world. Life is so much richer with the weaving of perspectives. Design thinking's Radical Collaboration suggests that bringing together people from significantly different backgrounds, with varying skills and experience can lead to much more creative and innovative ideas and by including a true cross-section of the voices of our world of music. We can all partner in this in practice, and enjoy the process and uncharted results.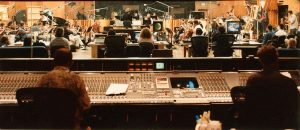 Leah Curtis Conducting the Hollywood A List Orchestra, Fox Newman Scoring Stage, Los Angeles California USA.
Who are your role models in the industry?
What is your ultimate goal moving forward?
I aim for collaborations that enliven both of us and our work, that push our abilities as team players and composers and performers each time in ways that might be unexpected. I aim for creative time in the flow state as much as possible.
What is your go-to Karaoke song?
Karaoke is still on my list of things to do. I think it might be time to fix that.