What is your role at Mushroom Music Publishing and how long have you been in the position for?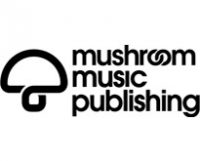 I began at Mushroom Music in the summer of 1996, I vaguely remember it. My role is Head of A&R for Australia and New Zealand which involves:
Finding and endeavouring to sign new songwriters
Developing and supporting these songwriters on an individual needs basis including arranging co-writes, covers, various writers' workshops
Submitting our artists for international tour support and festival spots
Pitching their songs to local and international artists/labels to record
Shopping our artists to labels and obtaining label deals
Advice on where to/how to/what to record
Supplying copyright/royalty information
Engaging in regular internal creative meetings
Submitting tunes to our Synchronisation Department who work specifically to increase the use of our music in film, TV, advertising, corporate videos etc (with the writers consent)
Introductions to International industry contacts and music supervisors
Working in conjunction with the other facets of the industry, such as management, record label, booking agents
And, general representation of our writers interests.
Somewhere in-between all of this, I worked through two pregnancies.
Tell us a bit about Mushroom Music Publishing, what artists do you work with/have worked with?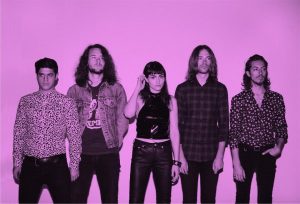 The Preatures
Mushroom Music is an independent music publisher and has been in operation since 1972. It's the staff and the artists that make Mushroom Music the most successful publishing company in Australia. Our repertoire is focused on Australian and New Zealand writers and contains some of the greatest in these countries today.
The historic catalogue includes Billy Thorpe, The Loved Ones, The Saints, Skyhooks, Split Enz, Boys Next Door, The Chills, Daddy Cool, The Models, Hunters & Collectors, The Triffids, The Sunnyboys. Significant artists from the past forty years are strongly covered in our catalogue. The current catalogue comprises The Preatures, Chet Faker, Violent Soho, King Gizzard & the Lizard Wizard, Unknown Mortal Orchestra, Vance Joy, Twerps, DD Dumbo, Adalita, Beaches, The Jezabels, DMA's, Fraser A Gorman, Dan Sultan, Kasey Chambers, Grace Woodroofe, Client Liaison, The Creases, DZ Deathrays, Cloud Control and many more.
We represent many of the world's premier independent publishing catalogues as well as a number of smaller catalogues. We have developed an impressive roster of international artists who have signed to us directly for representation in Australia and New Zealand such as The War on Drugs, Jack White, London Grammar, Warpaint, Red Hot Chili Peppers, The Shins, Band of Horses, Passion Pit and Silversun Pickups.
Publishing is complex and a very important aspect of the music business. At its core, publishing is about controlling copyrights, finding ways to expose the copyrights/songs to a broader audience and administering the flow of income to the copyright owners. Essentially increasing the opportunities for writers to pursue their craft as songwriters.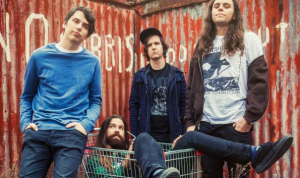 Violent Soho
Describe a normal day in the life of the Head of A&R at Mushroom Music Publishing.
Resolving, organising, planning, negotiating contracts, eating, doing, undoing, overseeing, getting frazzled, contemplating, debating, listening to a shitload of music and sipping tea.
How did you get your start in the music industry? Did you choose to work in music or did it choose you?
In 1990 I was unemployed after working a season at Mt Buller (Victorian ski resort). For cash I temped at APRA for a couple of weeks and stayed for 6 years. (Don't invite me to dinner!)
Originally I had no idea about APRA, nor was I seeking employment in music. My career began at APRA where I created the first Melbourne Writer Services Department. I received valuable tuition from encouraging and thought-provoking female role models. Fortunately, simultaneously emerged a fascinating and exciting music period. Influential, innovative and inspiring artists cropped up from everywhere.
I've always sought out, collected and fixated over Australian music, tv drama, film and art. As a child I was exposed to diverse genres of music, I was taping songs from the radio onto cassette, performing makeshift concerts and dance routines. Later, I obsessed over music programs like Countdown, Sounds, Rock Arena, Nightshift, Beatbox and (my favourite) Rock Around the World hosted by Basia Bonkowski. I accumulated and purchased vinyl and cds, which soon expanded to slinking into pub and club shows in the 80s absorbing a thrilling underground music movement. I was sold.
Now, my music career is 25 years old. It's a mammoth part of my life. And through the industry I met the love of my life, my late husband and father of our children, Dean Turner. I don't take any of it for granted.
Have you got any advice for people wanting to start a career in the industry?
Have a potent interest for music and be attracted to the strange. Make contacts and have initiative. Humility. Don't be annoying. Target the area of the industry that interests you most. And if you are doing it for the money and glamour – find something else.
What issues/potential issues do you think the current Australian music industry face?
The music industry is frequently evolving. We are regularly adjusting to changes and new technologies. Often pondering improvements and new concepts.
Discovering authentic songwriters is challenging. There is so much white noise, anyone can record a song and put in on the internet.
Monetising the craft, income streams are dwindling. Our focus as a publisher is to ensure that music users do not undervalue copyrights.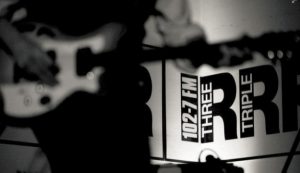 RRR
If you were to change one thing about the Australian music industry, what would it be?
More outlets for Australian music on television and commercial radio. Higher content of new Australian music on commercial radio.
Encouraging and giving women opportunity to take an equal place. Women and men working together in senior positions. Statistically women are being paid less for doing the same job as men and statistically women hold very few high powered jobs in the music industry.
Transform Melbourne community radio station Triple R to a national broadcaster. I can't be without it.
What tips would you give an artist trying to succeed in Australia? Is there a certain route they should take?
Be dedicated to your craft. Harness a strong work ethic. It's not a hobby, it's a career. Write a lot of songs, write frequently, write really good songs. Be inventive, don't compare your songs to artists in the charts and on radio. Play live and frequently rehearse. Be uncompromising and resilient. Respect the art and the business. Listen and make informed decisions. Integrate social media by way of soundcloud, facebook, bandcamp etc.
You don't need to follow conventional songwriting rules. Be driven by art and emotion. Write captivating catchy melodies or songs that make us think and feel something and are extraordinary.
I respect a punk attitude in any style of music.
What does 2015 hold for you? Any exciting things that you can tell us about?
Every day is exciting here. Lots of brilliant new releases. Announcing the 3rd annual Mushroom Music Recording Grant mid-year.
Hosting a Writers' Workshop at Bakehouse Studios.
Who are your role models in the industry whether they be international/Australian?
Women past and present in the Mushroom building. Special mentions…Elle McKay – MD White Label, Liz Rogers – Legal & Business Affairs Manager Mushroom Group, Bethany Jones – Head of Business Affairs/Producer Mushroom Pictures.
We support and respect each other, it's why I've never left. Mushroom have employed women in management positions and higher for a long time.
Top 3 Artists to watch in 2015?
What's your go-to Karaoke song?
Anything by Kate Bush providing I've consumed loads of sake.