Lisa, you're the General Manager at Music SA. Tell us your story! How did you get to where you are today?

As a young girl I hijacked my brothers' record collections and fell in love with everything from The Beach Boys to Joan Armatrading, The Smiths to Blondie. I started singing in bands when I was 20 and have just always had an interest in seeing live music. After leaving university with an Accounting degree I did the corporate soldier thing for many years until I moved to the non-profit sector to make the most of my post graduate studies in arts management.
I had a stint in the film industry and have sat on boards for over 20 years, so when I ended up as GM at Music SA I figured all my experience had come together in the perfect role. I'm producing a short film and I sit on the board of the Adelaide Fringe Festival so I am in a good albeit busy place right now.
For those who are unfamiliar, tell us about Music SA, what services do you offer and what artists are you working with?
We're a not-for-profit organisation that develops, support and promotes original contemporary SA musicians, builds their audiences and champions the industry. We run a series of free workshops with APRA AMCOS, provide free career advisory services, run a website with artist and venue resources, produce the Umbrella: Winter City Sounds two week live music festival, run the SA Music Awards and produce an annual music video production initiative.
Music SA is different to the other state/territory bodies in that we are a Registered Training Organisation and we have a huge and engaged alumni working across Australia. Some of the artists we have worked with recently for Scouted and Bands On Track include Dyspora, Heaps Good Friends, Timberwolf, Neon Tetra, Donnarumma, MANE, Young Offenders and Electric Fields.
Music SA have launched some pretty amazing initiatives in the last year aimed at women, are you able to tell us a bit more about them?
We've made some great strides over here in Adelaide at Music SA in the last year, with regard to women. We have entered into a three year arrangement with moshtix to offer a $5000 study scholarship for a woman in the music industry to undertake a 12 month Certificate IV (music business specialisation) with Music SA.
We have also run a Gender Diversity Workshop with a stellar panel of amazing women and have a Girls To The Front Bootcamp planned for the April school holidays. My board and staff are 50/50 women/men so I'm chuffed that the balance is there.
What does your day-to-day entail?
Anything from writing grant applications to cash flow statements to sponsorship meetings about the SA Music Awards. On any one day I can be approving artwork, sending invoices, meeting with politicians or writing board reports. I meet with my staff as a group every Thursday and I try to get out and see a gig at least one a week. I'm always scanning for new opportunities and keeping an eye on resourcing to make sure we don't over extend ourselves.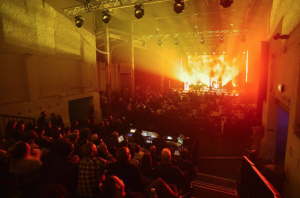 2017 AIR Awards, Adelaide
Give us your take on the local Adelaide music scene, where do you go to see shows and who are some local artists you'd recommend we keep an eye on?
There's a great live music career pathway in Adelaide with venues like The Grace Emily, The Metro, The Jade, Jive, The Wheatsheaf and The Gov. I recommend that anyone coming to Adelaide for the national AIR Awards in July stays for the Friday night and attends our Scouted showcase – you will get to see the 15 best unsigned bands in Adelaide right now.
Have you had to overcome any challenges or adversity in your career, and if so, how did you approach them?
I can sometimes react to challenges and adversity by being quite impulsive. So I try to not react and take time to think it through first and chat about it with my Chair Anne Wiberg or someone I respect who is independent.
My most challenging career moments have been trying to find a life balance so that I can work, exercise and most importantly be a good mother and a loving wife. Actually my two most adversarial career moments have been caused by women … there are quite a few scary ones out there!! But I reckon when faced with that sort of adversity it's best to remain professional and not take things personally.
Any career highlights thus far that you'd like to share?
I'm pretty proud of the team behind Umbrella: Winter City Sounds – it's been fun creating a live music festival from scratch. I also get a lot of joy out of seeing my Interns progress professionally.
Umbrella: Winter City Sounds, Adelaide
Any advice for people wanting to work in your field? What helped you along the way?
Mentors, mentors, mentors. The music industry is all about your networks.
Do you feel that higher education is necessary to work in the music industry?
I think if you'd like to work at a management or executive level then tertiary study provides you with a good grounding and an ability to think critically and strategically. For a GM it's been handy to have studied contract law, strategic planning, accounting and HR – all those uni subjects have come in handy in the music industry. Also I highly recommend the Company Director's Course. It gives you an excellent practical understanding of the role of a board.
Who are your role models in the industry?
My female role models are Maria Amato, Leanne De Souza, Anne Wiberg, Jana Gibson, Sose Fuamoli, Heather Croall, Emily Collins, Laura Harper and Sharni Honor.
What is your go-to Karaoke song?
Amy Weinhouse's Will You Still Love Me Tomorrow? I ask her forgiveness every time I sing it in the car at the top of my voice – and my kids just raise their eyes to heaven "Oh Mum, give it a rest"!