What is your role at Tone Deaf Music, and how long have you been in the position for? What were you doing previously?

My official title at Tone Deaf is 'production manager' which involves (but isn't limited to) curating, pitching, organising and editing the features you see on the website, including interviews, album reviews, gig reviews, and editorial pieces. I'm also the go to person for publicists and bands who want to connect with Tone Deaf.
After graduating Uni in December 2013 I was lucky enough to score a full time gig at Tone Deaf and started shortly after Feb 2014.
Before working at Tone Deaf I was studying full time while working part time as a publicity assistant for Ash Sambrooks (Higher Plains & Show Off Services) and doing a lil' bit of freelance PR solo and with a few other companies.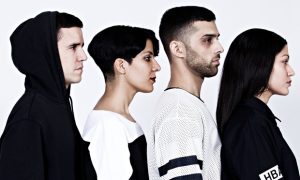 Future Brown
Describe a normal day in the life of Lucy Dayman.
Emails, emails, phone calls and a few more emails. But seriously the days usually run more of less like this: I arrive in the office around 8am (I work better in the mornings) tidy up and reply to all the press emails in my inbox until our daily news meeting at 9am, during which the rest of the Tone Deaf crew and I go through all the interesting and important (and often weirdest) news stories and features we want to write about that day.
Until lunch, my time consists of frantically replying to press emails, reaching out to publicists and writing/ editing feature and news articles in time for our daily newsletter deadline of 1:30.
The rest of the day is usually dedicated to either creative meetings, curating, planning and organising upcoming features, scheduling interviews, following up on stories that may need more time or research, and sending my fellow Tone Deaf staff members links to the best NT News articles from the day.
The evening is usually any combination of the following: at the gym, at a gig, feeding my reality TV habit, googling sneakers. Once I leave the office I'm pretty much out of email action. I love what I do, but I think keeping work and home separate is an important key factor to staying sane.
How did you get your start in the music industry? Did you choose to work in music or did it choose you?
When I was 16 I realised that a great way to get into bars underage, was to review the bands that were rolling through town. Please note I'm pretty sure it was totally illegal, but it was Wangaratta so anything goes. So with little knowledge, even less writing talent but a bit of gumption. I started reviewing gigs and records for my regional music rag.
After that I spent a year working in a music store (long live the indie music record store!) before moving to Melbourne and working in music PR before my taking current role at Tone Deaf.
I guess rather than it being a conscious decision to work in music I have always just 'assumed' I'd be working with music, and have used that vague assumption to guide my decisions.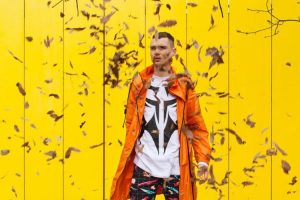 Air Max '97
Have you got any advice for people wanting to start a career in the industry?
This is such a tricky one because everyone's journey is always different. Boiling it down to the essentials, I'd say put yourself out there, but value yourself highly and don't let yourself be taken for granted/ taken advantage of.
Also seek out yourself a mentor or mentor-type buddy, I was lucky enough to work for Ash Sambrooks who was (this will probably embarrass him) the best mentor/ big brother/ boss I could ever have. If it weren't for him I think I would have gotten burnt out pretty fast.
Though it's tricky because I'm only familiar with one small facet of a vastly faceted industry, if there are any people out there with questions, please feel free to get in touch, my email address is on the Tone Deaf website.
What issues/potential issues do you think the current Australian music industry face?
Oh my gosh, everyday we're talking and writing about new issues the Aussie industry faces! But if I had to chose one I'd say it's the physical size of Australia.
Everyday we're writing, talking and hearing about regional artists, venues, and communities that are struggling due to the inability of performers and promoters to afford the costs involved in keeping the live music blood pumping throughout the body of this huge country.
Though I can't really offer too many solutions (I'm terrible at finances!) I think that us East Coast crew have a responsibility to support our more regional brothers and sisters. The onus especially being on media outlets to ensure that they're giving coverage to music outside their relatively small social scene, because often that's where the most creative, innovative and exciting music is coming from anyway!
What tips would you give an artist trying to succeed in Australia? Is there a certain route they should take?
This answer is cheesier than a bag of Doritos, but my only tip is make the best most authentic music to you, you possibly can.
DGAF (don't give an eff) what everyone else is doing, don't make garage rock 'cause every second dude with a guitar, a broken drum kit and four mates are getting radio airplay, don't become a bedroom producer 'cause an 11 year old kid played Groovin' The Moo, 'sounds' and scenes change, and population wise Australia is small, it's pretty clear when a band is cashing in on a sound.
What's more exciting to people who have to listen to music all day every day, is the stuff we've never heard before.
What does 2015 hold for Tonedeaf and yourself? Any exciting things that you can tell us about?
Tone Deaf is constantly in a state of flux, which I think is nothing but a good thing, the digital landscape changes with every single tweet that's posted, Facebook post that's updated and we're constantly working within that ongoing evolution, so to be able to predict too much is impossible.
I can say that we're working on the way we conduct and produce more interactive and engaging features and interviews with artists, and music industry figures which will include new video content and thoughtful in-depth journalism. Just remember this is the year Kim Kardashian published a whole book of selifes, 2015 is a great time to be alive, anything can happen.
Top 3 Artists to watch in 2015?
2 of the 3 artists I want to mention have already released records this year so the top 3 artists I think everyone should 'get to know' this year are:
Future Brown – They're a production crew consisting of the following talented producers: Fatima Al Qadiri, J-Cush, and Asma Maroof and Daniel Pineda (the latter two being nguzunguzu). Their self-titled debut album continues to blow my mind every time I listen to it. These guys are the group of my dreams.
Air Max '97 – Is a local producer who if the year was 2051, not 2015 would be the biggest name to be coming out of Melbourne. Progressive dance music with a clear hip hop influence. His recent Triple j Mix up is definitely worth a spin.
Alyx Dennison – Alyx was one half of killer weirdo pop Sydney duo kyü, she's now doing her solo thing and s-l-a-y-i-n-g, her self-titled debut (out via Popfrenzy) is my fave Aussie record of the year so far.
What advice would you give your 18yo self?
(1.) Invent Instagram and (2.) no matter what- don't take advice from you future 24 year old self.
But seriously I'd say do whatever the eff you want! You're 18, have fun, make mistakes, be an idiot, and learn lessons that will make you a better person. You have the rest of your entire life to be a grown up.
What has been one of the biggest challenges/adversity you've had to overcome and how did you do this?
To be honest, I've been incredibly lucky so far in my life to not have to face too much adversity. That said one of the biggest challenges I think I've had to face in my time working in an industry that is also a hobby and passion is to ensure that I maintain a life outside of music and the music industry. Though it might not feel like it sometimes – there's more to life than work, so ensure you're making the most of it. Plus people who are obsessed with their work (outside of work) are boring.
How do you unwind after a busy or stressful day?
Outside of music some of my hobbies include: Googling new sneaker releases, buying too many sneakers, collecting more books than I'll ever have a chance to read, and watching TV, I love TV, and am not ashamed! I try and Keep Up With My Kardashians, and am devotee to the church of Netflix.
It's boring but I'm also into trying to keep fit, after 9-10 hours in front of a computer it feels good to pop by the gym and run out my restless energy. I also like to smooch my cat and tell her how beautiful she is until she gets grumpy and scratches me.
What is your go-to karaoke song?
I there's anyone out there who wants to be the Jessie J + Ariana Grande to my Nicki Minaj I reckon 'Bang Bang' would be an ultimate belter of a karaoke tune.