What is Music Industry Inside Out, and why did you start it?

Music Industry Inside Out is a contemporary music industry knowledge hub. At the time of writing we have videos with 62 leading music industry figures in the can, sharing their advice and tips on 24 different course topics, from 'Exporting Your Music' to 'Understanding Copyright' and most things in between.
It's an education website, and it's primary function is to offer members and readers support and advice in working towards a sustainable career in music. I encourage anyone wanting to work – or already working in the music industry – musicians, band managers, label workers, venue operators, booking agents etc to take a look at the work we're doing. Anyone who wants to continue to learn and listen to some exceptional industry figures sharing their opinions, advice and anecdotal stories. Some of the content is aimed at absolute beginners but a lot of it is enlightening and inspirational to people already mid-way through their careers. I learn new stuff in every interview I do and I've done 62 of them since I started!
I started the project after the QLD Newman Govt slashed arts funding and my role as Program Manager at QMusic was made redundant. I had spent a couple of years travelling around regional and urban Queensland doing music industry workshops and knew just how hungry people were for decent, real, 'NOW!' music industry advice and information, and I was disappointed that as an industry we continue to be one of the lowest-paid sectors. That has to change, and the only way it will is to ensure we're all a well-educated, well-informed and savvy bunch. I officially launched the site on October 7, 2014 and it's been go-go-go ever since!
Describe a normal day in the life of Martine Cotton.
Up early for a 7km walk by the river and 30 mins of yoga out on the deck if it's not raining. I work from home, and I try to be at my desk by 9 most days, strong coffee in hand and stereo on.
I actually do a fair bit of work for other people to help me pay the rent for my home office so thankfully, every day is different, – helps me stay sane when work is such a huge part of my life. There is a hell of a lot of screen time. It's all about maintaining the sites I am working on – I'm constantly working on them to make sure they are operating well and have interesting content. I often get caught in the back end playing with code, brings me a lot of nerdish joy.
Most days start with email, and then could also include consulting with MusicIIO's incredible team of interns on content ideas, editing course video content, writing and copy-editing, image optimisation and SEO, spreadsheets and data entry, social media management for my own business as well as The Zoo, scanning the networks for information that we can use and share, managing client accounts at CD Baby and APRA, doing photography sessions for clients and friends, researching potential course topics and mentors, checking out new music and so on.
I'm also studying a Cert IV in Training and Assessment so I try to squeeze in 8 hours of study a week…. (failing miserably at that lately.)
Down-time (late afternoons) is usually spent in my veggie garden out the back which supplies the household with leafy greens, herbs and vegie's. Incredibly rewarding hobby and a great way to escape the screen. Nights, I do the door at The Zoo 2 or 3 nights a week which is a bit of a double edged sword – I get to see heaps of music, but it also means I miss out on gigs at other venues.
How did you get your start in the music industry? Did you choose to work in music or did it choose you? What different roles have you had?
My music career evolved as I fell in more and more with music obsessed people. At uni all my friends were rabid music fans, many of them musicians and in bands, and we were all out at gigs and festivals all the time. Music had always been very important to me – I went to boarding school and would have died without my radio-cassette player and headphones! So my career started with booking band nights at Griffith Uni in the late 80's, which lead to me scoring the 1990 O-Week Co-ordinator's role after finishing my degree. It was the first time I had booked an international band (Concrete Blonde – remember them?), and to see such a massive crowd attending not just that major event but all the other smaller band nights that I had booked through the week was SUCH A BUZZ! I was hooked. My degree was actually in film and media studies and I was intent on becoming a film maker but after doing some hellish work experience on a couple of Hollywood sets the year I left uni, I chose music.
Just like most in this industry, I have worn a lot of music hats. Since that O-Week, I've managed quite a few incredible bands, managed and booked The Zoo (Brisbane live music venue) in the second-half of the nineties, had my own booking agency and music services business, been a tour manager, put on/booked and worked at dozens of festivals and events, managed festival stages, managed marketing and social media for a bunch of businesses and built websites. In 2002 though, after a particularly stressful couple of national tours I walked away from the business and went to live in Japan as an English teacher and then North Queensland as a wedding photographer. When I returned to Brisbane in 2012 I got the Program Manager job at QMusic and returned to the immersive world of music and really haven't looked back since. These days I'm also back at The Zoo, managing the social media and website, doing the door and helping Joc out in the office when she needs some help.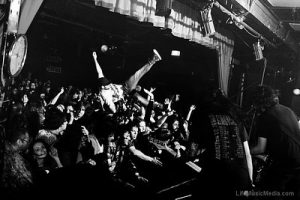 The Zoo, Brisbane
Have you got any advice for people wanting to start a career in the industry?
1. Have a go at everything! Volunteer at festivals, venues, businesses. Interning or work experience provides invaluable on-the-job training and the more you do, the more you understand. Work your butt off. If you don't have a great work ethic you won't get far.
2. If you realise you don't know or understand something then make it your mission to learn it. Youtube tutorials, Lynda.com, Udemy, etc – all amazing places to learn. Or you just ask people.
3. Build solid industry relationships – it's all about meeting people, becoming friends and being a part of a dynamic community where you're all respectfully and gratefully helping each other out wherever you can. Music is a small world, don't be a dick because doors will start shutting in your face faster than you can say "It's a Long Way to The Top…."
You've been in the music industry for some time, whereas a lot of people get burnt out. What's the key to sticking it out?
Well, actually, I did burn out! I left music for ten well-spent years and I'm proud that my resume is now a ridiculous montage of career diversification. The moment you start being resentful rather than grateful, it's probably time to take a break. The music industry is full of purists who would live and die and starve for music (and I was one of them), but I worry that it has blinkered the industry too much, held it back. I think the key to protecting yourself from burning out in ANYTHING is a commitment to diversify your skillsets and work experiences. Take a bit of time off, see how other industries work, apply some of those key strategies to your music roles. Also, once again, never stop learning, adapting…
What issues/potential issues do you think the current Australian music industry face?
Specific to Australia is the lack of government support for our industry. When you compare the level of support offered to sports or mining, for example, it can be disheartening. The government – both state and federal – generally doesn't acknowledge or understand the economic and cultural contributions of the contemporary music industry.
If you were to change one thing about the structure of the Australia industry, what would it be?
Definitely much more radio time for Australian artists on commercial stations and TV. Every year in Brisbane we have this painfully enormous event called Riverfire, as part of the Brisbane festival – it's this fireworks and fighter-jet display and is presented by Triple M radio who provide the soundtrack which can be heard across the TV broadcast and piped all along Southbank and the City precincts. It's an incredible opportunity to showcase Queensland and Australian bands. But guess what they play? I think across a 60 minute broadcast, they play about maybe 4 Australian artists, all long-gone. Powderfinger, Cold Chisel, Mondo Rock, etc. Kills me.
Have you had to overcome any challenges/adversity throughout your career? If so, can you tell us about them and how you approached them?
I guess the biggest challenge I have always faced is trying to earn a decent living. I'm trying to develop a better sense of business acumen, and that's just something that comes with experience and training. I think with music being so community based, it's hard to flick that switch from Art to Commerce. I think that's why I'm so passionate about Music Industry Inside Out – I see so much burn out and disillusionment and it mostly stems from a general lack of training of professional development skills – business, marketing, planning, export strategies etc.
What tips would you give an artist trying to succeed in Australia? Is there a certain route they should take?
I do think the most important thing is to develop your craft across all aspects – writing, playing, recording and performing. There are so many people making music now that your chances of success are greatly enhanced (but not guaranteed) if you can produce extraordinary, authentic content and performances. The one thing I have really learnt from doing Music Industry Inside Out and talking to so many people is that there is no pre-requisite pathway to success as a musician. Everyone has a different pathway that is directed by stuff like your work-ethic, style, skills & talents, business acumen, having a great team, being in the right place at the right time, luck and even where you are based.
What does 2015 hold for you? Any exciting things that you can tell us about?
More courses for the members, with more diverse mentors and topics! Music Industry Inside Out is also producing the music industry education panels at a couple of small music festivals and I hope to get over to Adelaide, Darwin and Perth to shoot videos with some of the leading lights in those cities.
Who are your role models in the industry whether they be international/Australian?
Joc Curran – The owner of The Zoo;
Bill & Edrei Cullen – One Louder;
Bill Hauritz – The Woodford Folk Festival.
Who are three Aussie artists you're really excited about?
WAAX. I first saw them play in the blazing afternoon sun at the Jungle Love Festival last year where they just blew everyone away. They are gonna be huge and Marie DeVita is the most incredible front-woman I've seen in a long time.
MIA WRAY. She is a Sunshine Coast secret who signed a publishing deal a few years back as a young teenager and has been quietly honing her skills with help from some amazing songwriters. She's recently moved to Melbourne and yeah, she's gonna be huge. What a voice!
GANG OF YOUTHS. Something so extraordinary about Dave's voice!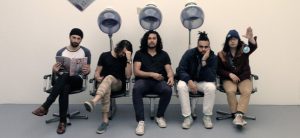 Gang of Youths
What's your go-to Karaoke song?
Having lived in Tokyo for 7 years, I've done an awful lot of karaoke. Hands-down winner to get everyone in the mood: Bohemian Rhapsody.