Feature image credit – Bryony Jackson
tickets to show in April here.
What is your current role or roles within the music industry?
Sound artist – is the best way I can describe all the things I do. I perform (drums, percussion) in my own and other peoples' projects: both acoustic and electroacoustic. I write and do research, I teach adults and young people. And I write music – for people to play, for installations, and also sound design for theatre, dance etc.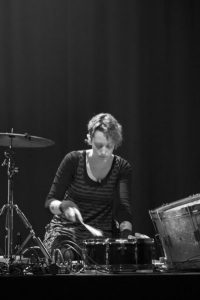 Describe a normal day in the life of Nat Grant..
Lots of lists! Because I freelance and I'm juggling a lot of things I like to get it all down either on paper or make digital lists (usually both). I work as a research assistant at a university so in the morning it's coffee, email, and attending to that work and my own admin (invoicing, confirming gigs, updating web/socials/lesson plans for teaching/locking in dates for rehearsals, meetings etc etc…). I find I work better first thing on that kind of stuff, and I try to clear my inbox then not really touch it for the rest of the day. If I'm doing a project that involves blogging I'll do that first thing as well.
If I have time after more coffee and food I'll do some exercise – I say running but it's more like a casual jogging situation – sometimes with my housemate's dog and always with music. After that I try not to touch the computer again for awhile, just to get a break mentally and from sitting.
The afternoon or as late in the morning as possible is where I put things like teaching, either at a school or university, or in my studio. It's also when I schedule meetings, interviews for my podcast, and rehearsals. This type of thing can go well in to the evening, and of course if I have a gig that can mean a midnight + finish (hence my reluctance for morning meetings etc). Some days are completely self-directed and other days I might have a full load of teaching, then rehearsal, then gig. So I can end up working 2+ full days in one: something I need to remind myself of if I happen to end up with a Tuesday free and feel like staying in bed…
How did you get your start in the music industry – what is your story of how you got to where you are today?
When I think of the 'music industry' I think of record labels and organisations, and I don't consider myself part of that. Apart from casual work in schools and universities I've never had a job in music; I've always been freelance. I started doing paid gigs during my undergrad at VCA, and just kept going from there. It's a bit mysterious but also I have had this conversation with a lot of people who agree: you work hard, you do good work and try to be reliable, you keep your eyes/ears open but then it can also just seem like luck some of the time. I have gotten way more works, gigs etc through word of mouth than officially applying. And then the repeat gigs, which is where the reliability etc comes in, I think.
Have you got any advice for people wanting to start a career in the music industry and particularly any advice for those who are writing songs, or are involved in the experimental space?
Starting out – say yes to lots of things. I feel like I spent my entire 20s just expanding my skills and my practice. In the last few years I've been trying to focus more, and I've said no more as well. When I say 'say yes' I don't necessarily mean do everything for free and get taken advantage of. I definitely did a lot of gigs for free or for very little for years, because I wanted the experience – but I see things differently now. I studied and have practiced for a long time. It's up to me if I want to give my time to a project but otherwise as artists we're working, we've got bills and we need to get paid.
I'm not a songwriter but I think within any genre the process could be similar: identify who is working/performing in the space you're interested in getting involved in and go there. Go to gigs, go to workshops, have some lessons with some of these people if you feel you need/want to. Start conversations with fellow audience members and the whole while just keep making stuff. And show people!
Do you feel that higher education is necessary to establish a career within the music industry?
No. It really depends what you want to do. There are lots of jobs that will require certain certificates/degrees etc (music therapy or law for example) but there are also ways to work in those fields, even if it's not in that particular job, without having the piece of paper. The research job I do is about the only one (out of tonnes of previous casual contracts) where I think my degree has mattered. Not that it hasn't helped, but it's a bit hard to put your finger on exactly how much, and a degree with no experience probably isn't much use either. It just depends.
What is the best life advice you've ever received?
I interviewed comedian and actor Sue Ingleton last year and she said to me "you're always on your path", as in, even when we feel like we made the wrong decision, that's just part of the journey, and we learn from that. Something I guess we all know but it was so timely for me when she said it.
What issues do you feel the Australian music industry is currently facing and how do you think these could be changed and improved?
Accessibility and representation, which are separate things and also interconnected. If you are in any kind of position of power where you are in charge of people, booking artists, employing people, organising something, then you really need to ask at every step: "who is missing here?" and if you can identify that perhaps that all your staff are white and male, or cis and ablebodied, then why is that? And what can you do to broaden your network and the opportunities you're offering to a wider range of humans? Diverse work and diverse audiences are way more interesting to everyone involved, in my opinion.
Have you had to overcome any challenges or adversity in your career, and if so how did you approach them?
I'm in a really privileged position: I'm white and educated. The sexism I have experienced as a non cis man person working as a drummer and also in electronic/electroacoustic music is shit, but I don't put up with it anymore and I'm really working hard to try and make things different for other and younger artists in these spaces. Some pockets of the experimental, pop, jazz, and improvised music scenes in which I work are really doing great in this regard, in having no tolerance for shitty behavior, and (see the question above) for really considering diversity and representation in everything they do.
Where do you live and what is your local scene like at the moment?
In Melbourne, and I feel really privileged to have access to so much great art all the time. There are more gigs, exhibitions, show, and openings than one could ever get to. I hope I never become complacent about that – I think it's important to support other artists but also in terms of process and inspiration – to see/hear/experience what else is out there.
How do you unwind from all of your responsibilities?
Playing drums is the most relaxing (and fun) thing ever. It's also much better for my body than a lot of other things I do (computer, lugging gear, driving etc.). Yoga, Alexander technique and a bunch of other things to try and counter all the bad posture related activities… and going to other peoples' gigs, shows etc. It can be hard to find time to go and see what everyone else is doing (see above re: Melbourne and being spoilt for choice in terms of art and live music), and I find it really helps me recharge, creatively, when I get to do it.
What is the most rewarding experience that you've been a part of during your career? (I'm sure there's a few – feel free to include more than one!)
Definitely teaching/mentoring. I don't have kids and obviously it's a very different experience but I've been teaching music for the past 15 years and have been so, so proud seeing what my students have achieved, on stage and off, in that time. It's also helped (and continues to help) to deepen my understanding of what it is I do – having to explain things many different ways for many different brains.
What has been your proudest achievement so far?
Since 2016 I've been interviewing Australian female and non binary drummers for my blog http://heydrums.com, and writing feature articles for Drumscene magazine. I've put on live shows and jams and been able to connect many of these artists with each other to share opportunities and offer support. I've interviewed more than 100 drummers and percussionists, and I'm so damn proud of the community that exists here, and the diversity of the players and the work being done by these people. I'm proud and grateful that all these artists have been incredibly generous in sharing their insights and their time, and I have huge plans for continuing this work into the future.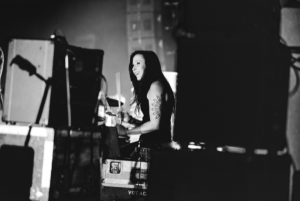 Ali Foster – Photo by Billy Zammit
Who are your role models in the industry whether they be international/Australia?
Whoever I can see who is making it work as a freelancer, basically. When I was first studying it was some of my teachers who went project to project as composers and performers. That's always been my goal, and I can see now how difficult and stressful that can be. But also incredibly exciting to work on different projects and with different collaborators.
I love reading and listening to how other artists describe their process, their goals, anything really, it doesn't need to be similar to mine it just really helps me to hear and see how others do things. Madeline Dore has a great series called 'Extroadinary Routines'. I've also heard visual artist Sarah Firth interviewed a bunch of times, and she seems to be really kicking goals in the freelance/self directed art career territory. Her drive and systems for organizing her life and prioritizing work are things I aspire to.
But also, and probably most importantly, so many great friends who I see continuing to strive and dust themselves off after setbacks, making efforts to prioritise their work, their health, their relationships, their families. I think it's most inspiring when you actually have more insight into how someone is going about things, and I'm so lucky to have a really, really great network of friends and art wives who I can be vulnerable with and bounce ideas off.
What does 2019 hold for you? Any exciting things that you can tell us about?
Yes! I'm putting on a solo show at the Brunswick Mechanics Institute in April 2019. It's probably the biggest thing I've done on my own and I was really fortunate to have some development time there last year (check that out – they offer a lot of opportunities for independent artists). It's called FEED and is a performance for drummer and feedback. It'll be lots of layers of acoustic drums and cymbals and digital delays in 4 channel sound that I'll create live, with the speakers and audience in 360 degrees, me in the middle. I'm working with lighting designer Gina Gascoigne and sound engineer Myles Mumford to make sure it all sparkles.
Top 3 artist you're currently listening to?
PJ Harvey (always),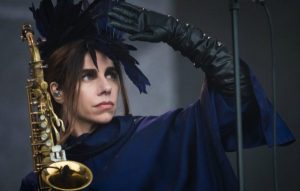 Laurie Anderson (always too, and love the album that came out last year),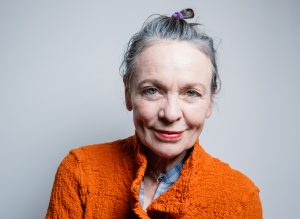 Neko Case (finally get to see her live this year).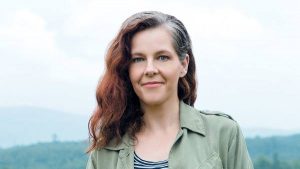 What's your go-to karaoke song?
No way. There's a reason I play the drums. I'll just be up the back in the dark hitting stuff!