(photo by Seshanka Samarajiwa, www.snappatronik.com)
Describe a normal day in the life of Nkechi.
For me everything seems to fall into cycles of being on tour and at home. Touring is always a bit hectic, my normal ritual is packing clothes the night before, waking up early, check-in and eating breakfast at the airport, getting to sound check, getting to accommodation to get ready and playing.
When I get back home it's basically getting everything ready to go again. When Saskwatch are not touring or recording I live a pretty quiet and somewhat reclusive life. I have a couple of casual jobs managed by friends and people who completely understand the nature of the music industry, practice, rehearse at least once a week, catch up with friends and family, and live vicariously through the internet and books.
At the start of the year I started running each morning, winter turned me off a bit but I am hoping to start again.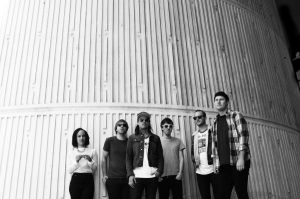 Saskwatch
How did you get your start as a musician? Has it been something you just had to do, or did you make a conscious decision to become a musician at some point?
Singing has always been something I just have to do and I will always be a singer. I'm pretty happy to be singing anywhere. I'm the type of person that sings out loud to the music in grocery stores and makes up stupid songs with my friends when we're really excited about stuff. Somehow I managed to get myself into VCA (Victorian College of the Arts) to study music. University was a massive shock, especially being around so many talented and hard working musicians, I felt like an impostor most of the time. After graduating I didn't think I was going to be involved in music because while I felt like it would be a dream come true, it was still just a dream. So I became a librarian (Yep! You read right!).
Rob (guitarist) who I met through uni, asked me to fill in for the singer of Saskwatch at a single launch (my first ever) for a band I was in. At that stage Saskwatch mostly did covers. From there it got to a stage where I was doing a lot of Saskwatch gigs that I enjoyed more than the other band. Eventually the singer from Saskwatch decided she wanted to pursue her own thing and I decided that I really wanted to sing in Saskwatch more than anything, left the other band and became the singer for Saskwatch. The tipping point for everything else was when Liam, who I also met at uni, started writing songs for the band and we moved away from covers. We had a residency at Cherry Bar's soul night 'Soul in the Basement' and over the next 3 years we built a following and partied a lot (even though I was working full time and studying to be a Law Librarian).
It probably took me 2 years from the first time I sung with Saskwatch for me to consciously realise that all the rehearsing and performing were a big aspect of my life and I was a musician.
What's the greatest piece of advice (relating to work/music/life in general) that you've been given?
The pearl of wisdom my mother gave to me was 'Don't screw the crew because the crew will screw you.' – Thanks mum!
From an artists perspective, what issues/potential issues do you think the current Australian music industry face?
I don't know if this will ever change – funding and support. I don't think people realise how much time and effort goes on behind the scenes and there needs to be more funding available to help musicians, get to where the need to be in order to grow artistically where its through grants or sponsorship.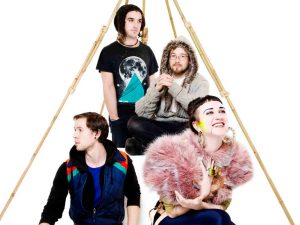 Hiatus Kaiyote
There are amazing Australian musicians kicking ass across the globe like Courtney Barnett, Gotye and Haitus Kaiyote and they never seem to have any recognition in their own country until the rest of the world thinks they're great which, I think is sad. I think that we are too busy trying to act like we're American culturally in Australia and it's kind of weird.
Have you had to overcome any challenges/adversity throughout your career? If so, can you tell us about them and how you approached them?
My biggest challenge is not getting burnt out on tour. A few years ago I completely lost my voice completely the first time Saskwatch went overseas to play at Edinburgh Festival. My voice disappeared on the 4th night there. It was so devastating and stressful. I wasn't allowed to speak for the rest of the tour unless it was to sing during the shows. I was so ashamed because I wasn't taking care of myself and I really felt that I had let the whole band down. When I got back to Australia it had turned out that my vocal chords were really swollen and I had burst a capillary on them too.
The fear of not being able to sing made me reassess my approach to singing and taking care of myself on tour. I changed my approach to touring by no drinking during tours and making sure I get enough rest. Initially, I really hated sending myself to bed after a show because I felt that I was missing out on all the group bonding experiences that happened after shows, so I used to buy myself a gift to go back to as positive reinforcement (this makes me laugh so much when I read this). Also my warm-up routine was pretty much nonexistent, so I changed that to. Now, I have vocal coach and I go to a physio that specialises in treating performers.
If you could collaborate with any artist (living or passed) who would you choose?
What has been your most memorable moment of your career thus far?
Supporting Earth, Wind and Fire. My mum had introduced me to them when I was little. I cried before I went on stage because I couldn't believe it. My mum was my guest for the show and she came backstage and met them all. It was amazing to be able to introduce my mum to the band she had introduced me to as a child. She and I were so excited our faces hurt from smiling so much. All the musicians including Philip Bailey, Verdine White and Ralph Johnson hung out with us in our band rooms and took photos with us – it was crazy.
What tips would you give an artist trying to succeed in Australia? Is there a certain route they should take?
Everything I can think of feels like a cliche but, essentially being nice and showing commitment goes a long way. One of my lecturers at uni told us, to succeed you should just 'turn up', simple and effective.
Who are your role models (either musicians or people in the music industry) whether they be international/Australian?
Diana Ross, Elvis Presley, Meg Mac, Nina Simone, Lauryn Hill, Mirian Makeba, Lianne La Havas, Marlene Shaw, Amy Winehouse, Laura Mvula, Laura Marling, Courtney Barnett, Shirley Bassey, Billy Ocean.
What's your go-to karaoke song?