**All photography in this article by Pip Cowley (http://www.pipcowleyshoots.com/)
Originally working in the music realm in Sydney, you're now a Music Photographer based in NYC. Woah. Tell us about your role, how you got into the position and your past work experience that lead you to this role.
I'm currently working as an Art Director/Digital Editor at Anomaly in NYC and then freelance as a photographer for promoters like Bowery Presents and Governors Ball in my spare time. I'm lucky that sometimes the two blend together as one of the clients I work with is heavily focused on music activations. My role at Anomaly mostly consists of coming up with creative concepts for upcoming campaigns, presenting to clients and then execution. This can be anything from creating social posts to taking photos and being on set making a music video or TV show. Recently I've been working on treatments for a series of music videos and then helping out on set with art direction and photography, which has been really fun.
Previous to this role I was working as a Digital Content Producer at Channel [V]. This involved writing a lot of music news, interviewing bands and shooting a lot of live music, plus studio stuff with their daily TV show called The Riff. Working as a digital producer was helpful because you're often working within tight budgets and so it's all hands on deck and you can force your way into situations you wouldn't normally get to be a part of in a bigger company. We didn't really have the capacity to pay external photographers so we would shoot just about everything ourselves. So that's where I was able to gain most of my experience.
It's a pretty huge move from Sydney to NYC. How do the two cities/music industries differ from your perspective? Best/worst parts?
The industry is obviously a lot bigger and it feels like there are opportunities that you can come across that maybe you wouldn't get back home, which is why it's so appealing. The nice thing about the music industry in Australia is that it feels like such a tight knit family. I would say the most challenging part of working in music in the U.S. is getting sponsored.
How did you get your start as a Music Photographer? Did you choose to work in music or did it choose you?
I started out taking photos at music festivals in Sydney about 6 years ago, for a music blog that a friend was running and basically went from there. I'm sure no one ever saw the photos or even knew about the blog (story of my life). But I was lucky that the full time jobs I took on at Pacific Magazines and then Channel [V] allowed me to continue with photography both within the roles and outside of them. As for music choosing me or me choosing it, I would say it was a combo of the two. It's something I always wanted to do growing up but was never musically talented. I played the drums for 10 years, but had zero natural skill, so joining a band was never going to be an option. By nature of passion, I think I've ended up working in music but I hope it's also a payoff from hard work.
Describe a normal day, in the life of Pip Cowley.
Yikes. I would say a normal day in my life is pretty boring. I spend most of my day at my desk in our office in Soho putting together concepts for campaigns that will hopefully get made. A medium rare day would involve photographing behind the scenes of a music video, live gig or festival and getting to work with some my favourite musicians.
What have been your top 5 gigs/festivals to shoot?
5. Danny Brown – Smokin And Drinkin (music video shoot)
Photographing behind the scenes on set for Danny Brown's music video shoot for 'Smokin and Drinkin' was definitely a highlight when I moved to New York. I got to work with one of my favourite music video directors Alan Del Rio Ortiz in this epic three story house in Brooklyn. It was probably one of the most nuts shoots I've ever done and some of the most gritty but awesome lighting and set design.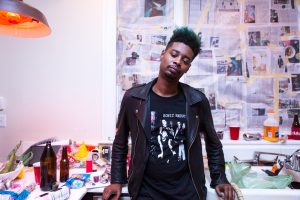 4. Foo Fighters at Sydney Football Stadium
I've been a sucker for Foo Fighters since I was roughly 12 years old and so the most excited/nervous I've ever felt before a gig was at the Sydney Football Stadium, waiting for Dave Grohl to enter the stage. At the time, this was the biggest show I had ever photographed and still one of the most memorable.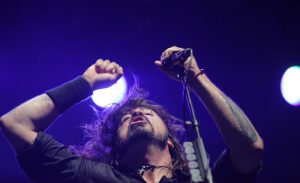 3. Radiohead at Rod Laver Arena, Melb
Walking backstage at Rod Laver Arena in Melbourne to photograph Radiohead was a dream come true for me. One because I grew up as a total tennis fanatic and watched the Australian Open every year, so the thought of walking past those dressing rooms made the teenage me very happy. Secondly, like a lot of people I'm a huge Radiohead fan. I was pretty much self-imploding in front of the stage.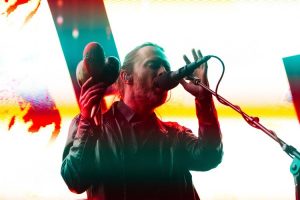 2. Governors Ball 2014 in NYC
I somehow fudged my way into photographing Governors Ball in NYC last year. I'd been in the city for only a couple of months and next thing I knew I was photographing on the main stage during Outkast's set. The biggest highlight of the festival was meeting Andre 3000 and his son Seven after Childish Gambino's set.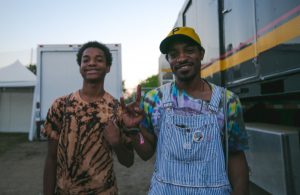 1. Drake at Governors Ball 2015 in NYC
This year I got called back to work for Founders in the photography team at Governors Ball, which was super fun. The team of photographers I got to work alongside were some of the best. The highlight of the whole event for me had to be photographing Drake. His team were nice enough to let me come up on stage and shoot his entire set. The production was insane and so it made for some great photos – or at least some of the ones I'm most proud of to date.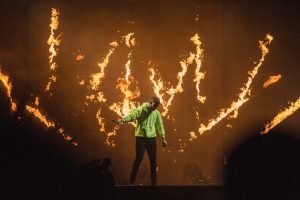 What has been your career highlight thus far?
I recently did a shoot in LA for Variety and Autograph Hotels on a TV show called Actors On Actors, where I had the opportunity to photograph and interview some of this year's potential Emmy Nominees with the likes of Jimmy Kimmel, Conan O'Brien, Mindy Kaling, Jeffrey Tambor and the Broad City girls just to name a few! I'm still pinching myself.
http://www.pipcowleyshoots.com/the-indivitualists/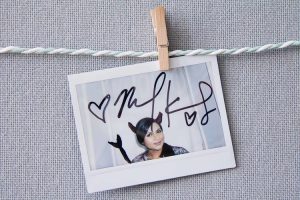 Have you had to overcome any challenges/adversity throughout your career? If so, can you tell us about them and how you approached them?
I've definitely faced challenges and adversity in each of my roles. I think the best thing is to pick your battles. Trust your instincts when something isn't right and speak up about it. But then try to get it resolved quickly as these things tend to manifester the longer they drag on.
Have you got any advice for people wanting to become a Photographer in the field?
Be persistent and make lots of friends. Most of my jobs have come up through mates or word of mouth. So building a solid network is super important. And obviously put together a kick ass portfolio/website and push it hard.
Who are your role models in the industry whether they be international/Australian?
They're mostly my friends. I would say most of my mates working in music are pretty decent role models in term of being people who are passionate, hungry and hard-working. If I have to name names, Nikita Agzarian who runs Giant Dwarf Theatre in Sydney. She's one of the most badass go-getters you could ever meet. My ultimate role model in the industry is Patti Smith. I find her utterly inspiring on all levels as a brilliant writer, artist and musician.
What does the rest of 2015 hold for you? Any exciting things that you can tell us about?
Well, I'm currently sitting at JFK waiting for a flight to do a shoot in Long Beach, California with A-Trak. Following that will be a series of music videos with some pretty exciting artists for Renaissance Hotels. Then I'm hoping to get back to Australia for a few visits to see friends and family.
Can you tell us 3 artists you're listening to at the moment?
What's your go-to Karaoke song?
Backstreet Boys 'As Long As You Love Me'. Every. God. Damn. Time.