You are a songwriter, and have written songs for the likes of Zedd, Alessia Cara, and have worked with Flume and many others. How did you get into this, and get your big break?
I decided I wanted to be a songwriter after discovering Sia had written songs for some of the biggest artists in the world. I didn't even know that was a job. I was always told I had to perform and I absolutely hated it, so had given up on music altogether. I'd been writing since I was really young, my step dad always told me to 'write a song about it' whenever I came home from school crying.
My industry break was with my current publisher (and hero) Maree Hamblion. So many people had told me about her so I sent her demos almost every week for eight months. She finally called me when I was in a lecture at university and I walked out while the lecturer was talking to take her call. She invited me to an APRA writing camp in Sydney where I met her and the woman who would be my first manager, and they both offered me a deal by the end of the week.
Describe a normal day in the life of Sarah Aarons.
I start with the classic vegemite on toast. Makes LA feel like home. I work almost every day, so I'll go to a studio. Sessions usually start around one in the afternoon. We hang out, have lunch and talk shit and then write a song or two and I'm back home.
Have you got any advice for people wanting to start a career in songwriting?
Just do it. It's so difficult and discouraging at first but it's so worth getting through that terrifying part. If it's truly what you think you were built to do, just make it happen. I had absolutely no contacts in the industry when I started out. You just need to work your ass off.
Do you feel that higher education or study is necessary to establish a career within the music industry, and in particular in songwriting?
I think that education is really important, but not when it comes to creativity. I had an incredible english teacher in high school, Ms Dickson, and I think learning essay writing skills, as well as studying communications really helped with the business aspect of the industry.
I was reading a publishing contract when I was 19. I also emailed publishers and record label executives daily. It's very important to be able to articulate yourself and communicate professionally, especially as a young person. However, I was never taught how to write songs and to this day have not once seen a piece of sheet music in a studio since I started working in the industry. Most writers I come across are self-taught musicians/writers.
What is the best life advice you've ever received?
'Write a song about it' – from my step dad.
What issues do you feel the Australian music industry is currently facing and how do you think these could be changed and improved?
I think there are so many talented musicians in Australia. Unfortunately, there's a huge divide between indie and mainstream music and I think people in the middle have trouble breaking out in Australia and are forced to move outside of the country to find success. As a writer, this is slightly less problematic because you're not categorised as either side of the spectrum, as you're behind the scenes. I think it should be the same for artists.
Have you had to overcome any challenges or adversity in your career, and if so how did you approach them?
Of course. Well when something extremely discouraging happens, initially I'd have an absolute breakdown but then pick myself up and keep running at it. I take every negative and spin it into a positive.
If someone would tell me they didn't believe I'd be successful (which has happened), I would say to myself – one day in the future I'm going to bump into that person and they are going to be absolutely mortified that they said that (and that's actually happened too).
How do you unwind and recharge?
I FaceTime my step dad, my dad or my brothers. Also my close friends in Melbourne and Sydney. They will always kick me right back down to earth and I love it.
What inspires you creatively?
I guess humans. People tell me their stories and I help them write it into songs.
What is the most rewarding experience that you've been a part of during your career?
Wow, I don't even know. Definitely hearing my songs on the radio. It still blows my mind every time. Not to be cheesy, but every day when I get up and go to this thing I get to call "work", with people whose music I've been listening to my entire life, that's living the dream.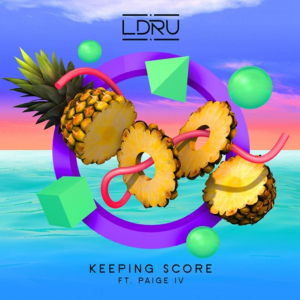 What has been your proudest achievement so far?
I get mega bogan pride now that I'm living in the States, so being in the Triple J Hottest 100 was insane and being nominated at the ARIAs. 'Keeping Score' will probably always be a very important achievement for me and Drew (LDRU). He was a completely unknown artist and that was my first release as a writer in Australia and we couldn't believe what happened with that song.
Who are your role models in the industry whether they be international/Australia?
Well obviously Sia and Diane Warren. Two of the most successful writers of all time.
What does 2017 hold for you? Any exciting things that you can tell us about?
I get really nervous to talk about it because there's never any guarantee that an artist will release your songs – so I don't say anything until they're physically out on iTunes. The crazy thing about this job is you write a billion songs and they all come out a year (or more) after you wrote them, so fingers crossed next year is a big one.
Top 3 artist you're currently listening to?
Always Amy Winehouse, Kehlani, Meg Mac. That was so hard to pick.
What's your go-to karaoke song?
Karaoke is my biggest fear. But I have promised a producer I work with, Kid Harpoon, that I will duet 'Don't Go Breaking My Heart' with him if he ever gets me to a karaoke bar (or drunk enough).