What is your role at The Metropolitan Orchestra and how long have you been in the position for?
I am the Founding Artistic Director and Chief Conductor, so I have been here since day one. Our first concert was in April 2009.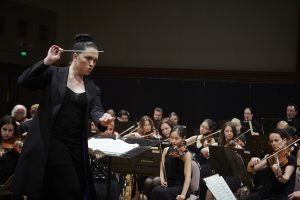 For those who are unfamiliar, tell us a bit about what being a conductor actually involves.
Most of my work takes place before I meet with an orchestra – sitting with the score at the piano studying, exploring and analysing the music, seeking to understand the composer's vision. I play the score at the piano to get the music "into my hands", so it becomes part of me. This might take me tens of hours, in fact the more time I can spend with a score before I see the orchestra, the happier I am.
When I meet with the orchestra, I liken my role to being the captain or coach of a sports team. A sports team can consist of the world's best players with incredible skill, but without a 'game plan' their play won't be unified. It is the same in the orchestra. An orchestra consists of 70 odd skilled musicians, all with their own ideas about the music.
During rehearsal, I aim to share my understanding and vision and hope to inspire and unify all of us so we move, breathe and think as one. Rehearsals are where we make sure all the pieces of the puzzle fit just right. Sometimes we can take half and hour to finesse the tiniest of things. Once rehearsals are behind us and we hit the concert stage, that is when the magic happens.
Describe a normal day in the life of Sarah-Grace Williams
No day is the same, and I like it that way but the first thing that has to happen in my day is ALWAYS coffee – without that I am useless! Following this, I try to get as many cuddles with my beautiful 2.5 year old as I possible can before conquering the tasks ahead.
A typical 'work' day can consist of score study of upcoming works, meetings, programming future concerts, securing artists, lecturing at university, rehearsing and performance.
Balance is key, and I AIM to have balance in my life.
My husband (who happens to be the General Manager of The Metropolitan Orchestra) and I love spending as much time as possible with our daughter – we realise that these these early years will be over in the blink of an eye and we want to treasure every moment.
This might mean our work day halts to play with her, but we make up for it by heading back into the office after our daughter goes to bed.
A nice glass of red generally rounds out our evening 🙂
How did you get your start in the music industry – what is your story of how you got to where you are today?
I have been a musician my whole life, starting my studies (clarinet and piano) when I was about 7. I completed my undergraduate degree in Australia before undertaking postgrad studies in Russia. I was awarded a Churchill Fellowship and I have had some incredible mentors and experiences throughout my career and I think each of these have contributed to where I am now.
Have you got any advice for people wanting to start a career in the classical side of the music industry?
Work hard, make the most of every opportunity and believe in yourself. Remember the only person who can stand in the way of your dreams is you. Classical Music in this country is a long and difficult career, but it can also be immensely rewarding. I've often found that the harder I work, the more fulfilling the outcome can be. It's a little bit like life I guess.
Do you feel that higher education is necessary to establish a career within the classical arm of the Australian music industry?
It mightn't be 'necessary' but I think there is much to be gained by study. Higher education for a musician is not 'just a piece of paper'. During my years in higher education I immersed myself. I was surrounded by incredible teachers and inspirational and like-minded students. I took every opportunity that came my way and went far beyond what was required of me to get my degree – I wanted to be the best musician I could be. I also made connections that I have to this day. I don't think I have finished learning though, this will continue until the end of my career and I will continue to seek out ways to further educate myself.
What tips would you give a young musician trying to succeed in Australia? Is there a certain route they should take in order to be successful?
I don't think any two paths in this industry are the same. Keep an eye out for opportunities and experiences and make the most of these, you never know what is going to be your big break. Treat everyone with respect and NEVER burn bridges, this is very small industry.
What issues do you feel the classical Australian music industry is currently facing and how do you think these could be changed and improved?
There are many issues that face our industry. Here in Sydney, simple things like the fact we have amazing whether and a myriad of entertainment options every weekend, mean audiences are less likely to book things in advance, rather they see what they feel like closer to the time. That can make things nerve racking for marketing departments who have to work very hard to get good houses. Lack of venues in our city is definitely an issue. We have the bigger venues (such as Sydney Opera House) and some great spaces for intimate chamber music but not many options when it comes to performance spaces which can fit a full orchestra with a mid-size audience. It is bitterly disappointing to see developments such as Barangaroo not jump on this opportunity to include much needed performance venues in their planning. Then we have the issue of the lack of funding for the Arts….but don't get me started on that!
Do you see younger people coming to performances, or is this something that needs to happen more?
Generally speaking classical music audiences are an ageing one. At The Metropolitan Orchestra, it is a core part of our mission to make classical music more accessible for everyone. We offer a range of diverse programs and strive to break down the barriers that hinder many potential audience members from attending. As a result, we have a much broader audience base including a high percentage of young adults, students and children.
What is your favourite memory of conducting?
This is a hard one! I am lucky to have had so many wonderful conducting experiences with orchestras and companies both here in Australia and overseas.
If I was to give you one single 'favourite moment', that would probably be conducting the inaugural performance of The Metropolitan Orchestra in April 2009.
Walking on stage for our first ever performance was electrifying for me. The audience's applause continued until every musician had entered the stage, I could see their smiles. We all knew we were in for a fantastic and historic night, the birth of an exciting and essential ensemble in the Sydney music scene.
This event kicked off the many career highlights I have had with this orchestra. My most recent would be conducting a sold-out performance of Shostakovich Symphony no.10 in April of this year. This epic work took every inch of my being to perform and I feel I was transformed afterwards.
Have you had to overcome any challenges or adversity in your career, and if so how did you approach them?
Many 🙂
But one of the more intriguing would be the fact I am blind in one eye.
In the earlier years of my career this was something I was very self-conscious of. I did not discuss it with anyone for fear that it would be a focus. I would go into the rehearsal room early to make little changes to my set up such as positioning my podium in a slightly different place than normal so that I could see the whole orchestra with just my left eye!
These days I am completely comfortable with my blindness, in fact people are usually surprised when I let them know.
Have you had to develop any skills/personality traits that you didn't realise you'd need? I've always con
I've always considered myself to be very patient however being the Artistic Director of this ever expanding and ground-breaking orchestra has taught me to have a whole other level of patience.
Who are your role models in the industry whether they be international/Australia?
All my mentors; Simon Rattle, Simone Young, Richard Gill
What does 2016 hold for yourself and the Metropolitan Orchestra? Any exciting things that you can tell us about?
2016 has been a very busy year for The Metropolitan Orchestra. Our flagship MET CONCERT series performed at Eugene Goossens Hall, ABC (Ultimo) has explored some of the greatest symphonic repertoire including symphonies of Shostakovich, Schubert, Mendelssohn, Tchaikovsky and Beethoven alongside exhilarating world premieres by Australian composers Elena Kats-Chernin, Daniel Rojas, Mark Grandison and Sean O'Boyle.
We have been presenting concerts at the iconic Hydro Majestic in the Blue Mountains, expanded our popular family concert series and launched our inaugural and innovative Composer Development Program, supporting talented emerging Australian composers.
Exciting events coming up over the next couple of months include:
Family Concerts (held in Balmain) for young audiences 24 & 25 September featuring the ever-favourite Peter and the Wolf. We will also be taking this concert out west for newly arrived refugee families in conjunction with St Vincent de Paul. This is hugely exciting initiative.
Bravo Cruise *Sold Out* October.
TMO will be sailing the South Pacific for 8 nights with an incredible line up of artists – Dame Kiri Te Kanawa, Teddy Tahu Rhodes, Cheryl Barker, Greta Bradman, David Hobson, Marina Prior, Simon Tedeschi, The Idea of North, Jonathon Welch and Rachael Beck.
Met Concert #5, our last major performance of the year
MENDELSSOHN A Midsummer Night's Dream Overture
KATS-CHERNIN Ornamental Air for Basset Clarinet and Orchestra
BEETHOVEN Symphony no 7
8 pm 12 November at 8pm
Eugene Goossens Hall
2017 is going to be a huge year for the orchestra. I can't let you in on the details yet, we will be launching the season in October this year and it is exciting repertoire, numerous world premieres and renowned soloists, including one of the world's leading artists will excite, entice and inspire our audiences.
If you would like to learn more about the remaining concerts in our 2016 season and hear about our 2017 as soon as we launch, head to www.metorchestra.com.au where you will find all the details. Don't forget to sign up for the newsletter to get details straight to your inbox.
What's your go-to karaoke song?