What is your current role or roles within the music industry?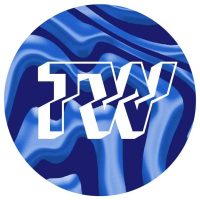 I've done a lot of work as a music journalist and music video director . At the moment I mostly run my music company Thickwave. I also manage Hexdebt.
Describe a normal day in the life of Triana Hernandez.
Most mornings I drink a cup of coffee and take care of the plants and flowers in my house, then I check my emails. If I'm being honest, there isn't a lot of monotony throughout my days. Working under a wide range of roles means that some days I'll be at a museum dictating workshops on transculturalism in relation to art curation and on others I'll be on a farm in Sydney surrounded by dozens of galloping white horses, directing a music video for a pop star.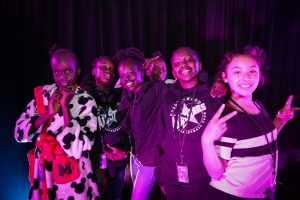 photo by Nicole Cleary – taken from "Sonic/Ascent"- The opening night of the Darebin Music Feast 2019
How did you get your start in the music industry – what is your story of how you got to where you are today?
I started two years ago as a music journalist writing for Noisey and iD. I had no experience or portfolio but I was adamant about doing music interviews that talked about political issues that the music media was not covering. Through these interviews I met artists like Dispossessed and Divide & Dissolve and we became friends. Shortly after, Dispossessed asked me to be their publicist and Divide & Dissolve asked me to manage them. I had absolutely no experience but they trusted that I would respect them and help spread their political message. Everything unfolded pretty quickly and I started working Brisbane-based music company Mellum where I became the co-director and got to speak at BigSound, tour artists like Sevdaliza and learn heaps about the industry.
After two intense years gathering extensive experience, I founded ThickWave, where I work as a freelance consultant, curator and producer of cultural and music events.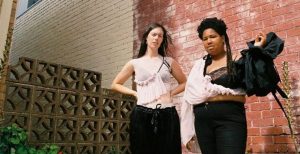 Divide and Dissolve – Photo Credit: @annasnowsill
Have you got any advice for people wanting to start a career in the music industry?
Be yourself, enjoy it and don't be afraid to stand up for yourself and set your boundaries if someone is making you feel uncomfortable. Build your own hard-earned opportunities and be wary of toxic people. No career opportunity is worth your sanity.
Do you feel that higher education is necessary to establish a career within the music industry?
No. I'm autodidactic and all my mentors are well-established people in the industry who are also autodidactic. The best people in the industry have a hard-working attitude, their heart in the right place, an earnest passion for music and their finger on the pulse of their scene . These are things you can't learn through degrees, you have to cultivate them on your own.
What is the best life advice you've ever received?
The man who said this to me was 90, healthy and happy. I took his word for it.
What issues do you feel the Australian music industry is currently facing and how do you think these could be changed and improved? Specifically in the area of festivals?
What issues do you feel the Australian music industry is currently facing and how do you think these could be changed and improved? Specifically in the area of festivals?
Have you had to overcome any challenges or adversity in your career, and if so how did you approach them?
I think my biggest challenge has been to find space to be myself outside of work. The music industry can be a very consuming environment and even your nights and weekends are taken over by work-related events/gigs. I still struggle with this, but at least I'm now in a position where I can choose who to work with and I predominantly pick people who are hardworking and respectful of my time. I'm also lucky because my partner is the opposite of me, so she makes me appreciate the art of sleeping in and reading books on a Sunday whenever I can.
Where do you live and what is your local scene like at the moment?
I live in Melbourne, where venues are predominantly geared towards rock, punk and post-punk acts. For the city with more venues per capita than any other place in the world, it's sad that there's only a handful of venues geared towards electronica and hip hop acts but at least some venues have been accommodating to make their venues genre-diverse. We need more venues with sweet PA systems that are ideal for bass heavy music.
How do you unwind from all of your responsibilities?
I love reading books and inviting friends over for dinner. Most recently I've put a comfy armchair in my backyard that looks out to the sky and trees. I like to sit there and relax while staring at the magpies.
What is the most rewarding experience that you've been a part of during your career? (I'm sure there's a few – feel free to include more than one!)
ThickWave's launch a few months ago was really special. I've booked so many bands but this was the first time I curated something as me, per say. I worked on this event with my creative associate Isobel D'Cruz, who I deeply admire. The line up was a perfect mix of genre-fluid post-punk (Hexdebt) into powerful spoken word (Idil Ali) and topped by one of the best rappers – Jesswar. DJ Wahe took over the dance floor with a top shelf blend of hip hop, trap and future goth-beats. Seeing so many different communities come together under the power of music was beautiful .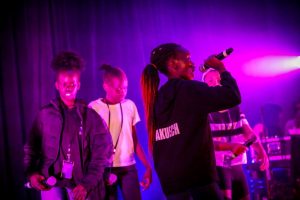 photo by Nicole Cleary – taken from "Sonic/Ascent"- The opening night of the Darebin Music Feast 2019
What has been your proudest achievement so far?
There's been a lot of achievements I'm proud of like being awarded with The Wheeler's Centre grant to write a book, interviewing Sevdaliza, being invited to speak at Melbourne Writers Festival…but to be honest I feel the proudest when I'm watching the band I manage – Hexdebt – perform. They never cease to impress me and leave audiences stunned. It reminds me that I'm managing one of the most talented post-punk bands to have come out in recent years. I feel proud to have been asked to manage them – they wouldn't work with any idiot.
Who are your role models in the industry whether they be international/Australia?
Meeting someone like Namila Benson at the start of my career was so important for me because she was the first role model I had of someone extremely knowledgeable, but also commanding and passionate. She's a radio producer for ABC, broadcaster and one of the best interviewers out there. She's given me so much invaluable advice and I feel lucky to be friends with someone who is also my role model.
I've also had the privilege of being shown into the music industry by Uda Widanapathirana, founder of Mellum and now working at Inertia Music in Sydney. They are only 24 and they built their entire career in an auto-didactic manner since the age of 16. They are a headstrong Aries and taught me heaps about determination.
What does the rest of 2018 hold for you? Any exciting things that you can tell us about?
ThickWave has a fair bit of line-ups, collaborations, workshops and talks lined up. I can't talk about them yet…But I can talk about collaborating with Swampland Magazine for the launch of their fifth issue on the 24th of November . We've organized a free talk at MPavillion called " Celebrating the Contemporary Choir". It focuses on the role of modern choirs as spaces to create alternative narratives from the Melbourne's landscape and context . There will be live performances by the amazing Pasefika Vittoria Choir as well as beloved punk choir Crying on the Eastern Freeway . I will be doing brief interviews with each act before their performances. It will be super special.
On November 20th I will be performing as DJ Airhorn Mami at the Recital Centre as part of Melbourne Music Week. The event is called Salonpop, and will showcase prominent queer electronic performers alongside immersive installations.