You do multiple things, can you please list them all?

• QMusic Program Manager
• Queensland Music Awards Producer
• Artist liaison BIGSOUND FESTIVAL
• Executive producer Little BIGSOUND
• Fun time DJ
Describe a normal day in the life of Trina Massey
It really depends which part of the year we are in. At the moment I usually spend the morning in the office doing emails, planning for BIGSOUND and getting ahead of timelines. Currently because of the program, I'll leave in the afternoon to facilitate a workshop at one of the Industry Connect regions (BNE, GC, Sunshine coast, Cairns, Ipswich and Toowoomba). So I spend the afternoon / evening either networking or working with participants in sharing information to give them tools for their careers.
How did you get your start in the music industry – what is your story of how you got to where you are today?
I was working in a live music venue while studying at university. And a whole lot of bands I really liked couldn't get a Thursday, Friday or Saturday night booking. So I thought, maybe I'll put a night on.
Have you got any advice for people wanting to start a career in the music industry?
Be involved in your music community. That's the best place to start. Learn how to use EXCEL, seriously. Treat everyone with respect.
Do you feel that higher education is necessary to establish a career within the music industry?
A higher education isn't necessary, but mine has been helpful (it wasn't in the field I work in). Again spend time in your local music community. Ask questions.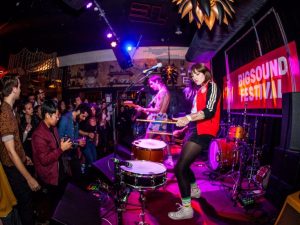 What is the best life advice you've ever received?
Everyone makes mistakes. Saying sorry isn't hard. If you hold others to this, then you have to hold yourself to this. Doing this will probably save a lot of headaches in the future.
What issues do you feel the Australian music industry is currently facing and how do you think these could be changed and improved?
The gender imbalance and diverse representation is key issue, not just on line ups, but in representation on boards and senior roles in organisations.
Clearly some leadership from the top of these organisations is important to create opportunities for diversity at the top, but the more difficult questions lay in representation online ups, especially when registered female songwriters (APRA AMCOS) total less the 25% let along those who identify as POC or First Nations.
Clearly there is a disconnect at multiple levels. Working at a base level with young female and POC songwriters and artists to create opportunities, share information and find out what are some of the barriers for them, I believe would help in hopefully creating ways forward to bridge gaps. That, hand in hand with equity on line ups. I think the actions do need to go hand in hand to create real change.
Have you had to overcome any challenges or adversity in your career, and if so how did you approach them?
There have been professional and personal challenges in my career, large and small. Honestly, my approach has transformed as I've gotten older. I have become more moderate. But I like to take my time, to process and plan. To think of what the optional end goal of the challenge or adversity and how to get there. Review it from other perspectives. Seek advice from people you trust.
What is the local Brisbane and Gold Coast music scene like at the moment?
Vibrant, but faced with challenges. Brisbane, has a long history with creativity and live music. The city continues to produce interesting, talented and acclaimed acts. With the Fortitude Valley continuing to be the hub of live music activity. While BIGSOUND present a unique one of a kind national and international business opportunity.
Gold Coast has had a transformative few years with Blank GC, Gold Coast music awards and Bleached Festival really highlighting the talent and opportunities in the scene.
But with state (ID scanners) and council regulations (building codes, noise restrictions etc) both cities do face barriers to the viability of live music within their respective night economy's.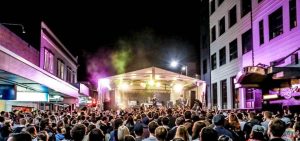 How do you unwind from all of your responsibilities?
Friends, conversations and dinners. My mother is a very interesting woman, I like to go on walks with her. I also like to get out of town and disconnect from social media.
What is the most rewarding experience that you've been a part of during your career? (I'm sure there's a few – feel free to include more than one!)
The program is very rewarding. Seeing the lights turn on in people's eyes, when parts of the industry start making sense. Selling out The Growlers first tour with my previous record label.
What has been your proudest achievement so far?
Being able to be in a position to mentor and inspire people. I'm a African American, Asian, queer, immigrant woman. I'm proud to be here.
Who are your role models in the industry whether they be international/Australia?
Leanne de Sousa has always been a strong influence on me. Maggie Collins is also a figure I really respect. The way she's proceeded through her career and how she's dealt with challenges, inspires me.
What does the rest of 2018 hold for you? Any exciting things that you can tell us about?
The program, then BIGSOUND and then little BIGSOUND. I'm also trying to get a songwriting retreat camp off the table for Queensland songwriters. Also looking at finally getting some specific workshops for women in electronic music started.
Top 3 artist you're currently listening to?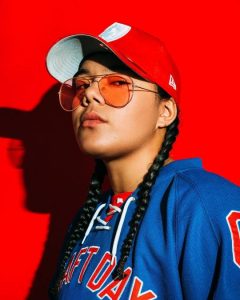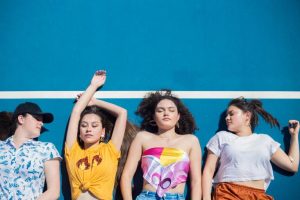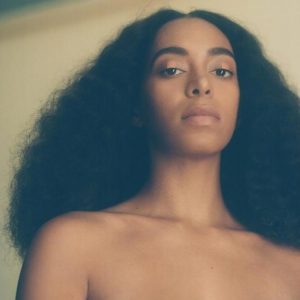 (ALSO Wish You Well by Emma Louise is a creative marvel.)
What's your go-to karaoke song?
Don't get breaking my heart. Kiki Dee & Elton John. I'm a firm believer that karaoke is a group sport.