Tell us about Catherine Haridy Management, what artists do you work with/have you worked with? What made you start the company?

My music industry career kicked off in the world of Labels. I worked at both Warner Music and Festival Mushroom records in A&R, at that time one of the only women. After 7 years I found myself at a crossroads. I was working with a bunch of different artists at the time and one of them was Eskimo Joe. I'd known the guys for some time, meeting them initially around the Modular released "Girl" album. They were recording "Black Fingernails Red Wine" and looking for a new manager. I was looking for a change of career, but still wanted to work with music. It was good timing for us all. Little did I know what starting my own business would involve and the broad base of skills I would require.
I still work with Eskimo Joe and also Jebediah, Bob Evans, Adalita and Tigertown as well as a wonderful bunch of dynamic Producers and Writers: Tony Buchen (Montaingne, Spookyland), Steven Schram (San Cisco, Paul Kelly), Anna Laverty (Warmth Crashes In, Desert Divas), JP Fung (Reese Mastin, Birds Of Tokyo) and Jimi Maroudas (Tim Rogers, Kimbra), Ian Caple (Tricky) and Mick Glossop (Van Morrison, Frank Zappa). Plus the wonderful Berlin based Author and Broadcaster Craig Schuftan.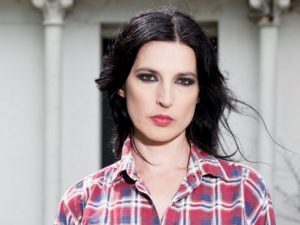 Adalita
Describe a normal day in the life of Catherine Haridy.
There's nothing quite normal about a day in or out of the office. I'm always ready to expect the unexpected and it's a juggling act between work and family life. At the heart of the work is my relationship with the Artists and Producers. I spend a lot of time on the phone working through deliverables, concerns, queries and enquiries. There's always problem solving to do and demands on my attention which means me attempting to be as organised as possible.
How did you get your start in the music industry – what is your story of how you got to where you are today?
I had a series of great opportunities when I started out volunteering and broadcasting with 3RRR and writing for the former street press publication "Inpress". It was an exciting and challenging time but I got a real leg up from a bunch of people in these two great organisations. It was through meeting then Programming Director of 3RRR – James Young, that I had the opportunity to interview for an Assistant A&R job at Warner Music with Michael Parisi. He was working with the top end of Australian artists at the time Regurgitator, the Super Jesus, and Ollie Olsen to name a few. He moved to Festival Mushroom Records to start his own label then became MD, I became an A&R manager and with great guidance from some generous wonderful people who I worked with, started to sign my own artists. Management felt like a natural progression to me.
Have you got any advice for people wanting to start a career in the music industry?
Seize every worthwhile opportunity, treat everyone equally and fairly, succeed and fail graciously and never assume anything.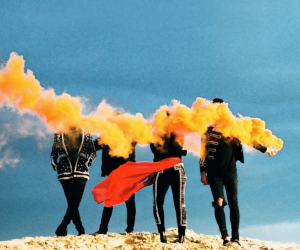 Tigertown
Do you feel that higher education is necessary to establish a career within the music industry?
It's not necessary but can help in basic skill building and in networking with like minded people…..forming communities of support. There are many different pathways to establishing a music industry career. No single pathway is more valid or more worthy than another.
What tips would you give an artist trying to succeed in Australia? Is there a certain route they should take?
Again it's important to know that there are many different paths to success and, depending on the successful outcomes you want, many ways to strategise to get there. It's about knowing what you want and how you can capitalise on the skills and talents you have to get there.
Most importantly, don't be afraid of failing. Learning to deal with failure can, in an odd way, strengthen and renew ideas and resolve.
What issues do you feel the Australian music industry is currently facing and how do you think these could be changed and improved?
If I had a crystal ball I'd love to know how streaming services will ultimately replace digital downloads as an artists chief source of income (and I'm not holding my breath here). I'm also super interested in the future of virtual and augmented reality and the way it will impact on music consumption and creation. I like Blockchain and the idea of the format being accepted universally as a way of storing masses of information about music and the holders of the rights. Ultimately the idea of consolidation digitally really appeals to me too.
Have you had to overcome any challenges or adversity in your career, and if so how did you approach them?
Too many to count! I've become a much stronger and more realistic thinker over the course of my career to date. The latest and biggest challenge for me has been to juggle family and work.
How do you manage to juggle family and career? Any tips for women doing the same, or women wanting to start a family and also continue with their career simultaneously?
Don't be deterred by the perception some people may have of choosing to have a family. Life must continue on regardless of work so carve out some personal time and make it happen! Anything is possible as long as people around you know the rules and accept them and you, in turn, are realistic and honest with them about what you can achieve.
What is the most rewarding experience that you've been a part of during your career?
Here are a few highlights…..
The Corroboration project coordinated with the wonderful Kurt Luthy and Eleanor Mackay which teamed together Indigenous and Contemporary Australian Artists to write, record and create an amazing collection of music. It culminated in an outstanding launch and Triple J live to air at the Prince hotel and I was honoured to see artists like Deborah Cheetham and the late, great Jimmy Little perform.
Working with Kev, Kav, Josh and Steve on the Basement Birds project despite the many different challenges involved in coordinating four very busy and successful artists to be in the same place at the same time. It was an independent project funded directly by the guys, they trusted me with their money and it was a great responsibility. We worked hand in hand with itunes at the time to launch four "digital only" EPs over two months. It's hard to believe now, but it hadn't ever been done before.
Finally two very special crowdfunding campaigns I project managed. One for Eskimo Joe which raised over 60k and helped them to complete their fifth album and the other for the most wonderful Support Act, which raised over $130,000 to help musicians and music industry professionals facing difficult and challenging times. It's not for profit organisation which I strongly believe in and I'm also a board member.
If you could work with one Australian artist that you have yet to work with, which artist would that be?
There are far too many for me to single out just one.
Who are your role models in the industry whether they be international/Australia?
Linda Bosidis, Correne Wilkie, Julia Kosky and Kirsty Rivers to name just a few.
What does 2016 hold for yourself and Catherine Haridy Management? Any exciting things that you can tell us about?
It's a big release year with new Adalita and Bob Evans albums. Tigertown (who I co-manage) will be working towards a late 2016 album and the release of a debut EP from Kav Temperley (lead singer of Eskimo Joe). The Producers and Writers are continuing to work with some incredible artists and there'll be a few additions to the roster this year……..and I'm always looking for new exciting challenges!
Top 3 artist you're currently listening to?
What's your go-to karaoke song?
Bohemian Rhapsody…..it's just too hard to pass up!