Please tell us your story! How did you get to where you are today?

Starting out as an intern at Mushroom Promotions in 2007, whilst I was studying Media & Communications at Swinburne University, I came to the Albert Park office one day a week every Friday and packed CDs for media servicing and cut media clippings from magazines and papers. I did that internship every week for 6 months, and, after some impressive 11th hour miracle pulling for a Jimmy Barnes album show bag, I scored an interview for a full time position in the Corporate Relations Department.
I worked under Denise D'Sylva for 2.5 years and in the role I learnt more than I thought possible in that short amount of time; we worked across all departments/sub-brands of Mushroom so it was a fantastic introduction to the music industry – I was encouraged to say yes to every opportunity across the group, and I assisted in varying projects from label, promotions, touring, and film in my time as Corporate Relations Assistant.
I was then internally poached into Matt Gudinski's team of label, touring, management (Illusive). This role was brand new so it was a great opportunity to make it my own and really grow in all areas of the business. I have been in the department for over 8 years, and have worked really hard to ensure I always keep learning, be the best possible leader for others, and develop our business operations, in particular touring, to be of world class standard.
You wear many different hats in the industry, tell us what you're currently working on and how you juggle the different roles?
I am currently working on multiple tours including Khalid, Channel Tres, RNB Fridays Live 2019 and I just finished Empress Of. My role as Project Director within the Illusive Presents touring team has me handling multiple projects at once and often out on the road as Tour Manager with the tours, which I absolutely love! It's amazing to see all your advance work come to life and the shows played out in front of you every night!
I independently manage artist, CXLOE, alongside Stephen McGuire who is based in LA with XXYV/Young & Vicious. CXLOE has been a client I have worked with for over 3.5 years, and we released her first single 'Tough Love' in late 2017 and since then it's been the most amazing and challenging experience. I am super excited for CXLOE's future – her star is set to rise so high!
I also look after Sydney based producer and songwriter Sam Sakr, who also has his own solo side project Sakr.
Management is something that I find comes quite naturally to me, I thoroughly love throwing myself into the development of a project and witnessing the growth and evolution of it is just magic. Management, pushes you to be better, work harder and move your own goal posts as each chapter ticks over in your clients career.
How do I juggle the roles – I am a pretty hard worker (I start early and if I have to work late, I do it quite diligently divide my time and complete my priorities effectively).
Weekends are a great time to do some catch up, but I am adamant on work life balance, so work a little harder during the week so you can have your down time to relax and do your personal shit on the weekends. My favourite saying is "the emails will stay" – they ain't going anywhere people!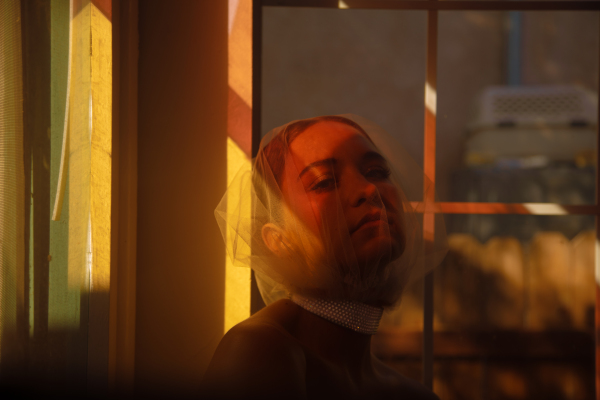 CXLOE
For those who are unfamiliar, tell us a bit about Mushroom, what artists do you work with/have you worked with?
Mushroom is the largest independent music and entertainment company in Australia & New Zealand. Under the Mushroom banner comes labels (Liberation, Ivy League, Soothsayer, I Oh You, 100s+1000s, Liberator), Mushroom Music Publishing, Frontier Touring, Illusive Presents, Harbour Agency, Premier Artists, Mushroom Creative House just to name a few.. !
In my years at Mushroom I have worked in the Corporate Relations department pairing brands and bands, providing great insight into the music industry and the corporate world respectively – I learnt A LOT in these first few years, it was sink or swim. During this time I worked with a really varied group of artists from Troy Cassar-Daley, Kings of Leon, The Temper Trap, Bliss n Eso, to ANVIL (google them haha).
I then moved internally into Matt Gudinski's team working in various labels, management and touring. Here I have worked on label projects like Diafrix, Bliss n Eso, Owl Eyes, Violent Soho and further gained insightful touring experience, where I had the amazing opportunity to work with some of the biggest names in the world including Drake, Khalid, Usher, TLC, 6LACK, Kelis…..!
It's been an amazing place to gain knowledge of all areas of the industry and here I truly found my strength and passion for working within music in the touring side of the business. Touring is something I have focused in on, over the last 6 years within Mushroom and I truly thrive within it.
What tips would you give an artist trying to succeed in Australia? Is there a certain route they should take?
Find your people. I think having a team around you that believes in the music and vision you are creating, is one of the most important things in the industry today.
Have you had to overcome any challenges or adversity in your career, and if so, how did you approach them?
I started in the music industry circa 2008, watching the landscape change across the years for women has been interesting. In touring specifically, it's a really male dominated work-place from production and crew, tour managers, and even the artists themselves I have worked with, the majority are male. I think some of the challenges I have had with this, is that you have to really just fight your way into being given the opportunity to gain experience in areas or roles that are predominantly male dominated.
In my experience I think taking chances, asking questions, giving things a go without fear of failing is so important. One day, I decided I was finally capable of advancing production on a small show because I had seen it done so many times, I knew the contacts, I knew the process, so I took initiative and gave it a go…I knew I might stumble over a few bits and pieces, but I did it, and succeeded, and now have increased my skill set by showing initiative, even in adversity.
I'd like to add I work with some amazing people, and there is a whole army that goes into making a tour happen. I have wonderful male colleagues who have guided me when I'm unsure and backed me up when I was doubting myself.
The touring world is changing, there are way more women on the road, and especially in senior positions in all divisions of putting on a live show – it's so awesome!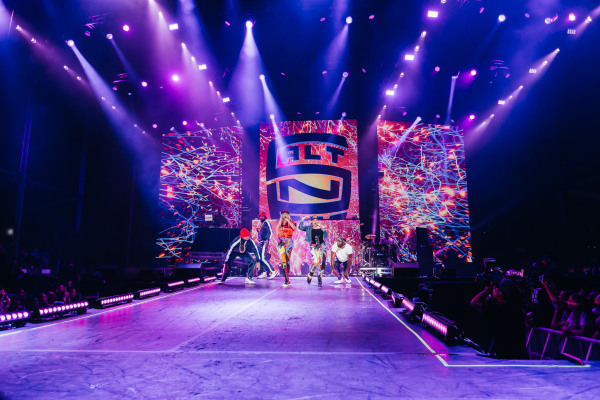 RNB Fridays Live 2018 (photo credit: Mushroom Creative)
Who are your role models in the industry be they international or Australian?
You know what, this question often comes up and to be completely honest I never know what to say as I don't know if I have a 'role model' per se and I don't think that's a bad thing – I like to think I'm my own role model in some way – forging my own path!
However, there are many people I admire and look to for advice and guidance in this industry:
Sophie Kirov – Bandlands Group
Van Picken – Comes with Fries
Ella Petite – Mushroom Promotions
Brigid Dixon – AWAL UK
Mark Holland – EMI
Maree Hamblion – Sony ATV Publishing
Adam Booth & Nathan Farrell – Calibre
To name a few…
Where do you live and what is your local music scene like at the moment?
I live in Melbourne. I'm not being biased, but the music scene here is pretty damn amazing. There are gigs every night of the week, from local pubs and bars, to theatres, arenas and stadiums, you could actually see live music every night and currently as I write this, the Changes music conference is kicking off.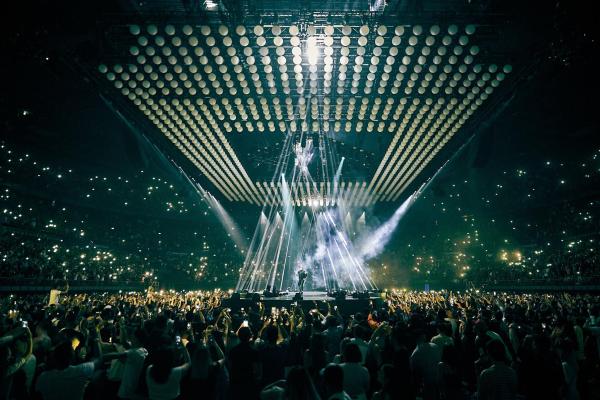 Drake 2017 (photo credit: Mushroom Creative)
Who are your top 3 Australian artists to watch right now?
Tones and I
Tyne-James Organ
CXLOE
If you could work alongside an Australian artist that you have yet to work with, which artist would that be and in what capacity?
Oooo tough.
I am pretty obsessed with Troye Sivan – I'd be his Tour Manager
Have you got any advice for people wanting to start a career in music?
Yes! Take a chance, say yes to an opportunity, even if it's not exactly what you want to be doing. It could be that one step closer to achieving your career goals.
I find some people just want everything 'now', but you really have to put the work in.
Let's talk about the highs vs the lows of your career, what is your greatest achievement so far vs a moment you'd prefer to forget?
Greatest achievement – getting to work with so many artists who I have adored over the years (standby for a name drop, get your dust-pan and broom ready):
TLC, 6LACK, A$AP Rocky, Daryl Braithwaite, Joey Bada$$, DVSN, Drake, Christina Milian, B*Witched, BLUE, Usher and Mac Miller.
I'd prefer to forget when I needed to find 45 black hand towels…on a Sunday… in Adelaide…at 5pm… within 1 hour. Shouts to Alice Fraser on that one.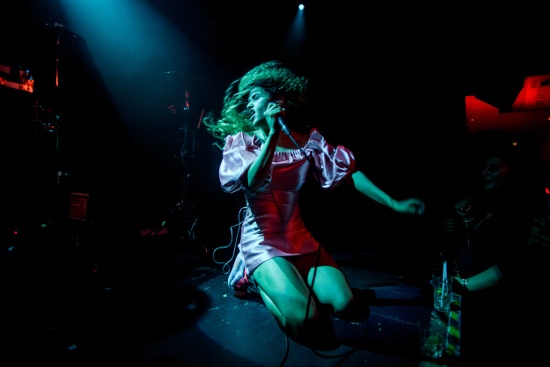 Empress Of 2019 (photo credit: Ashley Marr)
Who has been your greatest champion in your career, who has helped you along the way?
Denise D'Sylva
Matt Gudinski
Adam (Weez) Booth
And…myself. You have to back yourself! (as my Mum always says 'back yourself darl!)
What would your younger self like to remind your current self?
Ahhhhhh….. younger Sarah. I would say, don't listen to so much of the noise. The music industry is a relatively small industry, everyone will have an opinion. Be true to yourself, work hard and follow your dreams.
What is your go-to Karaoke song?
Oh. Mr Big 'To Be With You'*^
(*Sung better after a few margaritas)
(^well aware this is extremely out of my vocal range)