What is your role at Jarrah Records and how long have you been in the position for?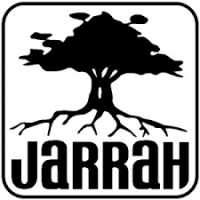 I've been working as an Assistant Manager at Philip Stevens Management for almost 6 years now. We manage the John Butler Trio, The Waifs, San Cisco and their independent labels Jarrah Records and Island City Records.
Tell us a bit about Jarrah Records, what artists do you work with/have worked with?
Jarrah Records was formed by The Waifs and John Butler Trio as a way to release their music independently. We recently created Island City Records for San Cisco to do the same.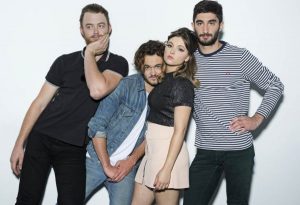 San Cisco
Describe a normal day in your role at Jarrah Records.
From the label side of things it could be anything from facilitating the recording process, listening to new recordings (the best!), proof reading lyrics and artwork (the worst!), release timelines, marketing and product management. For JBT and the Waifs we are essentially the promoters/booking agents in Australia so we handle all tour planning, contracting, setting up ticketing, tour marketing and budgets. For all three artists we handle touring logistics worldwide – booking flights, cars, accom, production, backline, merch, putting together worksheets and even taking the tours on the road. It's super fun & satisfying putting all of the pieces of the puzzle together! Then there's the more tedious aspects of the job such as paying accounts, writing grant applications and answering enquiries such as "Will John Butler play at my cousins 21st? We'll give him a carton of his choice".
How did you get your start in the music industry? Did you choose to work in music or did it choose you?
I started out working at Mills Records in Fremantle from the age of 16. It was an Empire Records-eque teen dream job. As soon as I graduated high school I started doing merch for touring bands on the side to save money for travelling. At age 22 I lined up an internship at Epitaph Records in Los Angeles which was thwarted by the offer of a full time position at Philip Stevens Management. I always knew I'd have something to do with music because of the way my awesome parents surrounded me with their impeccable taste and passion for music when I was growing up.
Have you got any advice for people wanting to start a career in the industry?
Get involved! Interning and working hard to show how awesome you are is the best way to get experience and a job. Try and get out there and learn as much as you can from different aspects of the business. But don't work for free forever!
What issues/potential issues do you think the current Australian music industry face?
I really think the Australian music industry is killing it at the moment, there are so many excellent Australian bands getting worldwide recognition. There's so much support and respect within the industry here and I think we're really lucky. There are also so many organisations that are set up to nurture and assist, such as The Seed Fund, triple j Unearthed, AIR and APRA. It would be great to see the average wage of artists and workers increase though.
What's your favourite way to discover and listen to music?
My dad has a better taste in music than anyone I know, so he's always telling me what the up and coming bands are!
What tips would you give an artist trying to succeed in Australia? Is there a certain route they should take?
I think you really need to have great music (obviously) and put together a killer live show. As I said before, there is so much support for emerging artists to help them along in the beginning. Work hard if you want it to be your career. Utilise the many government grants to help with the financial side of things.
What does 2015 hold for you? Any exciting things that you can tell us about?
San Cisco have just released their second album independently worldwide, so will be touring that for the remainder of the year. I'll be off on the road Tour Managing them for their Australian Album/Groovin the Moo tour which will be nice to get away from the desk! The Waifs have also just finished in the studio so it's going to be a massive year for them too.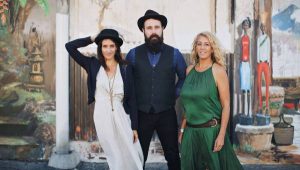 The Waifs
Who are your role models in the industry whether they be international/Australian?
I'm lucky enough to work with my role models on a daily basis! My boss Phil for having faith in me and trusting me with many things.And the AMAZING ladies I get to work with who are always inspiring me to be better – Kester, Scarlett, Danielle, Jonesy, Janelle.My friend Garth at Spinning Top (who always pulls me up on things when I don't really know what I'm talking about, which makes me learn quickly!)This is turning into an Oscar acceptance speech!
Top 3 Artists to watch in 2015?
What advice would you give your 18 year old self?
Please wear earplugs to all those punk shows!
#NowPlaying