Please tell us your story! How did you get to where you are today? 
Content warning: This article discusses mental health and sexual assault. Please contact Lifeline here or RESPECT here if you need assistance.
My story is long and my journey into music is a personal one with lots of twists and turns. It starts with a frizzy-haired 4-year-old Kerry running around barefoot, listening to my family sing island songs in grandad's backyard. Growing up as a Torres Strait Island woman (Ugar/Erub), music has always been a part of my life and it has been for many generations. I was born in Queensland and my family and I had the privilege of moving around the country when I was young.
I always enjoyed singing along with my dad and brother playing guitar, but I lacked confidence to perform on stage. Music has always bought my family together, despite our struggles with the death of a sibling, depression, alcoholism and racism. We always come together to celebrate our resilience with music. I was raised by strong parents who are hard workers and trailblazers, and they always lift me up. With thanks to their courage and strength, I became a resilient and independent black woman and left home at 17 to chase a career as a public servant. After a few years working full-time I decided to study, as I wanted to do more to help my family and community. I was fortunate to get into university where I studied a Bachelor Of Law and became a Solicitor. After uni, I dabbled in the corporate world working for the airline industry, private practice and Legal Aid, but this world just didn't hit the spot for me, I wanted to do more.
I made the move into business ownership in my late 20s with my partner at the time, it was considered a risky move to give up my legal career, but I did it anyway. After my first 2 years of running our building company I had increased the turnover by 300%, and I loved the flexible lifestyle that entrepreneurship gave me. I was hooked on the rush that came with setting my own pace and choosing my future, while having time to connect with my culture and community. But business wasn't easy and during this time I was numbing with excessive alcohol, not coping with anxiety and struggling with a secret of being a sexual assault survivor and an in the closet bisexual. I built my whole life around the business and my marriage and it was suffocating, but I continued to take the hard knocks.
I suffered multiple miscarriages and financial pressures with a downturn in the building industry. I became severely depressed and suicidal. At my lowest point I had my family beside me and they lifted me up. I got sober and healthy by investing in myself with therapy, medication, personal training, dietary changes, and in just 18 months I lost 20kgs and regained my mental strength and resilience. I was strong and then I fell pregnant again. After 4 failed attempts at 8 weeks, I was feeling optimistic because I carried the baby into the second trimester. It was almost Christmas and I came down with a fever, 12 hours later on Christmas Eve I was admitted to hospital with a serious life threatening infection and I lost the baby. It was hard to run the business and recover from the loss. I was grateful for my optimistic state of mind and my amazing family, they kept me strong. Sadly my marriage didn't survive this time. The divorce was amicable and more pleasant than stories I had heard during my time as a Solicitor. I spent 6 months transitioning out of the building business, until I was ready to work as a freelance business consultant. I was terrified about doing it on my own, but I was ready to find a new purpose and direction.
After a few long yarns with family and friends, I took another risk and changed my career trajectory (again)! I was inspired by my brother's courage to follow his dream in the Melbourne music industry. He invited me to join him as an artist manager of his band Key Hoo, and after a quick Google on "what does an artist manager do", I said yes and later moved from Queensland to Melbourne. A new woman arose from the ashes and I continued to build on my freelance work in Melbourne.
The pandemic struck three months after I relocated and I watched the people I care about struggling with no work. I needed to do something to support the community and my family. I threw myself into as much pro bono work as I could afford. I spent hours in business mentoring sessions helping people "pivot", supporting them to keep creating in uncertain times.
In July 2020 I was lucky to be appointed as Board Director of Music Victoria and become affiliated with Ngarrimili, a non-profit organisation founded by Cormach Evans and Coco Eke, supporting First Nation entrepreneurs. With the support of those new networks, I was able to build a strong foundation to take my freelance work to the next level and became a private company in October 2020. It has been three years working in this space, and I am on track to increase my turnover by 150% by June 2021. I am so grateful to spend my working day being inspired by over 40+ clients, most of which are women and First Peoples from various industries including the arts and entertainment sector, I have never felt more like myself in my entire career.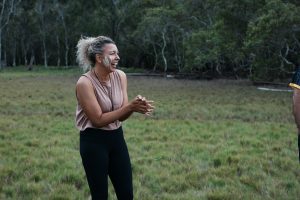 Tell us about your role with Same Way Nation, what does your day-to-day entail?
I am the owner of Same Way Nation and my day-to-day involves tapping away on my laptop being an artist manager for alt rock legends Key Hoo, pop artist Lewis Ciavarella, rock band Sienna Wild and singer songwriter Kiwat Kennell.
You can also find me working as a business mentor, soy latte in hand, writing business plans with clients or sitting in a board room facilitating a strategy session with a team. I love all things strategic planning and I enjoy seeing my clients identify and bring their purpose to life through their art. Together we create structures, systems and processes to build values-led businesses which align with their culture and lived experience. It is amazing to see my clients businesses have positive impact on their lives, family and community.  
What is the best piece of life advice you've ever received?
Set goals that scare you, you might surprise yourself.  
Where do you live and what is the current musical landscape like there?
I live in Melbourne, and the landscape is always changing.
Who are your role models in the industry be they international or Australian?
My music industry role models are the those that stand to side of the spotlight. I am literally living my dream and it would not have happened without role models like Kiwat Kennell, Coco Eke, Shelley Wills, Sarah Hamilton and Sally Howland.
Who are your top 3 'artists to watch'?
Obviously the artists I work with … but I am also keeping a close eye on Kee'ahn and The Merindas.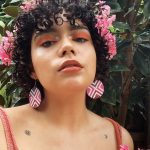 If you could work alongside an Australian artist that you have yet to work with, which artist would that be?
G Flip – I love her energy and authenticity. 
What does the rest of 2021 hold for you? Anything exciting you can tell us about?
I am practicing what I preach to my clients and developing a fresh business plan to rebrand and scale up in artist management and consulting in the diversity and inclusion space.
I am also studying with the Australian Institute of Company Directors and Certified B Corporation to become a B Consultant. I am also looking forward to collaborating with deadly business women to deliver new programs for First Nation entrepreneurs. Stay tuned!
What is your go-to Karaoke song?
'Price Tag' by Jessie J, or if I have enough courage, 'I Wanna Dance With Somebody' by Whitney.