Mindy, you're the Founder of Tom Tom Magazine. Tell us your story! Where did you grow up and where do you now call home?

I grew up in South Florida, went to undergrad at UF and then moved to NYC and never looked back! I was always into music and started playing actively in bands in Gainesville and then NY.
For those who are unfamiliar, tell us about Tom Tom Magazine. What were your initial goals for the magazine?
Tom Tom is the only magazine and media company in the world dedicated to telling stories about girl and gnc drummers, beat makers and producers. My goals were and continue to be to represent and inspire existing and future musicians. I also hope that the idea of a female drummer acts as a metaphor to inspire anyone to be/do anything they want to do.
You've built a community around Tom Tom and have created the Hit Like a Girl Contest: the only contest for female drummers in the world, we'd love to hear more…
I have done my best to grow our brand into every nook and cranny possible. In the last 10 years we have opened a drum academy, started a contest for female drummers, put out 35 issues of the magazine, thrown hundreds of events, and took over museums to spread the word.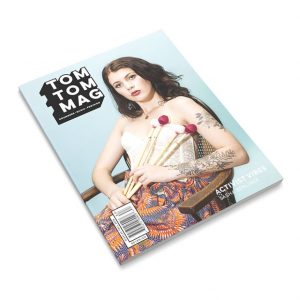 Tell us about you role, what does your day-to-day entail?
My role as Publisher and CEO is to manage my incredible team and to strengthen our relationships with brands and sponsors.
What issues do you feel the North American music industry is currently facing and how do you think these could be changed and improved?
I believe the music industry is shedding its old skin. The challenge is how to do that quicker and to catch up to the other industries that have already realized inclusivity.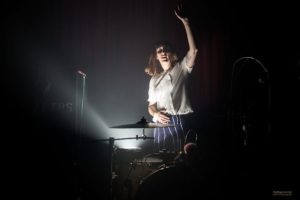 Any advice for women wanting to pick up a pair of drumsticks?
Don't hesitate. Do it. And don't worry about being the best or good at all. Music is creative. There is no right and wrong.
Give us your take on your local music scene, where do you go to see shows and who are some local artists you'd recommend we keep an eye on?
I live in Brooklyn which is a music haven. I have been going to shows all over the city for years now. Currently I love most all of the programming at Elsewhere, C'mon Everybody, The Good Room, and Transpecos to name a few. Keep an eye on Sloppy Jane, Phem, Yaeji, DEBONAIR and Sneaks.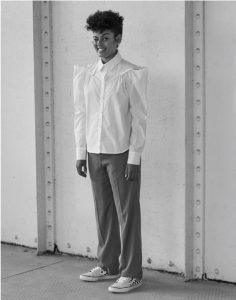 Who are some female drummers you'd recommend we keep an eye on?
ALL OF THEM! Seriously though. Watch Sasha Berliner, Lia Simone, Michel'le Baptiste, Chloe Saavedra, Shayna Dunkelman and Gabriela Jimeno (to name a few. I love them all).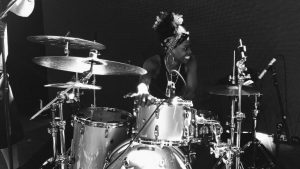 Have you had to overcome any challenges or adversity in your career, and if so, how did you approach them?
SO MANY! To be honest, I look at most of the adversity as a challenge and all challenges as just that — something to work hard, figure out and overcome. I try to, as speedily as possible, find the opportunities and positivity in what might be considered a negative event. I highlight and dwell on our successes to push through.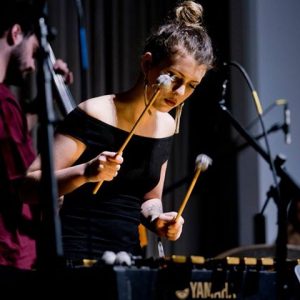 Any career highlights thus far that you'd like to share?
I was named a Grammy's Change Agent, the Brooklyn Museum let me fill it with drummers and I won a She Rocks Award. I also feel amazing any time we get an email or letter or message from someone who truly loves what we do.
Who are your role models in the industry?
Gloria Steinem, Jessica Hopper, DISCWOMAN, Shantell Martin, Fabiola Reyna, Thalia Mavros, Manoush Zomorodi to name a few.
What is your go-to Karaoke song?
HA! Hang on Sloopy or anything by Otis Redding.
For more on Mindy… 🙂